Philadelphia Eagles at Pittsburgh Steelers: Looking at the Pittsburgh Defense
August 25, 2011
This is the second article on last week's preseason game. Observations on the offense can be found here.
As there are so few changes in the defensive front, I'm going to focus on the backfield.
Let's revisit for a moment Michael Vick's three picks. As I noted in the previous article, if he had thrown 30 picks it still wouldn't count for anything—it's the preseason.
It is still interesting to look at them though. The three picks were by three very different players.
The first was by Ryan Clark, a wily veteran with 10 regular-season interceptions during his nine-year career. Last season he had two in the regular season and one in the postseason. This interception wasn't a "gimme"—Clark made a nice, athletic leaping catch to preempt the intended receiver and took it back 26 yards before bowing to the reality of three large Eagles in his path.
The second pick was by 2009 third-round draft pick Keenan Lewis. Many had high expectations of Lewis, but up until now he has not fulfilled them.
Spending his rookie season on IR didn't help, of course. Last year he let his frustration get the better of him in a few early games and spent most of the rest of the season on the bench.
This year Lewis looks a great deal better, and the pick only helps his case. Fortunately, he doesn't appear to have attended the Swaggin' U school for would-be receptionists. More to the point, he was in the right place at the right time—and not just on this snap. We're seeing some very encouraging signs from a guy we're going to need to step up this season.
And speaking of stepping up, some have criticized him for running with the ball after his interception. But surely it's better to run when it is pointless than to lose the chance of a return if you aren't ruled down. Maybe he was grandstanding, but it didn't look that way to me.
Pick No. 3 was by the usual suspect, Troy Polamalu, courtesy of a heads-up tip by LaMarr Woodley. It was great to see Troy back to his old form.
It wasn't so great to see him risk another injury by running back a pick in a preseason game, however. I wonder which coach was more annoyed—Tomlin with Troy or Reid with Michael Vick? But all's well that ends well.
The reality is that you can't stop Troy from being Troy, you can only try to minimize the damage.
I suspect that Vick felt much better after flattening Troy. His passer rating may have been an abysmal 13.5, but he had more tackles than some of the Eagles' defensive players.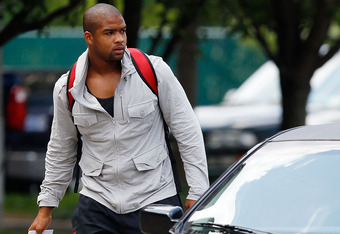 There was a fourth pick in the game, courtesy of Vince Young, author of the "Dream Team" remark. That pick was by Larry Foote, who decided that the DBs shouldn't have all the fun. He had to work for it, but not a lot—a short hop was all it took.
He took some serious ribbing on the sideline from James Harrison and Lawrence Timmons, who accused him of being too scared to run it back (Harrison) and too slow to do it (Timmons.) You can see that, and much more, on the "Gameday Exclusive" video at Steelers.com
And, finally, the forced fumble by S Will Allen was a nice "Welcome back to Pittsburgh" for Dion Lewis. The recovery was by Steelers rookie LB Baraka Atkins.
Once again Tomlin was evaluating the rookies and new hires. He got an especially good look at the cornerbacks, a unit that many are very concerned about.
Ike Taylor isn't concerned, though. He told Dejan Kovacevic:
"The defensive backs get identified as the weak link every year...Let me ask everyone: What do we have to do?... It shows a lot of people don't know what they're talking about. Obviously, this organization knows what it's doing."
Given that Ike and Bryant McFadden did not start, we all had the opportunity to see whether the young corners were up to the task. On the whole, they performed pretty well.
There were several blocked or intercepted catches. For the most part, very few yards after the catch were allowed when they didn't manage to deflect the ball or the receiver. Donovan Warren looked good, as did Curtis Brown.
Keenan Lewis and William Gay, who got the start in place of Taylor and McFadden, handled the Philadelphia first-string players well, allowing a total of eight YAC on eight attempts. Seven of those were on one Lewis tackle.
On that play, the defense was way up in the Eagles backfield by the time Young dumped the ball off to a receiver just beyond the LOS. Stevenson Sylvester nearly got a hand on the ball. Lewis got there quickly—just not quite quickly enough.
The Eagles managed only nine first downs prior to the last four minutes of the game. The guys up front were their usual nasty selves. During the last two Philadelphia series, Chris Carter, despite being constantly held, almost had the QB a number of times. He looks like a rookie to watch.
The DBs were playing the usual LeBeau soft coverage and gave up the short stuff. Mike Kafka, the Eagles' third-string QB, took full advantage of that and put the ball in the end zone twice.
As Kovacevic points out in the above-quoted article, Matt Ryan and the Atlanta offense should give us a better picture of what the backfield is capable of on Saturday.
It may only be the preseason, but Game 2 was a shot in the arm for Steeler Nation. Now, if we can just keep it in perspective.