MLS Nicknames Confuse Joe Sixpack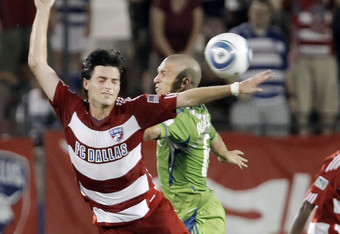 From the beginning, MLS should have required franchise names to be recognizable to all sports fans. Toronto FC, Sporting KC, Chivas USA, FC Dallas, Seattle Sounders FC, Real Salt Lake, Vancouver Whitecaps FC are unnecessary names.
FC should not be associated with any MLS nickname. Too many sports fans don't know what it stands for and it makes them feel further separated from soccer than is really the case. Reality is there is not a big divide between U.S. sports fans and soccer. Everyone is familiar with the game.
MLS will never achieve success until the average everyday sports fan understands what is going on in their game. There is a lot to overcome, but rather than making it easier for themselves, some MLS teams have decided on foreign names that are not consistent with U.S. lexicon.

Many nicknames of MLS franchises and words used to describe basic tactics of the sport are articulated without consideration of the American sports fan. There is an air of snobbishness exuding from MLS that has not been addressed by the media. Instead of having names that make sense and talking about the game as Americans would, fans must jump through hoops to understand. It's like saying, "We don't value you as a sports fan unless you learn us."
For example, the FC at the end of the Seattle and Vancouver nicknames is a pretentious offering to soccer purists in order that they buy into the brand. FC Dallas and Toronto FC share the prize for the most unoriginal way to attract soccer purists. The others are ridiculous marketing ideas to soccer purists that make their brand much harder for sports fans to get to know.
Toronto FC vs. FC Dalllas
There are some outstanding MLS nicknames that have been able to transcend mainstream sports. The LA Galaxy and DC United (hopefully, United is not a direct steal from Manchester, but was chosen because of nation's capital related to the U in USA) are easy-flowing and have a ring to them. DC is the only Washington sports franchise to use DC as their moniker.
Teams should remove FC and accept themselves for what they are, not Football Clubs nor Futbol Clubs. Also, the others that chose foreign names should consider renaming themselves to accommodate sports fans who may want to get to know them better. U.S. pro soccer teams don't need to replace the FC with SC as has been done with several minor league teams. Soccer Club is just as unnecessary. A little less disrespectful to U.S. sports fans, but nevertheless unnecessary.
An original, artful nickname is just fine. Any decent American effort will do.
For more articles like this one, go to www.AmericanizeSoccer.com
This article is
What is the duplicate article?
Why is this article offensive?
Where is this article plagiarized from?
Why is this article poorly edited?