Buffalo Bills vs. Jacksonville Jaguars Preseason Preview
August 25, 2011
The Jacksonville Jaguars are traveling to Orchard Park this Saturday to take on the Buffalo Bills in their third preseason matchup. I have to admit it'll be pretty strange watching Paul Posluszny wearing teal in Ralph Wilson Stadium.
The third preseason game is generally the one that means the most, as coaches usually play their starters for extended periods of time, while using the last preseason game to let players on the "bubble" fight for their respective roles on the team. 
The Bills have been pretty unimpressive in their first two games against the Chicago Bears and the Denver Broncos, combining to score just 13 points. The offensive line has been so disastrous to the point where head coach Chan Gailey is testing out left guard Andy Levitre at left tackle, splitting reps with incumbent starter Demetrius Bell. 
On top of the left tackle situation, the right tackle position still hasn't been assessed, as Erik Pears and Kraig Urbik continue to battle for that starting role. 
Furthermore, rookie running back Johnny White will miss the game with an injury suffered against the Broncos, and it is unclear whether Donald Jones will play either after taking a helmet to helmet hit from safety Rahim Moore. 
Chris Kelsay just had surgery on his eye and will miss the game also, and the statuses of Shawne Merriman, Roscoe Parrish, Arthur Moats and Marcell Dareus are unknown, as they are all dealing with injury issues.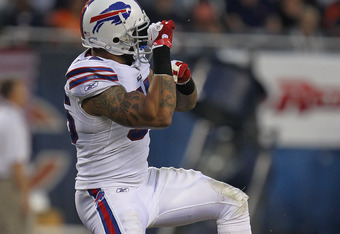 With all of the questions surrounding the starters, this is the perfect time for those youngsters to fight for their jobs, as the reps will be split generously. 
If Shawne Merriman doesn't play again, expect second-year player Danny Batten to start in his place at outside linebacker as he did last week. Batten is having a solid preseason, making seven tackles and two sacks in his first professional games after missing all of last year with an injury. 
Bills Run Game Vs. Jaguars Run Defense
Bills running backs Fred Jackson and C.J. Spiller will surely be fighting on every carry they get, after Jackson openly stated that he was unhappy with his current role in Buffalo. However, the Jaguars defensive line is pretty strong, as defensive tackles Tyson Alualu and Terrance Knighton have been stout in the middle, and should shred the porous Bills offensive line. 
On the outside, defensive ends Austen Lane, Aaron Kampman, underdog Jeremy Mincey and recently signed Matt Roth brought the heat on Matt Ryan last week against the Atlanta Falcons. 
Jaguars Run Game Vs. Bills Run Defense
Maurice Jones-Drew hasn't played this preseason yet, but Jaguars head coach Jack Del Rio says he has a plan for him to possibly get a few snaps in, in order for him to avoid contact for a few more weeks.
Everyone knows about the terrible Bills run defense, and if they are without Marcell Dareus and Shawne Merriman, that problem will be even worse. Rashad Jennings, Deji Kareem and DuJuan Harris have performed pretty well against the New England Patriots and the Falcons, and both have much stronger defensive fronts than Buffalo's.
Bills Pass Offense Vs. Jaguars Pass Defense
Ryan Fitzpatrick hasn't seemed to get in a groove with his favorite 2010 target Stevie Johnson, as the two connected just four times for 26 yards in the first two games. If Donald Jones and Roscoe Parrish are sidelined, Namaan Roosevelt, Marcus Easley and David Nelson will have to step up against an upgraded Jaguars secondary. 
Reshean Mathis and Derek Cox held Roddy White and Julio Jones to just one catch in the first half last week, and safety Dawan Landry will be looking for a big play.
Jaguars Pass Offense Vs. Bills Pass Defense
The Bills are in a bit of a quandary at the cornerback position, with Terrence McGee and Drayton Florence as the listed starters, but Leodis McKelvin and rookie Aaron Williams are biting at their heels.
Aaron Williams has shined in training camp and preseason, and could really push for a run for the starting cornerback role with a good performance on Saturday. David Garrard and Blaine Gabbert are battling for the starting quarterback role, even though it's been reported that the job is Garrard's to lose.
Last week, Garrard went seven-of-12 for 99 yards with an interception, while Gabbert went 11-of-23 for 96 yards throwing neither a touchdown or an interception. It will be interesting to see how the Bills secondary will step up after being dismantled by Brady Quinn last week.