"Bad Boy" Terrell Owens Is a Good Fit for the Cleveland Browns
August 25, 2011
After a tense summer lockout that threatened the regular NFL season, and the lack of Favre-A-Palooza 2011, I assume that the only other drama that would generate headlines (other than Chris Johnson signing a contract) would be Terrell Owens landing somewhere.
Despite his age (37) and the injury he is rehabbing from, Owens is still relevant enough to garner attention by some teams that either lose a wide receiver to injury or need some depth on the roster.
We already have seen teams take some gambles with aging players such as Derrick Mason this year, so the thought of Owens landing somewhere is extremely legitimate.
The questions remain about his health, attitude and cost.  The are no questions about his talent, as his numbers speak for themselves.  So where could he possibly be the right man for the job?
The Cleveland Browns.
Although the Browns seem to have a tradition of collecting injuries to the receiving corps, such as the case with players such as Mohamed Massaquoi and Joshua Cribbs to name two, many questions remain for this young team implementing the West Coast Offense scheme.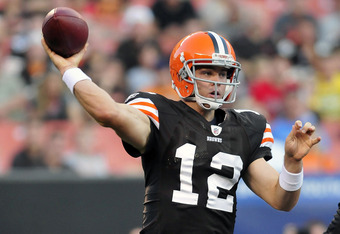 Here is why the Browns could benefit from the talents of Owens.
Considering that Owens has played his best years of his career in a West Coast Offense.  The Browns, led by young players like Colt McCoy, would be a monumental addition to these new students.
With as much turbulence and uncertainty with the effects of Massaquoi returning from his injuries, and the impact that Cribbs could have if he stays healthy, the Browns find themselves left with Brian Robinskie and rookie Greg Little.
The "X-factor" is a major player in this new offense.  No one knows how Massaquoi will react, if he will be able to stay healthy and if so, how much of an impact he will have.
Considering the remaining cast of receivers there is no one player that stands out as a real threat, which forces more pressure to a running game and use from the tight ends in passing schemes.
The issue here is, the rest of the NFL has seen what Peyton Hillis can do and they know if they can bottle him the only way Cleveland could win is by beating a team through the air.
Despite McCoy's impressive start to the preseason, it wouldn't be rational to assume that it will last into the regular season, at least on a consistent basis.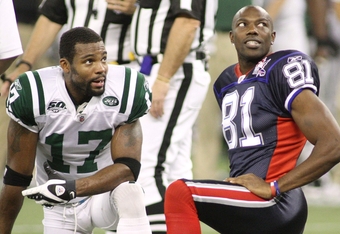 The addition of Brandon Jackson helps, but let's face it, he's a cast-off from Green Bay where he didn't do much to either.  This is exactly why the talents of Owens could shine through.
By bringing "T.O." into the equation would allow for several things to happen.
First, the experience in the West Coast system would prove priceless to all the youth on this team.   From the quarterback to the young receivers, Owens' tutoring could expedite the learning process and help bring these players along nicely.
It may not seem rational to bring in another injured player at a high price, but for a one-year contract and the possibility of his impact on the field, it is worth the investment.
Secondly, Owens' presence alone on the field would provide attention from defenses that would allow the other receivers to become better contributors and free up space for the passing game.
Even if Owens would be the third receiver on the depth chart, his presence would still have to be accounted for just by the fact he plays whatever down the Browns are in.
The negative side of Owens is also a factor in this equation as it has acted like a cancer to teams before and questions also remain as to if he would play for a team that isn't declared a contender for the playoffs.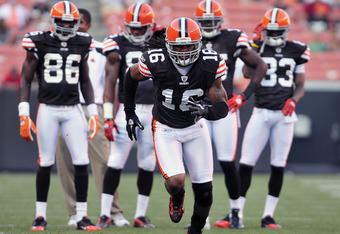 I think at this point in his career, Owens acknowledges the fact that his prime has passed on and he is providing a different role than he did in years past.  Additionally, you could assume that since no team has contacted him thus far, he would be fortunate to collect another contract before the season progressed too far.
Owens has a chance to be a different kind of contributor now.  Gone are the days of being in the limelight.  Owens would still contribute and could be a major factor where he plays, but the chances are better for him to provide a wealth of knowledge and share his greatness with younger players that can carry the torch.
If Cleveland wants to protect their fragile talent and allow them to flourish for seasons to come, they must reach out to Owens and tempt him to sign. 
In my opinion, it's a win-win situation.