Washington Redskins vs. Baltimore Ravens: 5 Key Matchups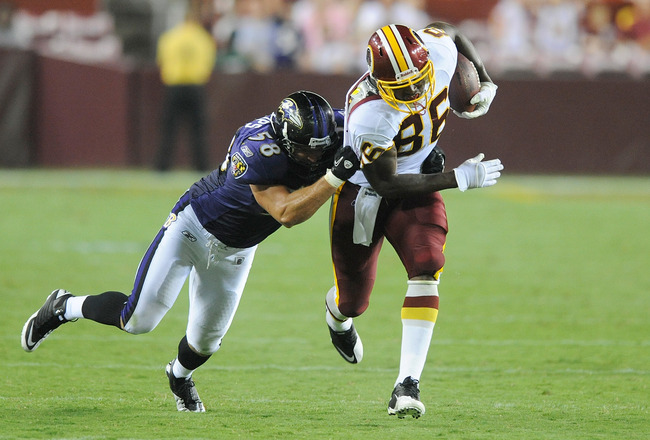 Greg Fiume/Getty Images
The Washington Redskins have the opportunity to really test themselves tonight against a tough Baltimore Ravens outfit.
It's the third preseason contest for both teams and the starters can expect to receive more snaps than they've enjoyed up to now.
The Redskins have been impressive so far in exhibition outings. Mike Shanahan's revamped roster has scored morale-boosting victories over the Pittsburgh Steelers and Indianapolis Colts.
An experienced and hard-nosed Ravens squad presents a fresh set of challenges. If the Redskins can continue their fine form, it will provide plenty of encouragement ahead of the regular season.
Here are five crucial matchups to examine closely tonight.
5. Trent Williams vs. Terrell Suggs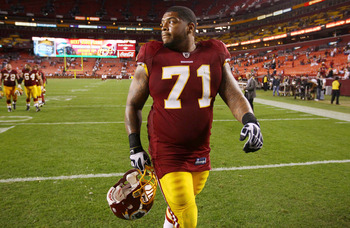 Win McNamee/Getty Images
Last year's fourth overall pick has so far failed to convince at the pivotal left tackle position. Trent Williams will have to demonstrate improvement when he faces one of the league's best edge rushers in Terrell Suggs.
Dwight Freeney toyed with Williams during the Redskins victory over the Colts. Williams must improve his footwork, lateral movement and hand placement and become more fluid in pass protection.
Suggs relies more on power than Freeney, so leverage and balance will be crucial in curtailing his attempts to fell Redskins quarterbacks.
Williams is young and remains extremely raw. The youngster must become more comfortable guarding the blind side before he is again pitted against the high calibre of pass-rushers in the NFC East.
4. Tim Hightower and Roy Helu vs. Ravens Run Defense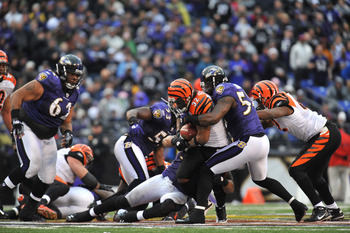 Larry French/Getty Images
While not as stout as they once were, the Ravens defense remains a stubborn unit to try and run against. The Redskins have enjoyed great success on the ground so far this preseason. Something will have to give in tonight's game.
Tim Hightower and Roy Helu have been sharp and elusive in the opening two games. If the duo can put together another strong showing on the ground, the Redskins will be able to feel extremely confident about their rushing attack.
The key for the Redskins will be getting their linemen on the Ravens' fierce inside linebackers. Washington's front five must be solid in the trenches, then use their athleticism to get to the second level.
This will be tough against a powerful Ravens front seven which has excelled over the years at mauling more finesse-based blocking schemes.
3. Jammal Brown vs. Haloti Ngata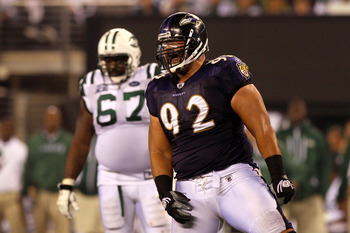 Jim McIsaac/Getty Images
One of the most effective tactics the Ravens employ to diffuse a running game is moving Haloti Ngata to the side favoured by the offense.
The daunting task of subduing Ngata will most frequently fall to right tackle Jammal Brown. Brown was something of a disappointment during his first season in D.C.
Now that he is healthy Brown has a better chance to demonstrate his talent. He will need to call on the advice of former Raven and new Redskins right guard Chris Chester for tips on how to handle the ferocious Ngata.
The Redskins' outside zone rushing scheme stretches a lot of plays out wide in order to create inviting cutback lanes.
Ngata has the quickness and strength to close off these gaps and Brown must win their personal duel if the Redskins are going to move the ball along the ground.
2. Brian Orakpo vs. Michael Oher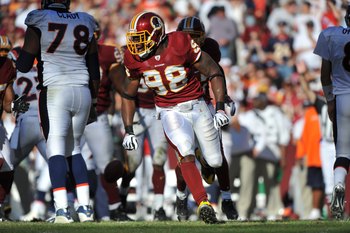 Larry French/Getty Images
The Redskins' best pass-rusher against the Ravens' best pass protector makes for one of the most exciting matchups in the early stages of this game.
Orakpo may be improving his coverage and run support techniques this offseason, but his biggest contribution to the Redskins' 3-4 scheme will still be his pressure skills.
Michael Oher's massive frame, long reach and tremendous strength poses a significant challenge to Orakpo. The Redskins outside linebacker relies mostly on power and leverage to defeat blockers.
It will be interesting to see how Orakpo adapts his game to overcome Oher. Redskins fans should get an idea of Orkapo's true speed off the edge, as well as how refined his hands technique is.
1. Redskins Secondary vs. Ravens Wide Receivers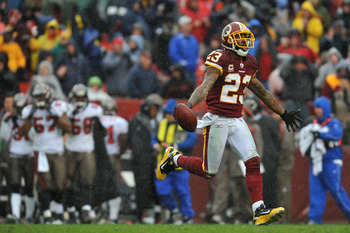 Larry French/Getty Images
The Redskins' patched up defensive backfield faces a stern test from the Ravens' talented stable of receivers.
With O.J. Atogwe and Josh Wilson returned to the lineup, Washington are close to full strength in the secondary. The unit will need to be at its best to counter the threat posed by Anquan Boldin and Lee Evans.
Ravens quarterback Joe Flacco may not be the most accurate passer in the game, but he is one of the league's best when it comes to delivering the deep ball.
The Redskins have looked vulnerable to the long pass play during preseason. Jim Haslett's coverage schemes will need to look a lot more convincing tonight.
The regular season is fast approaching and tonight is another chance for the Redskins to demonstrate their offseason improvements versus respected opposition.
The first team units may get more playing time, so this evening's contest should provide a more accurate depiction of the Redskins' progression.
Keep Reading

Washington Redskins: Like this team?