The Undertaker: Why Mick Foley Is the Perfect Candidate to Challenge His Streak
August 25, 2011
For much of the year I have wondered which wrestler is capable of stepping up and challenging The Undertaker's famed WrestleMania streak. 
With Mick Foley's recent "probably will" regarding a return to the WWE, I believe I have found the perfect opponent for Undertaker. 
When thinking about the perfect opponent, it's most certainly not all about in ring skills. For possibly The Undertaker's last match ever, his opponent must have the whole package.
The ability to work a great match, mic skills and believability as a competent opponent. Lastly, I personally believe Undertaker's last WrestleMania match must be against somebody he has a history with.
This is for one simple reason: The Undertaker's streak should not end.
I understand the pros; ending the streak is arguably the greatest push any superstar could receive. However, the streak is far too legendary to waste on one superstar.
There is no guarantee that the victorious superstar would go on to be a star. As seen with Brock Lesnar, the wrong push to the wrong person can prove disastrous, as Brock simply didn't have the right personality to be the face of the WWE.
More so than anything else, the streak is The Undertaker's greatest legacy. It shouldn't be gambled on the success of one man.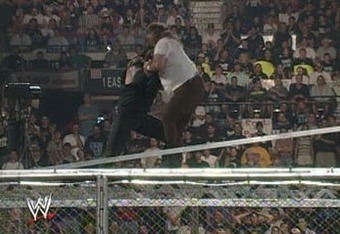 That's why, for the past few years, I've been ecstatic with his opponents, as they were all superstars from the Attitude Era and before whom had a storied history with 'Taker. Take Shawn Michaels for example. They feuded back in 1997 when the first-ever Hell in a Cell took place.
Enter Mick Foley.
From his debut as Mankind following WrestleMania 12 in 1996, Foley feuded with The Undertaker. Their initial feud ran for a year, ending a month after WrestleMania 13. During this time, Foley and 'Taker worked famous matches such as the first-ever boiler-room brawl and buried alive match.
The greatest moment of the feud (and perhaps one of the most famous matches in history) occurred when the two superstars reignited their feud in 1998. At King of the Ring, Foley and 'Taker had the greatest Hell in a Cell match of all-time, famous for the two bumps Foley took.
The Mick Foley and Undertaker feud is one of the best of both their careers. Hence, I feel it would be appropriate for Mick Foley to give Undertaker one last match. They have as much, or more, history with each other than 'Taker had with Shawn Michaels or Triple H.
Of course, there would be numerous concerns with Foley, as to whether he could give The Undertaker a fantastic last match. He has already joked that he is loosing 50 pounds in case he gets the "WrestleMania call."
If given the proper amount of time to train and prepare for the match, Foley should be able to work a great match. His body has already suffered countless injuries over the years, but there is no doubt Foley would put his body on the line one more time for 'Taker.
Outside of the match, Foley is already a perfect fit. His mic work is his strongest aspect, and he and Undertaker could undeniably sell a WrestleMania main event. Not to mention it would make WrestleMania 28 even better, with the return of Mick Foley, The Undertaker's last match, and of course, Rock vs. Cena.
Note that this is all from my perspective, with what I want to see from Undertaker's last match taken into account. For me, no other superstar could be a better opponent for The Undertaker and his WrestleMania streak, in probably his last match, than Mick Foley.
Liked this article? Become a fan and check out my other articles.