Kansas City Chiefs: Early Fantasy Football Predictions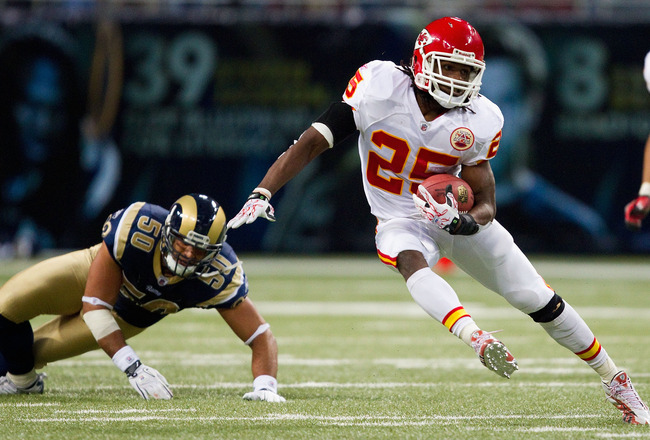 Dilip Vishwanat/Getty Images
Although injuries have kept a few guys out, Todd Haley hasn't shown off his starters very much this preseason.
With two games down and two to go, fans still have some time to size up the team before the regular season begins.
Here is an early season preview and a look at how the team will fare in fantasy leagues.
Offense: Running Game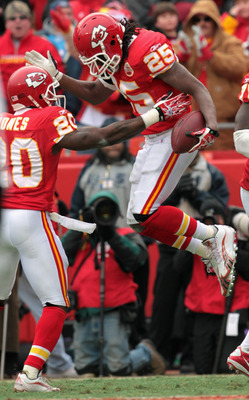 Jamie Squire/Getty Images
The biggest question mark here is Thomas Jones—again.
Last season, Jones and Jamaal Charles made up the most productive running attack in the NFL.
At times, Charles looked like one of, if not the best, running backs in the league. Charles averaged an amazing 6.4 yards per carry, but he still scored one less touchdown than Jones.
If Jones is used as much as he was last season (245 rushing attempts) then Charles has been overvalued in projections so far. Jones, on the other hand, is undervalued as a third option.
That's not to say that Charles isn't as dynamic as any other back, but with Todd Haley's propensity to save Charles for the playoffs, there is a good chance that Charles will rack up a ton of yardage while scoring around the same amount of touchdowns as he did last season.
It might take Charles a few games to adjust to some shuffling on the offensive line as well, but the additions at receiver will relieve some of the pressure on the running game, too.
While Charles might not lead the league in points, expect both him and Jones to have good, if not great, regular seasons. However, I wouldn't take Charles in the first few picks, mid-first to late first-round is where he should be picked up.
Offense: Passing Game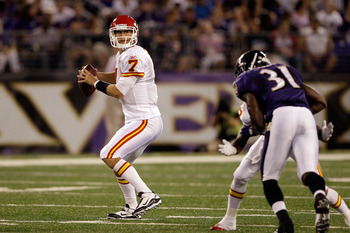 Rob Carr/Getty Images
The addition of Steve Breaston and first-round draft pick, Jonathan Baldwin, will work wonders on keeping the Chiefs' offense in high-gear.
Breaston came over from an Arizona Cardinals team that struggled mightily last season. When healthy, Breaston was productive, even though he had to deal with horrendous play from multiple different quarterbacks throwing him the ball.
Breaston played on an offense where Larry Fitzgerald couldn't even manage to get more than 90 receptions, while Breaston pulled in 47 in a fraction of the time.
Although Jonathan Baldwin is likely going to be out the rest of the preseason, he will be a major contributor during the regular season. Breaston will see time in both the slot and on the edge, but Baldwin's deep-threat ability will make Todd Haley constantly send Baldwin on go routes down the sideline, as Baldwin has the potential to be a touchdown catching machine.
It will be interesting to see how Baldwin does against top-flight competition and if his size and great hands will give him the advantage over other cornerbacks.
Breaston and Baldwin are both legitimate fantasy options. I would take Breaston, who will have a much better year than most experts are projecting, for the second receiver slot, while Baldwin might take some time to get going, he eventually will be good for the third slot.
Adding the two receivers will also positively effect Dwayne Bowe and Tony Moeaki's game as well. With a solid run game and two other receivers that can hurt defenses, Bowe and Moeaki will get many more open looks.
Moeaki is worth a look at starting if you want a tight end that you can pick up late in the draft and Bowe will be a nice pick for those who don't want to blow a second-round on one of the top names.
Fans will see more of Dexter McCluster, catching passes out of the backfield and in the slot to give the other receivers a rest. Everyone in Kansas City knows just how dangerous McCluster can be when he is on the field, but I wouldn't reach on McCluster. He is going to help spread the field, but his fantasy value, like last year, is next to none.
Matt Cassel is another great option for a late pick and you should be able to easily snag him as your backup quarterback. Cassell has been underrated considering all the weapons he has at his disposal.
If he can play smart, the Chiefs' passing game will improve and be atop the league as one of the great surprises on the 2011-2012 season. Even without Charlie Weis calling plays, the Chiefs' whole offense will have no problems moving the ball down the field
Defense/Special Teams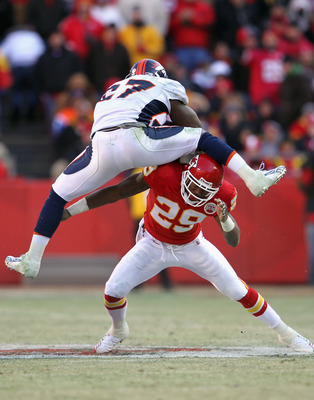 Jamie Squire/Getty Images
After a series of up and down performances last season, the Chiefs' defense could have a very solid season in both fantasy leagues and on the field.
The linebacker core is lead by Tamba Hali on the outside and Derrick Johnson in the middle, both players who have all-star qualities should rack up points with sacks.
Improvements in the defensive line should be seen with the signing of Kelly Gregg to play tackle, while the high draft picks the Chiefs spent on Tyson Jackson and Glenn Dorsey in 2008 and 2009 should pay off as they gain another year of experience as the starting ends.
Eric Berry at safety and Brandon Flowers at cornerback will provide some firepower against the passing game for the former Browns head coach and second year Chiefs defensive coordinator, Romeo Crennel.
The return game will remain spectacular with Javier Arenas and Dexter McCluster fielding kicks and punts, adding to the Chiefs' defensive fantasy value.
The Chiefs' defense might be considered a sleeper in some leagues, but take the Chiefs' defense late as a great value pick. The fact that they start the season at Arrowhead versus the Buffalo Bills doesn't hurt either.
Keep Reading

Kansas City Chiefs: Like this team?