12 Biggest Little-Guy Fights in NHL History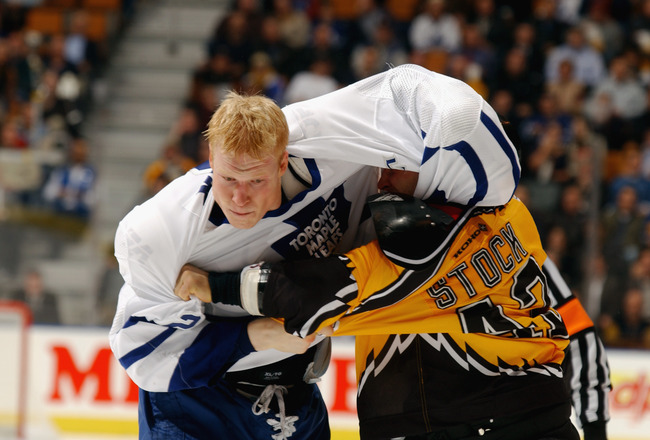 Dave Sandford/Getty Images
When you think of an NHL enforcer odds are you envision a 6'2'' 220 pound monster of a man. Generally the stereotypical goon is a big guy with a limited skill set. Well, it's rude to stereotype.
Dozens of fighters in NHL history fail to hit the six foot mark and plenty have no issue going toe-to toe with some of the bigger brawlers in the league.
Take a look at the best of these fun sized fighters.
Stock Takes on the Sheriff
Shane Hnidy was not pleased with P.J. Stock's overly aggressive forechecking and took it on on the little guy to the tune of two fights in one night. However, P.J. Stock held his own in the first fight and actually did a fair amount of ass kicking in this one.
A Lightweight Battle
Dan Carcillo and Derek Dorsett apparently learned to pick on someone their own size, as neither player is six feet tall. Despite the lack of height, these two delivered an entertaining round for the fans.
Another Lightweight Challenge
Zenon Kenopka is just barely six feet tall, making him a fair match for the undersized Daniel Carcillo. Luckily, the two also hate each other, which makes for an awfully entertaining fight.
Round Two
Not the most impressive fight in the world, but the fact that these two had enough energy and animosity left over from their first battle is impressive enough to make this list.
Danny Briere Playing with the Big Boys
Daniel Briere is more known for his scoring touch and excessive goal celebration than his ability to fight. However, Briere has enough pent up anger to try and take on Mike Comrie, and surprisingly enough, Briere held his own.
O'Reilly and the Tiger
Tiger Williams was a phenomenal agitator, but he was a bit undersized to be poking beasts such as Terry O'Reilly. That being said, Tiger always put up a fight regardless of his opponent.
Middleweights
This is not exactly a couple of small guys going at it, but at six feet tall, Rick Tocchet is not exactly evenly matched with Cam Neely, who stands in at a little over 6'1''. Not to mention, Neely is an excellent fighter.
Bobby Clarke
Bobby Clarke is one of the toughest players to play the game, and his combination of skill and grit was legendary. Most impressive was the fact that Clarke did what he did at just 5'10''.
Steve Downie
Steve Downie is not nearly the toughest guy around, but when he takes agitating a bit too far he has no choice but to drop the mitts. Downie thought he was getting a fight with Ovechkin, instead Matt Bradley pummeled him.
Stock Again
P.J. Stock does not let anything hold him back. His size, and certainly the refs, stand no chance in keeping this guy from dropping the gloves.
Tie Domi Mixing It Up
Ty Domi stands in at just 5'10'', but you wouldn't know it by how often he used to fight. Domi was often on the wrong end of a height mismatch, much like in the fight above.
Stock at His Finest
Arguably the best fight of all time, this bout between Stephen Peat and P.J. Stock saw about a punch per second with each player landing some crushing shots. Stock finishes it off with the classic wave to the crowd.
Keep Reading