Boxing's Top 15 Hottest Ring Girls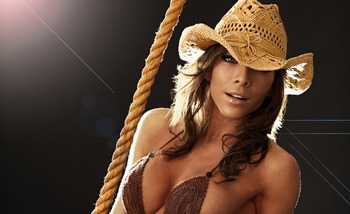 Sometimes the importance of ring girls can be overlooked, though I'm not sure how. They are an essential element of any huge boxing event, reminding the thousands of fans how many rounds their hero has left to fight.
Their walk across the ring must take a specific route, as they have to be clearly visible to the audience from all angles.
They must hold the round card high so everyone can see and did I mention that they have to be wearing a bikini or less?
Genius.
15. Elena Diaz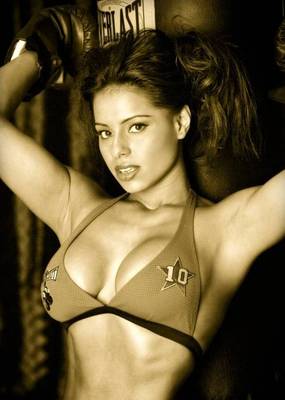 Elena has done everything from acting to modeling and of course, being a ring girl.
It's no wonder that Mayweather never remembers Leonard Ellerbe's words in between rounds with Elena patrolling the ring.
14. Pac-Man's New Friends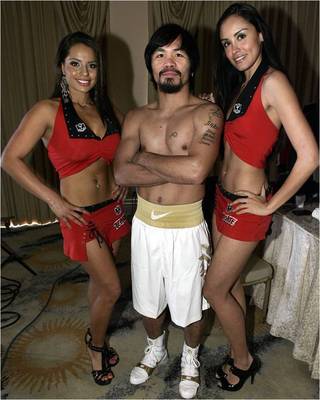 Manny was extremely pleased with his new training partners. Freddie Roach got the week off while Manny worked on his "conditioning" as he called it.
13. Jessica Serrano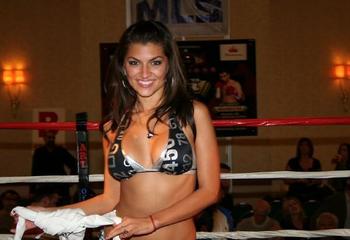 Miss. Serrano is here handing out t-shirts and goodies to the fans, but it seems the poor girl has given her own t-shirt away.
What a shame...
12. The Leather Look...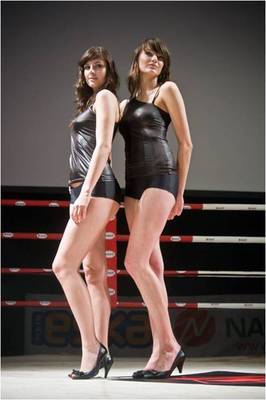 It was agreed that holding a round card was far too strenuous for one ring babe.
So they hired two.
No complaints here.
11. Chicago's Finest...
The fight was delayed due to this lovely girl spending an absurd amount of time posing in the centre of the ring.
The promoters were happy, the crowd was happy, the fighters were happy and the photographer was happy, so it was a win, win situation all around. Apart from the fighter who lost of course.
10. Waxing Wonder
This sexy lady has been itching to get in the ring so she can show off what her new waxing kit can do. The excitement on her face is for all to see and her armpits are displayed with complete confidence.
Raise that card with pride, girl.
9. Crowd Pleaser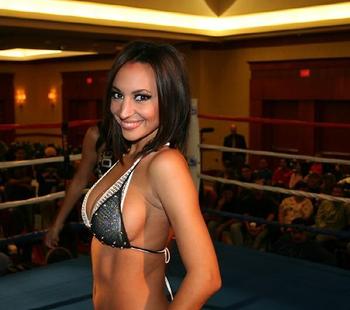 She may have forgotten her round card, but somehow the crowd wasn't too upset with her. In fact, they couldn't care about the rest of the fight.
Booing the fighters once the round interval was over seemed a bit disrespectful though...
8. Annonymous Legs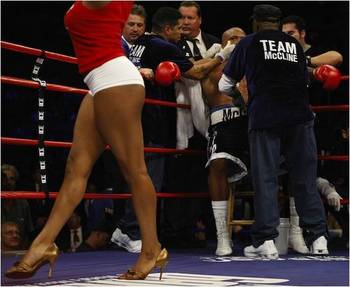 This anonymous lady's face has been cut from the photograph, but her legs alone made her worthy of the list. They look more powerful than the boxer's legs behind her.
Maybe they should switch jobs...
7. Pointless Photograph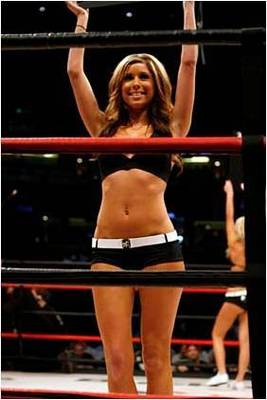 I nearly didn't put this in the list. It's completely pointless since we can't even see the round number on the card.
But for some reason I was compelled to include this picture.
6. Round 3 and Hopefully More...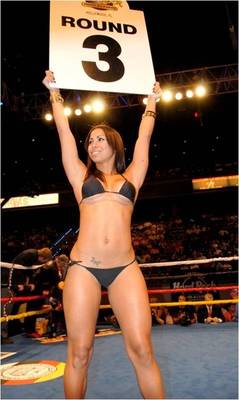 This beautiful girl, who's name unfortunately eludes me, stands with such pride as she holds aloft the round card.
She takes her job seriously, which the fans appreciate. Especially when the fight goes all 12 rounds to a decision.
5. Watch Where You're Going...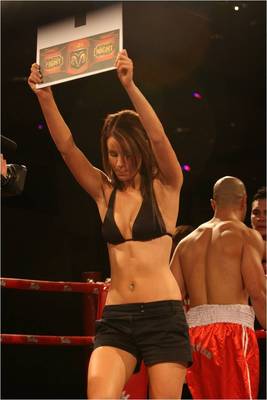 This round card beauty seems very focused on where she is walking. That could have something to do with the seven inch heels she was wearing.
4. Royalty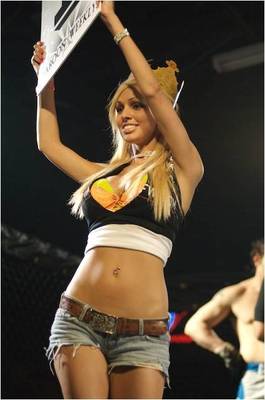 Some of you might have missed the crown she is wearing here. I'm not sure how, it's not like you would be looking anywhere else on the picture, right?
Yep, this girl is ring royalty—the walking sideways technique and the cardboard hat are proof.
3. 8 Rounds to Go... Please!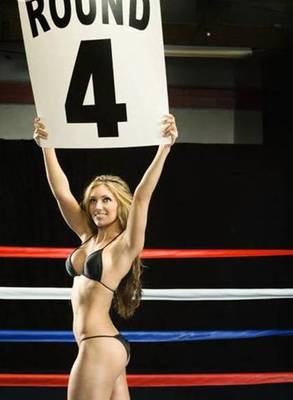 It's no wonder this beauty was rarely used when Mike Tyson was fighting. She never would have had the chance to raise the Round 2 card!
2. Asylum Escapee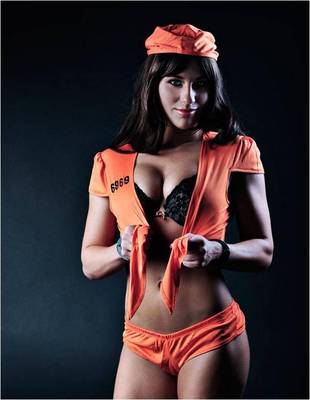 This ring girl couldn't stay away from the big events for long, so she escaped from the asylum she was locked in. Her offense? Being too hot.
The fans didn't even care that she was still wearing her inmate uniform.
1. Paulina Garces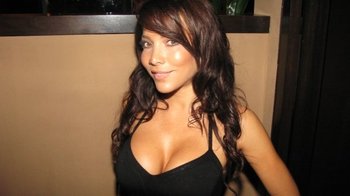 Paulina Garces claims the top spot in this list. Her skill as a ring girl has proved to be acknowledged here, as boxers all over the globe hope and pray that she is at their event.
How about a few more pictures of the winner?
Ding Ding!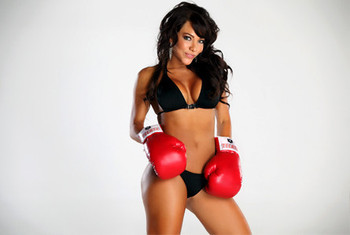 Mike Tyson was already intimidated by the time his opponent, Paulina, entered the ring...
What Round?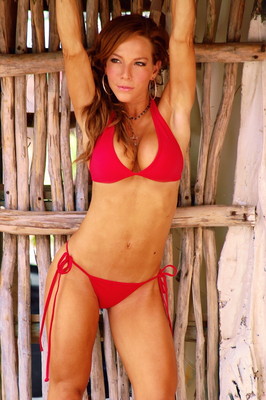 Unfortunately, the round card was cut out of this photograph.
But we aren't too bothered, right?
Keep Reading