Falcons vs. Saints: The Most Underrated Rivalry in Sports
August 24, 2011
The Rivalry.
It is one of the most passionate things in all of sports. A team can have a losing record, but if they beat their rivals, it makes the agony all worth it.
It's a competition with such great pressure that it is felt all the way from team ownership down to the very last player on a roster. But the intense feelings are felt the greatest among the fans. Sometimes, friendly competition can spiral out of control and a rivalry just gets downright nasty. It can be something as simple as stealing the mascot of another team, or as complicated as rioting.
The truth is that some rivalries are way more heated than others. We all know about some of the bigger ones out there that the media annually hypes up: Lakers vs. Celtics, Red Sox vs. Yankees, Army vs. Navy; the list goes on and on.
But, every once in awhile, there can be a huge rivalry that happens to fly under the radar from the mainstream media. And those are usually the more vicious rivalries in all of sports. This brings me to a certain rivalry in the Deep South that only seems to be getting more intense as time goes by: The Atlanta Falcons and The New Orleans Saints.
Growing up in Atlanta, Georgia, I can tell you a few things about southern rivalries. Georgia vs. Georgia Tech can get pretty heated, and Alabama vs. Auburn usually gets out of control. That's just the nature of things when the SEC is involved anyway.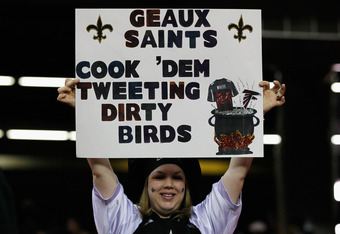 I remember when I was eight years old and a friend of the family took me to "The World's Largest Cocktail Party." If you don't know what that is, it's the annual game between the University of Georgia and the Florida Gators, which takes place on a neutral field in Jacksonville, Florida every year since 1933. This was the very first football game I ever attended in person, so I was ecstatic. But something happened when I got there that I did not expect.
Dreaming of one day attending the University of Georgia, I was obviously a big supporter of the team. So I attended the game in my bright red Herschel Walker Bulldogs throwback jersey. This, understandably so, got me a ton of heckles from the Florida faithful. I'm not talking about family-friendly heckling, either. It was my first taste of a rivalry between fans and it opened my eyes quite a bit. It didn't matter your gender, race or your age; all is fair game in a bitter rivalry between fans.
As nasty as that game was, it was small beans compared to my first attendance at a Falcons game when the visiting New Orleans Saints came marching into Fulton-County stadium the following year. There was bad language, throwing stuff, fights—you name it. It was out of control, and several groups of fans ended up getting thrown out of the game. I was like a deer in headlights at this age, but as the years went by I found myself getting more vocal in this vicious and bitter rivalry.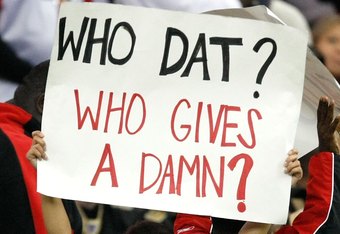 Both franchises at this time were quite the opposite of what they are now. The Saints and the Falcons both were so bad for so long that I believe this is why their nasty rivalry never gets attention from the mainstream media. In fact, the futility was so bad that up until the Falcons' Super Bowl run of 1998, both franchises had only managed to capture the division crown once each.
Falcons fans cringe whenever they hear the term "Who Dat." And Saints fans cannot stand hearing fans refer to themselves as "Dirty Birds." It isn't just the shake your head and roll your eyes kind of disdain, either. We are talking straight-up hatred. These teams do not like each other, but that is dwarfed by the amount of white-hot hate the two fanbases have for one another. The crazy thing is, it is only growing more wild as the years go by.
Being created just one year apart, their first meeting was in 1967, and the Falcons lead the all-time series 45-39 including a playoff win over New Orleans in 1991. This, and the Super Bowl berth, was the one bragging right Falcons fans had over Saints fans until their championship run in 2009. But it isn't like that ended the rivalry, not by a long shot.
It is one thing to have a rivalry when both teams are terrible. But it is a whole new world to have a hated rival when both teams are really good. With both teams looking like Super Bowl contenders headed into 2011, I doubt this one is going away any time soon. And, as a Falcons fan, I'm okay with that.