NHL Should Respect the KHL: Why They Are More Than a Russian Minor League
August 25, 2011
A lot of stories about players who come back to the NHL from the KHL seem to be unified in their opinion that the KHL's talent should be evaluated as somewhere between the AHL and some less qualified league such as the ECHL. I do not personally think that this is correct because there are definitely some quality up-and-coming prospects as well as veterans who returned there from the NHL.
Some of these veterans chose to go there because they were attracted to playing there, not always because their careers are suffering and they need a job, as has been previously suggested.
Jaromir Jagr's signing should bring some attention to the league, after the splash that Alexander Radulov made by leaving the Predators. Alexei Morozov and Alexei Yashin are former NHL players that have found success in the KHL.
I think that it would be very interesting to see the best of the NHL compete against the best of the KHL, and then many fans may be surprised by how competitive the games would be. The preseason scrimmages between various teams have failed to live up to expectations and also are not really advertised very well.
My vision is for one game between the NHL and KHL All-Stars. Obviously, some Russian fans would love to see something like a seven-game series like it was in the days of the Soviet teams, but that may be asking too much.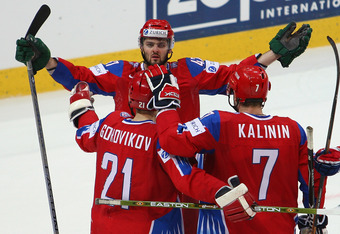 Mr. Bettman talks a lot about growing the game in Europe, but he should either broadcast the wide variety of preseason games between NHL and various European professional league teams, or set up All-Star games in Europe.
I think the KHL would be the place to start in terms of these games. Maybe in the future the Swedish or Finnish leagues could be considered as well. 
North American fans are curious to see how the NHL stacks up against other leagues around the world, and if someone thinks we will win by too much, then we could always send a group of college kids (it worked very well last time).
This is something I hope the NHL would consider when trying to grow the game overseas.