NFL Supplemental Draft: Why Choosing Terrelle Pryor Was Good for the Raiders
August 24, 2011
I do not like Terrelle Pryor. Never have, probably never will.
He's arrogant, self-centered and cocky. Sound like anyone else?
Al Davis has been known to be a bit arrogant, a bit self-centered and a little bit cocky. Many might say that Davis took a chance, a risk, on drafting Pryor in the third round of the 2011 NFL supplemental draft.
However, given his arrogant, self-centered cockiness, he believes he found a gem. Surprisingly, I agree.
Obviously, we have all heard of Pryor's past transgressions while attending Ohio State University. I for one feel that there should be a method of payment in place for college athletes, but this is not the place for me to write that article. 
There is no denying that Pryor embodies everything that Al Davis loves in a player.
Speed.
For years, Davis has been collecting players that run the best forty-yard dash times, but for the most part, not many of those have panned out.
There is no telling where exactly the Raiders project Pryor to eventually play. Quarterback?  Wide receiver? Tight end? Personally, I feel that if the Raiders do intend to play him at quarterback, he could be successful there—just not this year. Maybe not even next year.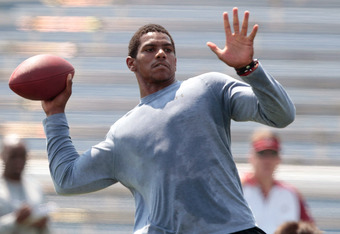 There is too much information for him to try and absorb to stand any chance at contributing as a quarterback, with so little time.
To me, the most logical position for him is wide receiver.
Think of him as better version of Brad Smith, who was known as an all-round guy for the Jets last season. He could catch the ball, return kicks and punts and throw passes out of their "wildcat" formation.
Pryor has the size to be a good receiver (6'6", 233 lbs) and most certainly the speed, having reportedly run a 4.4 40-yard dash. The unknown is how well he can catch the ball.
Given his overall athleticism, I doubt that would be much of a problem.
If the Raiders want to utilize all of Pryor's skills, they need to add a wrinkle to their playbook that includes 10-15 snaps per game out of the wildcat formation.
I am sure the Bay Area is already buzzing with the word of Terrelle Pryor joining their beloved Raiders. I am sure once his jersey becomes available you will see far more Pryor jerseys than you will Jason Campbell jerseys.
In a sense, this is a player who embodies Raider Nation. Much like the crazy fans that sit in the "Black Hole" at the Coliseum, Pryor is also seen by others as a little bit crazy and a little bit different. For a fanbase that just wants to win, they are getting a player that feels the same way. 
I expect Pryor to embrace Raider Nation and I expect them to return the favor. After all, in a way, he's just as crazy as they are.