NBA Free Agents 2011: 10 Most Intimidating Players Available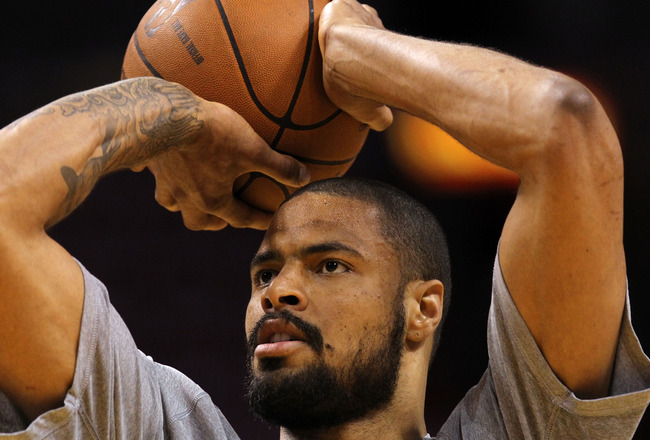 Ronald Martinez/Getty Images
The 2011 NBA free agent class is nowhere near as exciting as the star-studded 2010 edition, one that included Miami's eventual threesome of LeBron James, Dwyane Wade, and Chris Bosh, as well as Amar'e Stoudemire and Carlos Boozer, who would eventually end up in New York and Chicago, respectively.
That is not to say 2011 is not a fearsome class, especially when you consider some of the players on the block.
There is talent there; player who could change teams once the lockout ends. That list also includes some of the most intimidating players in the league, guys you wouldn't want to cross even if they were on your own team.
One of these players, Tyson Chandler, was a free agent last year, and his intimidating inside presence was one of the driving forces in the Dallas Mavericks' run to the NBA title.
While these players may not get all the headlines, their intimidation factor could help an NBA team immensely.
10. Joey Dorsey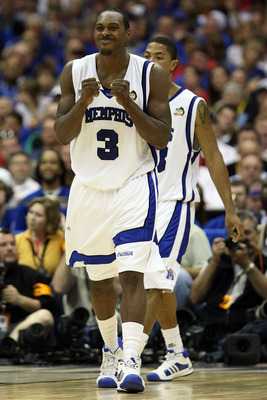 Jed Jacobsohn/Getty Images
When it comes to offensive talent, Joey Dorsey is in a class all by himself. That, of course, being not a very good one.
When it comes to providing a fearsome energy boost off the bench, Dorsey's potential is matched by few in the league.
Pairing a physique that looks tailor-made for boxing or professional wrestling, with a persona that borders on thuggish, Dorsey could become an ideal enforcer off the bench for a contender.
Derrick Rose would definitely think twice about taking the ball to the hoop if he knew his former Memphis Tigers teammate was waiting to deliver a blow.
9. Glen Davis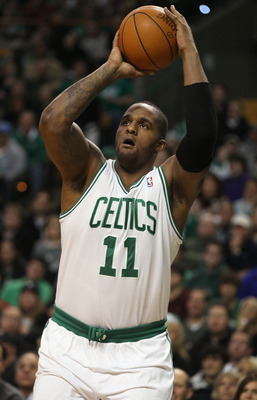 Elsa/Getty Images
Glen Davis, or Big Baby, as he is known to most NBA fans, is not afraid to get in the face of an opponent. Big Baby has more offensive game than Joey Dorsey, and has been a more consistent contributor with the Celtics.
He has a reputation as a loose cannon, which when coupled with the 290 pounds he carries, can provide plenty of intimidation.
Davis does need to work on his defense if he is to become a more imposing presence on the court, but his willingness to mix it up with opponents after the whistle puts him on this list in what is a relatively thin class of NBA free agent enforcers.
8. Greg Oden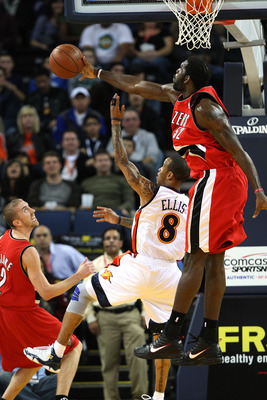 Jed Jacobsohn/Getty Images
Maybe intimidating isn't quite the best word to describe Greg Oden on the court because he is such a nice guy off the court. Imposing might work a little better in describing Oden.
The Trailblazers have already made a qualifying offer to Oden, showing a willingness to gamble on his ability to stay healthy for a full season for the first time in his career.
When healthy, there are few more physical than Oden underneath the basket, where his defensive ability shines.
He is also a capable offensive rebounder and can turn those rebounds into easy putbacks.
Greg Oden would rank higher on this list, but it seems unlikely that after years lost to injury, he will be able to reach his full potential as an NBA star.
7. J.J. Barea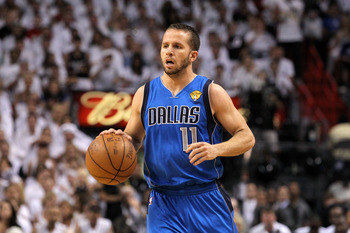 Ronald Martinez/Getty Images
Guards aren't always the most intimidating players on the court, but J.J. Barea has earned a spot on this list after his performance in the playoffs.
Barea may not be the most talented player in the NBA, but he may be one of the most confident and fearless players.
Standing barely six feet tall, the former Northeastern guard continuously took the ball to the basket against the Lakers in the playoffs amidst seven footers like Pau Gasol and Andrew Bynum. Bynum even delivered a vicious open-court clothesline to Barea.
Barea just got back up and continued beating the Lakers with his surprisingly good play. Confidence can be intimidating in some cases, and Barea has enough confidence and courage to be quietly intimidating.
6. Erick Dampier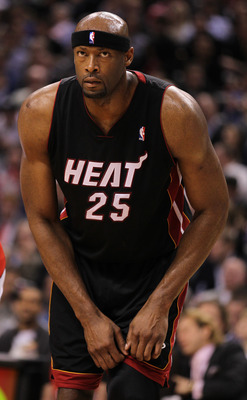 Claus Andersen/Getty Images
Erick Dampier used to be an average offensive weapon for a big man. Now, as he ages, he is becoming more of an enforcer, playing a few minutes off the bench each game.
You don't make it 15 years in the NBA without picking up a few dirty tricks along the way. As a role player who does not need to worry about foul trouble, Dampier can afford to try and sneak in his dirty tricks. It is not the worst thing for his team if he picks up a few fouls.
Erick Dampier is on the court to do one thing these days. It is to make opposing players think twice about attacking the rim.
5. Juwan Howard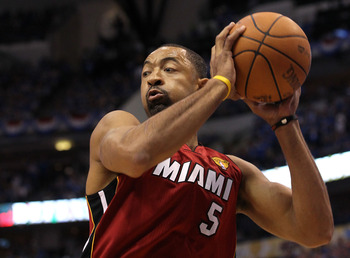 Ronald Martinez/Getty Images
Juwan Howard falls into the same category as Erick Dampier. Like Dampier, he is no longer counted on to score when he is on the court.
He is out there to play defense and deploy whatever dirty means it takes to help his team get stops.
Look for the Miami Heat to resign either Howard or Dampier to provide the intimidating presence to effectively support James, Bosh, and Wade's high-flying antics.
4. DeShawn Stevenson
Ronald Martinez/Getty Images
With his tattooed arms, neck, chest, and back, DeShawn Stevenson certainly looks intimidating. His game isn't too bad as well.
Just ask LeBron James. The two players have been going at it since LeBron played for the Cleveland Cavaliers and Stevenson was with the Washington Wizards.
In the 2011 NBA Finals, it was a Maverick-version Stevenson that shut the door on the new Heat, King James. LeBron did not just choke. He was smothered by Stevenson.
Any player who can shut down one of the NBA's best scorers is intimidating. Throw in his reputation for making outlandish statements and his ability to knock down clutch threes and it is clear why DeShawn Stevenson is one of the most intimidating players in the NBA.
3. J.R. Smith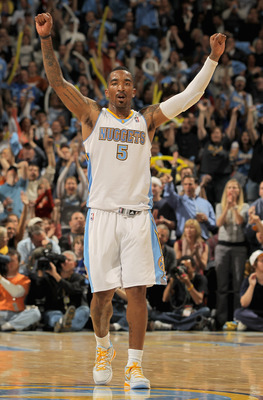 Doug Pensinger/Getty Images
J.R. Smith is another tatted up guard high on potential, short on consistency, like DeShawn Stevenson.
The former North Carolina 5-star recruit (he elected to jump to the NBA out of high school in 2004) brings a thuggish style of play to the court that not many can match. His game does not seem to have evolved far from streetball.
Smith is not one to concern himself with defense, but when it comes to dunking, he is more than willing to oblige. There are not many players who can stop a J.R. Smith dunk attempt, and when he throws down on you, he is eager to let you know about it.
When he's on, he's unstoppable. Emphasis on when.
There has been speculation that Smith has some kind of affiliation with the Bloods. Whether or not that is true remains to be seen. The fact that Smith is even mentioned with the notorious street gang is more than enough to add to his intimidation factor.
2. Kenyon Martin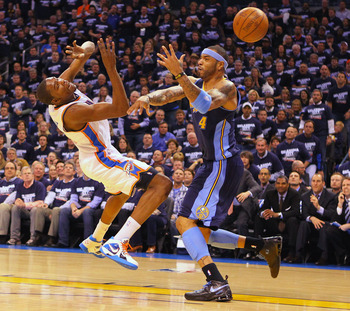 Dilip Vishwanat/Getty Images
It is quite possible that Kenyon Martin has been involved in more on court "discussions" with opponents than any other player in the NBA today.
Martin simply refuses to stop jawing after the whistle blows. His physical style of play, coupled with his sour demeanor and trash-talking abilities, put him very high on this list.
Tatoos alone do not make an NBA player intimidating, but they certainly do go a long way, at least to the casual fan. Martin has plenty of those as well.
This scowling, angry behemoth of a man has been intimidating since the day he stepped on the court.
Age will not change the fact that Kenyon Martin is one of the most intimidating players in the NBA today. In fact, it'll probably only make him edgier.
1. Tyson Chandler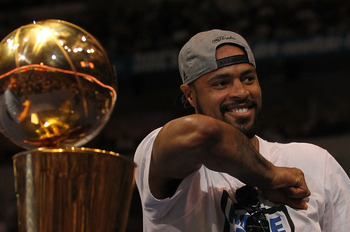 Ronald Martinez/Getty Images
Tyson Chandler does not have the naturally intimidating personality of a Kenyon Martin or a J. R. Smith, but he ranks number one on this list, because he is the best player on the market.
In his one season with the Dallas Mavericks, Chandler was the intimidating presence underneath the basket that Dallas had always been missing. It is no coincidence that once the Mavericks had a player like Chandler they were able to get over the hump and beat the Heat, banishing those memories of 2006.
An NBA team needs a player like Tyson Chandler to win, a player who is not afraid to do the dirty work, score a few points, and knock down the opposing teams star player if the situation calls for it.
The Dallas Mavericks need to resign this intimidating seven footer. They owe their NBA title to him.
Keep Reading