Arizona Cardinals vs. San Diego Chargers: 10 Things to Watch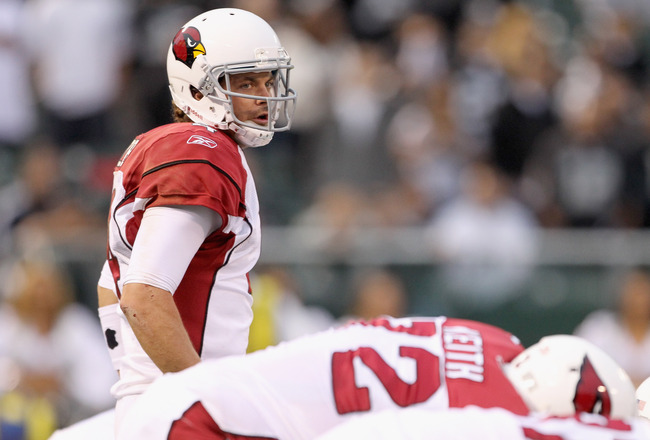 Ezra Shaw/Getty Images
If you happened to have missed the first two preseason games, or didn't watch much of them, you have an opportunity to make up for that.
Saturday's contest against San Diego will be the biggest preseason game for the Cardinals in a long time—maybe since Kurt Warner and Matt Leinart were fighting over the starting quarterback position.
Why is it a big game?
Because the starters will play at least a half.
And we all want to see what they can do.
Not to mention the fact that certain battles will be won and lost in this game, and some players will get one last chance to make an impression.
After all, the fourth preseason game will probably mean nothing.
So here are 10 things to watch out for in the Cardinals' most important preseason game:
1. Can the First-Team Offense Score a Touchdown?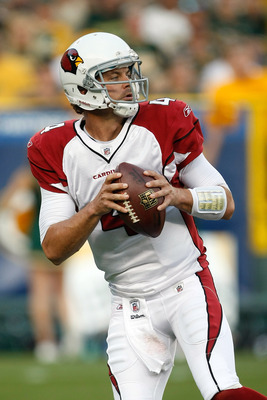 Scott Boehm/Getty Images
This would be a huge comfort to many fans that are anticipating an offensive turnaround.
I will say that so far I'm not really worried. Last week, penalties got in the way of the offenses. Penalties are to be expected since, one, it's the preseason and, two, because of the lockout.
Not to mention the fact that the offense had a gimme touchdown that Beanie Wells didn't take care of (I tend to blame him and not the offensive line, although they didn't block extremely well).
However, I'm not panicking like the AP writers who said our offense wasn't ready for the regular season this past weekend.
How many offenses are ready? In case you haven't noticed, AP, we have a new quarterback and have had a lockout to try to work around.
Okay... off my soapbox.
All that said, a solid touchdown drive in the first two quarters is very reasonable to ask for, and quite frankly, should be expected at this point.
2. How Will the Defense Slow Down Philip Rivers?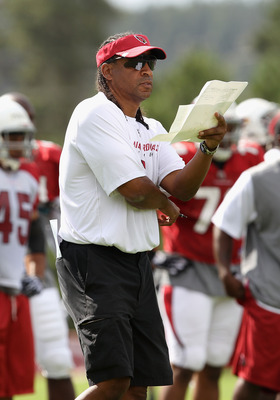 Christian Petersen/Getty Images
Maybe this is too generic of a question, but it's still a difficult answer to figure out.
If the Cardinals defense can have some success against Rivers, I'll be very pleased.
Rivers has been on target this preseason, and should be one of the top quarterbacks in the league again this year.
Arizona knows this full well after getting waxed by the Chargers last season.
Ray Horton has put in extra work on the defense, too, as they are all trying to get used to his system.
They looked good last week, as they sacked Aaron Rodgers a couple of times.
If they can play that well this week for an extended amount of time (maybe into the third quarter), it should make Cardinals fans excited.
3. How Does Beanie Wells React?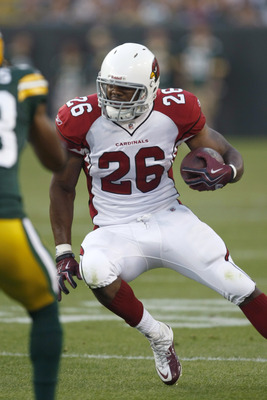 Scott Boehm/Getty Images
Wells, I'm sure, had no desire to see someone get injured.
But he did have a desire to see the ball more. At least, that's what his complaint was last season.
This season, unless Arizona gets lucky and finds the next Arian Foster or LeGarrette Blount, he'll get his wish. And that starts Saturday night against San Diego.
I'm not only interested to see if he's motivated, but to see how well he does against a solid defense (the Chargers had the No. 1 defense statistically in the league last season).
Many have said it, but it bears repeating: It's now or never for Beanie.
4. Who Takes the Place of Ryan Williams?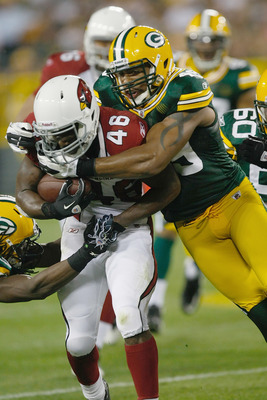 Scott Boehm/Getty Images
Unless the Cardinals sign a veteran in the next day or so, the competition for the backup running back comes down to Alfonso Smith and LaRod Stephens-Howling.
Personally, I'm a big fan of LSH. He's lighting fast and gives you the perfect change of pace you need in a running game.
If the Cardinals give him a few chances in space a game, I think he'll do great.
The problem is the Cardinals seem hesistant to use him. For one, he is small, and wouldn't be able to handle a great workload. He's also the main kickoff returner and a gunner on punt coverage.
You have to think the Cardinals want to have someone ready in case Wells goes down with injury again.
That brings us to Smith.
Here's what I think happens: Stephens-Howling starts out as the backup, but Smith becomes the "official" backup a few weeks into the season.
That really depends on how well he does in the rest of the preseason.
Unlike a guy like Arian Foster, Smith hasn't done anything really impressive yet. If he wants to stand out, he needs a big game against the Chargers or Broncos.
So don't think about turning the game off in the second half—it could get interesting.
5. Which Receivers Will Step Up?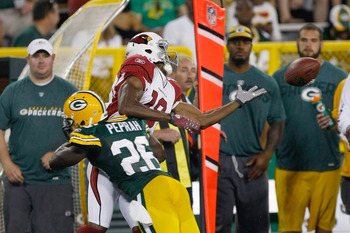 Scott Boehm/Getty Images
Behind the highly-paid Larry Fitzgerald, the Cardinals have an enormous amount of talent at wide receiver.
The problem? They're all relatively unproven.
Andre Roberts and Early Doucet have had their moments, and right now they lead the race for the Nos. 2 and 3 spots.
But right behind them are Chansi Stuckey, Stephen Williams and camp sensations Isaiah Williams and DeMarco Sampson.
Roberts and Doucet are safe on this roster, but head coach Ken Whisenhunt and offensive coordinator Mike Miller like using various receivers in the No. 2 role. Guys like Stuckey, Williams and maybe Williams and Sampson aren't just playing to make the team—they're playing to earn some time on the field.
As of right now, I'd say that Stephen Williams is the one with the most potential. The problem is that he hasn't really shown up yet in the preseason. Sure, he's had some good touchdown catches, but he's dropped or missed some catchable balls.
If he can step up and have a huge game, don't be surprised to see him on the field for 15 plays in their season opener.
But he, like the rest, need to make an impression against San Diego.
6. How Will the Cardinals Use Their Tight Ends?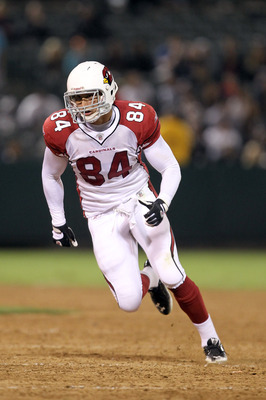 Ezra Shaw/Getty Images
One of the most interesting stats I've seen from a Cardinals game in a long time was from last week's game.
Our leading receiver? A tight end.
I truly don't remember the last time that happened.
It makes me excited that not only do we have a quality starter in Todd Heap, but Rob Housler's performance makes me think we'll see him play a prominent role in this offense for years to come.
Maybe that's jumping the gun, but for an offense that hasn't used the tight end for years, it's exciting news.
And actually, we may see him line up this year as a receiver because he's got great hands.
The Cardinals have some uncertainty at receiver, so for guys like Heap and Housler to step up would be huge.
Let's see how big of an impact they have in this game.
7. Will the Offensive Line Protect Kolb?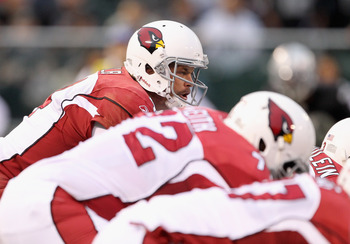 Ezra Shaw/Getty Images
The offensive line did a fairly good job last week, as Kolb wasn't sacked (although he was hurried a few times).
Also important was the fact that Beanie Wells averaged four yards a pop.
But then there were the penalties...
I still expect some mistakes from the line, but less penalties, better run blocking and better pass protection are must haves from this game.
We'll see how they protect against, again, one of the better defenses in the league.
(On a side note, it's great that Kolb is able to use his feet. He can make up for some of the weaknesses up front in that way.)
8. Will the Pass Rush Get to Rivers?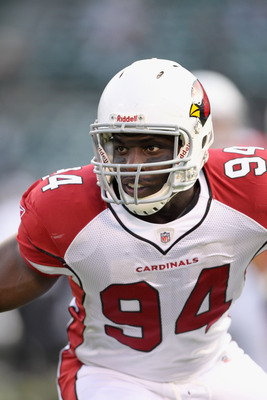 Ezra Shaw/Getty Images
The one area where the Cardinals don't have any position battles is the defensive line.
Unless Dan Williams royally screws up, it'll be him, Darnell Dockett and Calais Campbell as the opening day starters.
Last week, this group had a great game, with all three getting sacks at one point. That's a huge boost for a poor pass rush.
However, the linebackers are another story.
Sure, O'Brien Schofield had a sack and strip last week, but he hasn't looked great so far. Sam Acho is a rookie and still has a lot to learn. Clark Haggans and Joey Porter are just... well, old.
So the Cardinals could use a pass rush spark from their linebacking corp somehow.
If any of the aforementioned guys could get to Rivers, I know I would feel better.
9. Can the Linebackers Slow Down Matthews and Tolbert?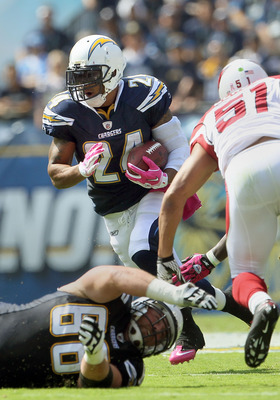 Jeff Gross/Getty Images
The Chargers had a pretty potent running game to go along with Phillip Rivers's amazing numbers last season.
The main reason for that was Mike Tolbert, who carved up the Cardinals last year in their contest.
Of course, Ryan Matthews also did his share of carving.
We all know the Cardinals desperately need to improve their run defense. I'm afraid it got overshadowed by a lack of pass rush this offseason though. They will be tested by the Chargers' dynamic duo.
If they could at least hold their own, I'd feel comfortable heading into week one against an even better duo in Jonathan Stewart and DeAngelo Williams.
(On another side note, I'd like to see Stewart Bradley with the first team. He hasn't made a huge impact yet, but I think he'd be a jolt for the run defense.)
10. Who Wins the Cornerback Battle?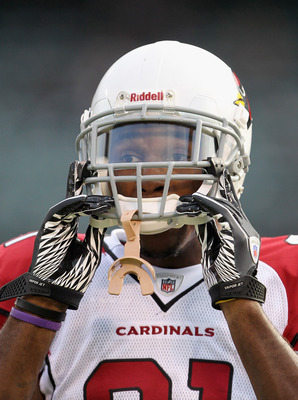 Ezra Shaw/Getty Images
Right now, the Cardinals go four deep at corner, which is a nice thing to have considering that they traded arguably their most talented one away in the offseason.
All four (Richard Marshall, Patrick Peterson, Greg Toler and A.J. Jefferson) will play. Who plays better will probably determine who starts the season.
I can actually see Toler and Jefferson starting the year, and then Peterson and Marshall eventually taking their spots. It's going to be tough to take the starting role from Jefferson though.
I'm particularly excited about him. I think we've all seen what Toler can do, but no one truly knows what the undrafted Jefferson could do.
He's looked great in the preseason thus far. He's made a couple of big mistakes, but he's broken up by far more passes than any other corner as far as I know.
It could be Jefferson and Peterson at some point in the season (I highly doubt Peterson will start the year given Whisenhunt's reluctance to start rookies). That could all be determined by how well they play on Saturday night, though.
It's just one more thing to keep an eye on.
Keep Reading

Arizona Cardinals: Like this team?