Liverpool vs. Arsenal: 8 Questions for Liverpool Fans After Victory over Arsenal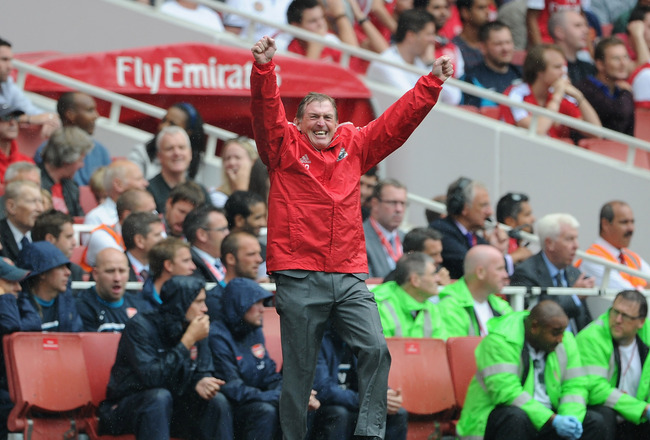 Dalglish was thoroughly soaked by he doesn't seem to care
Michael Regan/Getty Images
When Liverpool beat Arsenal 2-0 on Saturday, it was the first time the Reds had won at the Emirates Stadium, as well as our first victory against the Gunners away from home since 2000. Kenny Dalglish picked up his first victory of the 2010/2011 season and further misery was heaped on poor Arsene Wenger. All in all, a fine day.
Three points are more than welcome and it's been some time since we have played so dominantly against one of England's big clubs. Upon looking over the 90 minutes in a little more detail, I have found reasons for optimism, but also for caution.
I'd like to present eight questions for both Kenny Dalglish and Liverpool fans. Please let me know what you think.
Javier Who?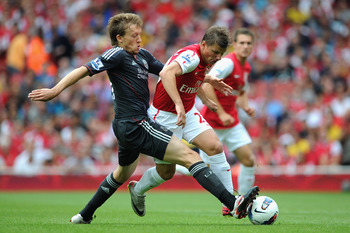 Yet another tackle from Liverpool's defensive stalwart
Michael Regan/Getty Images
First Xabi Alonso left; then Javier Mascherano departed, and all was doom and gloom at Anfield. Nobody (this writer included) really thought that Lucas Leiva would amount to much. Nobody except for Rafa Benitez, who continued to include the Brazilian in Liverpool's midfield.
Last season was easily one to forget; looking back through the Hodgson debacle, the Torres saga and everything else, however, Lucas quietly went about his business. At the end of the season he was voted as Liverpool fans' Player of the Year for 2010/2011. It was a well-deserved accolade for a player that has morphed from weakness into a strength.
Going into this season, much has been made of Liverpool's overflowing midfield; yet, as we have seen in the past two games, Lucas seems to be one of the first names on the team sheet. He's always fit, always sharp and always 100 percent committed to the cause.
The defensive midfield position has grown in importance in recent years and is now integral to any side with title-winning aspirations. Lucas has not only shown his ability to tackle but also to foul intelligently, break up counterattacks and distribute the ball quickly when under pressure. Against Arsenal he even managed a forward foray that resulted in Liverpool's second goal.
While Mascherano plays center-back at Barcelona, Liverpool have managed to nurture the talent of a sterling central midfielder, not to mention a first-choice midfielder for the Brazilian national team. It seems that even now, two years on, "In Rafa We Trust" has paid some dividends.
Have Liverpool Shifted Their Reliance on Steven Gerrard to Luis Suarez?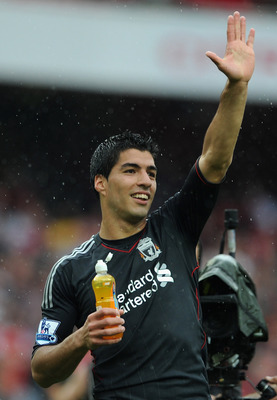 Michael Regan/Getty Images
One of the most frustrating things about watching Liverpool in the past five years (except for that wonderful 2008/2009 season) is the constant frustration itself. Usually, it consisted of screaming at the television for our boys to just get the ball to Steven Gerrard. Then it was constant prayer for Fernando Torres to overcome his injury woes.
Watching Arsenal on the weekend, the only thing going through my mind was "Kenny, get Suarez out there!" Dalglish had admitted that he shouldn't have started the Uruguayan against Sunderland and wanted to give him some rest after a busy summer.
Having a player like Suarez on our team is amazing, but I just can't help feeling that we haven't progressed on from relying so heavily on a single player. Rafa Benitez looked to add a third to complement Gerrard and Torres but never managed to pull it off. Suarez could have been that player, but Chelsea and injury have robbed us of his supporting cast.
Is this going to be a problem? Suarez has had a direct contribution to 100 percent of our goals so far this season. As it stands, we score when he's on the pitch, and can't seem to when he's off. Part of this may be down to the weight on Andy Carroll to justify his price tag. He could take the pressure off Suarez. But for better or worse, Carroll doesn't seem like the kind of guy who cares about what people think.
As the season continues, I'm hopeful that Charlie Adam will rediscover the talismanic form that saw him succeed at Blackpool, Steven Gerrard can return to his best and Andy Carroll starts knocking in goals.
But it seems that for the moment, Liverpool's season rests on keeping Suarez fit and scoring.
Is the £6 Million Spent on José Enrique Liverpool's Best Bit of Business?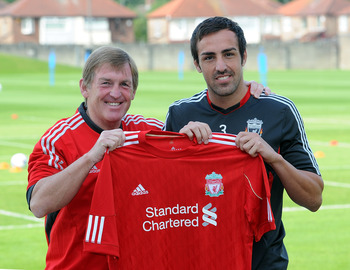 Liverpool FC/Getty Images
José Enrique had less than a day between signing for Liverpool and making his first-team debut against Sunderland. He played a solid game then, but his performance against Arsenal had me out of my seat on several occasions. Liverpool have been hampered by the lack of a natural left-back. That problem is now over.
First and foremost, it was telling that Arsene Wenger pulled off Theo Walcott on 80 minutes when the Gunners were in need of pace and, more importantly, a goal. The speedy winger has moaned and complained about wanting to play as a striker, but after having to deal with Enrique at the Emirates he may want to finish chewing that humble pie.
Simply put, the Spanish defender had Arsenal's miniature No. 14 in his pocket the entire game, so much so that Enrique had several opportunities to venture forward and display his skill on the ball. He matched Walcott for pace, power and skill, as well as sheer determination.
Manchester United's Patrice Evra has been ever-present on the left flank for the champions and I don't see any reason why Enrique can't replicate that type of consistency and excellence for Liverpool. Having a brilliant left-back may not win you games, but it sure as hell makes every other player's life easier.
So far Liverpool's No. 3 has provided the best value for money out of all signings made this summer.
Is Jordan Henderson Keeping Raul Meireles out of Liverpool's Starting XI?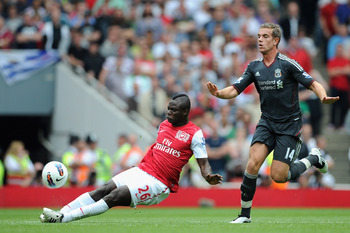 Michael Regan/Getty Images
Jordan Henderson cost Liverpool £20 million. Get over it, it's done.
He played for 60 minutes against Sunderland and the full 90 minutes against Arsenal on Saturday as what can only be described as an outside-attacking midfielder. On no occasion did he look to receive a pass on the flank and deliver a ball into the box.
So what exactly is he doing out there? My guess is as good as yours. Tactically, it looks like Dalglish is looking to defend with two lines of four. But when Liverpool have the ball, they seem to be all over the place. Stewart Downing has been keeping left for the most part and against Arsenal Dirk Kuyt and Henderson were coming inside in an attempt to support Carroll.
But is Henderson keeping Raul Meireles on the bench? At first glance I would have to say no, as Dalglish liked to field Meireles a little farther forward than the spot that Adam occupies. Against Arsenal he came on for Kuyt, but seeing as the Gunners were down to 10 men, there was no like-for-like tactical swap going on here.
Assuming that Luis Suarez starts against Bolton next weekend, it would seem that there is only room for one of Henderson, Kuyt and Meireles on Liverpool's vague right flank. Against a team like Bolton (who won't be playing any beautiful football as long as Kevin Davies is in the team), it would appear that Kuyt would make the stronger case for inclusion.
Where does this leave Meireles? Unfortunately I think he is in for some significant time on the bench. Unless Stewart Downing disgraces himself or there's an injury/suspension to Charlie Adam, the Portuguese midfielder will be consigned to play the role of impact substitute.
Martin Kelly Deserves To Be First-Choice Right Back for Liverpool and England
Michael Regan/Getty Images
No question here but simply a statement of fact. John Flanagan deserved his opportunity against Sunderland due to his performances at the end of last season, but Martin Kelly showed again on Saturday what a fearsome defender he could become. Andrei Arshavin wasn't impressed.
Liverpool's No. 34 has all the attributes to make the right-back position his own for years to come. His pace both with and without the ball is outstanding, as is his ability to challenge for possession and keep the ball under pressure. Kelly is strong in the air (at 6'3", he's no slouch) and has displayed the hunger to overlap and get forward. His crossing will improve in time—he's still only 21.
Dalglish was familiar with Kelly from his time as director of Liverpool Academy and therefore didn't share the surprise felt by fans when the defender came in after Glen Johnson's injury and never looked back. The Reds manager isn't saddled with the guilt of Johnson's £18 million price tag and therefore should be under no pressure to play him.
As a defensive player, I think that Kelly is superior to Johnson, and last season aside he has shown none of his teammate's susceptibility to niggling injuries. Fabio Cappello was in the stands at the Emirates and was impressed with the defender's performance. Looking at the England manager's options, I don't see a better candidate than Kelly.
How Is Dalglish Going To Get the Best out of Andy Carroll?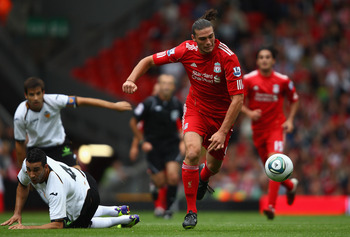 Clive Brunskill/Getty Images
Simply by being a rather large gentleman, it seems that Carroll attracts hopeful long-balls (I'm looking at you, Jaime Carragher) like Samuel Eto'o attracts ludicrous pay packages. It's been only two games, yet when Liverpool are frustrated, under pressure or simply looking for a goal, players will hoof it to Carroll up front and hope something happens.
The acquisition of Downing and the set-piece delivery of Adam are indications that Carroll should be looking to get into the box at every opportunity. He had a perfectly good goal disallowed for a "foul" against Sunderland, but against the aerial ability of Thomas Vermaelen, there was little evidence indicating he would find the back of the net with that forehead of his.
While Carroll is a great header of the ball, he also possesses an absolute cannon of a left foot. His first goal against Manchester City last season showed the perfect striker's instinct: in a dangerous position, quick to react, bloody un-savable strike.
Teams playing Liverpool are likely to defend a little deeper and hit on the counterattack (save the likes of United and Chelsea). For this reason, Carroll is going to receive plenty of attention from defenders, who will also attempt to play on his large side to draw fouls (Peter Crouch also falls victim to this). With more playing time and a few goals under his belt, Carroll's confidence should overcome this problem, but Dalglish's priority is to get him off and running.
Sooner or later he'll stick in a corner or free kick, that is certain. What Liverpool need to do in the meantime is what Kenny has been preaching all along: keep it on the deck. Players like Adam, Downing, Suarez and Kuyt are clever in their movements, quick to get a pass away and spot the runs of their teammates. Carroll's ability to quickly get powerful shots on target should have him drop back a little bit so that he can run onto balls rather than always play with his back to goal.
Where Will Martin Škrtel Fit in Once He Regains Full Fitness?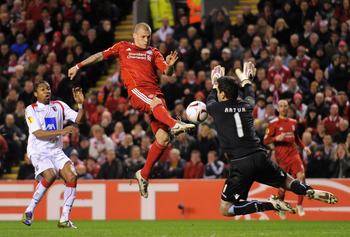 Michael Regan/Getty Images
Martin Škrtel played every minute of Liverpool's 2010/2011 season but sustained an injury in preseason that has prevented him from featuring so far. In his absence, Jaime Carragher has continued to do what he does best and Daniel Agger has brought incisive passing and awareness to the Reds defence. Continuity is key when it comes to keeping things tight at the back, so how will Kenny Dalglsh fit in a standout performer from last season?
Key to this question is the fitness of Agger. The Danish center-back has no small amount of talent, but he has been unable to keep a clean bill of health ever since he arrived from Brøndby in 2006. Agger's ability on the ball meshes well with the rugged presence of Škrtel or the timing and dependability of Carragher.
In all likelihood Dalglish will be forced to field Škrtel and Carragher as his first choice when Liverpool's No. 5 breaks down again, but while they're all fit, the option of a 3-5-2 formation reemerges. When deployed against Stoke City and Chelsea last season this strategy paid dividends in nullifying a narrow, concentrated attack and liberated both Kelly and Johnson to bomb forward at will.
Now that Sotirios Kyrgiakos has left to join Wolfsburg, Liverpool look a little slim at the back. It is unlikely that Kenny won't reinforce before September, but if he doesn't it is imperative that Škrtel is back to 100 percent as soon as possible.
At 33 years old, Carragher isn't getting any younger, so a Škrtel/Agger axis could be the bedrock of future Liverpool sides.
Liverpool Played Relatively Poorly Against Arsenal but Still Won
Michael Regan/Getty Images
When you look at the success that Sir Alex Ferguson has enjoyed at Manchester United down the years, several things come to mind: voodoo magic, human sacrifice, Gary Neville's ugly face and trophies. If the Red Devils are losing a game and the clock is ticking down to 90 minutes, they will usually score in "Sir Alex Ferguson time" (or injury time plus-five) to tie the game or win it.
Call it what you will, but there exists an underlying determination to win no matter what the cost, no matter who the opponent. United's players never stop gunning until the lights are off and the stadium is empty. This has allowed them to win many games over the years while playing quite badly.
This leads to one of my favourite soccer clichés: It is the mark of a champion to win while you are playing poorly. Turning 0-0 draws into 1-0 leads, getting those two extra points, climbing a little bit higher in the table. On Saturday, Liverpool were the better side, but a 2-0 scoreline was slightly flattering. With Arsenal down to 10 men, Dalglish would have been kicking himself if the Reds didn't secure three points and thankfully they did.
In the 2008/2009 season when Liverpool pushed United right to the end, it was down to those scrappy games against the likes of Wigan where somehow Dirk Kuyt popped up with a goal in the 85th minute. A number of factors contribute to a team's ability to win games, but that never-say-die spirit helps give the edge when snatching victory from a drab draw or defeat.
If Liverpool are going to get back into the Champions League, we need to be beating the big guns, but also we need to be winning games like this. Kenny Dalglish knows what it takes both as a player and a manager to win trophies, and he'll do everything in his power to bring European nights back to Anfield.
Three points were finally clinched away from home against Arsenal; now on to Bolton.
Keep Reading

Liverpool: Like this team?