Magic Johnson vs. Kobe Bryant: Who's the Greatest Laker of All Time?
September 14, 2011
Ronald Martinez/Getty Images
Forget the Wilt-Russell debate, the Magic-Bird debate, and even the Jordan-Kobe debate.
The greatest NBA debate involves two Los Angeles Lakers: Magic Johnson and Kobe Bryant.
Deciding between Kobe Bryant, the Lakers legend of the present, and Magic Johnson, the Lakers legend of the past, is very difficult because the two players' impacts are so evenly matched.
Both players dominated at their positions, both succeeded with the help of a hall of fame big man, both were clutch winners, both faced tremendous adversity and, most importantly, each helped solidify the Los Angeles Lakers' position as arguably the greatest franchise of all-time as they both won five NBA championships.
Although it is evident that Johnson and Bryant are close when evaluating multiple facets of their careers, there are a couple of things that propel one ahead of the other.
What boosts Johnson ahead of Bryant are his intangibles.
I'm not saying that Bryant lacks intangibles because he certainly doesn't; however, Bryant's attitude has put him in bad situations, at times.
His arrogance made him a polarizing figure—he was disliked by teammates, such as Shaquille O'Neal, and he was frequently un-coachable, according to Lakers' former head coach, Phil Jackson.
On the other hand, Magic's intangibles were unprecedented in their form.
He embodied the epitome of leadership.
Beginning in high school, with his infectious, charming smile and inspiring demeanor, Johnson united, as stated in Jackie McMullan's "When the Game Was Ours," "two very different cultures," by bridging the gap between black and white basketball players.
Everyone wanted to play with Magic because he didn't scold and criticize. Instead, he motivated with words and through example.
This attitude carried over into the NBA, as Johnson continued to lead with his exceptional intangible qualities and, in the end, he led the Los Angeles Lakers to winning five NBA titles.  
In addition, Johnson breathed life into the city of Los Angeles—his intangible qualities aided him in uniting a community as he attracted more fans, including celebrities, thus creating the "Showtime" era.
While Magic's intangibles place him ahead of Kobe, Kobe's tangible qualities put him ahead of Magic.
Magic Johnson is one of the best all-around players of all-time, as he averaged 19.5 PPG, 11.2 APG, and 7.2 APG.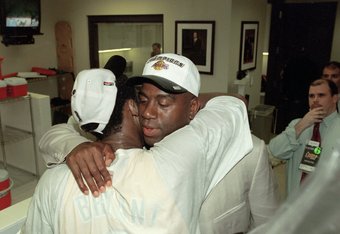 Jed Jacobsohn/Getty Images
However, one can argue that Bryant's on court play is even more impressive.
First, Bryant is a better shooter and scorer than Magic—he has averaged 25.3 PPG in his career, and he showed the world one of the most masterful scoring performances in NBA history when he racked up 81 points against the Toronto Raptors in 2006.
In addition, Bryant's scoring ability is very similar to that of the greatest basketball player of all time, Michael Jordan. Like Jordan, Bryant is able to score in a variety of ways—he can post up, spot up, and drive to the hoop.
What separates Bryant from Magic even more is his defense. Bryant has been one of the smartest and most feared defenders for years, as evident by his nine all-defense first team selections and two all-defensive second team selections.
On the other hand, Johnson's defense never earned him an all-defensive selection.
Though intangible and tangible qualities set Bryant and Magic apart, while other facets of their careers are virtually the same, the debate on who's the greatest Laker seems to become even more contentious.
In the end, it comes down to whether you perceive Magic's intangible qualities or Bryant's tangible qualities more valuable to the Los Angeles Lakers franchise.
The choice, a difficult one indeed, is yours.