New York Jets 2011 Season: 9 Players Who Can Make the Pro Bowl This Year
Bob Levey/Getty Images
Hate em' or love em', the Jets are one of the most talked about teams in sports.
It wasn't so long ago that they were devoid of talent and starved of excitement in every way imaginable.
Life was hard as a Jets fan.
Since the big man Rex Ryan, A.K.A. Rexcalibur, came to town, the Jets have been infused with a swagger that exists even among the most disciplined championship teams in NFL history.
There are a lot of reasons to hate the Jets, but that's usually a sign that a team is right around that top spot fighting for the Lombardi trophy.
Scope these nine Jets that can soar to Pro Bowl heights in 2011.
Mark Sanchez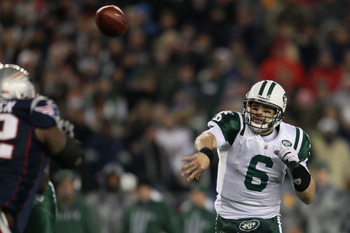 Elsa/Getty Images
Mark Sanchez is tied for the most road playoff victories among active quarterbacks.
HIs development between his rookie and sophomore seasons goes beyond numbers.
Sanchez has really taken over as the leader of the Jets.
In 2010 he brought his interceptions down by seven.
There's no doubt Sanchez has been inconsistent during the regular season, but 2011 may be the year his play during the regular season equals his postseason performances in the past.
David Harris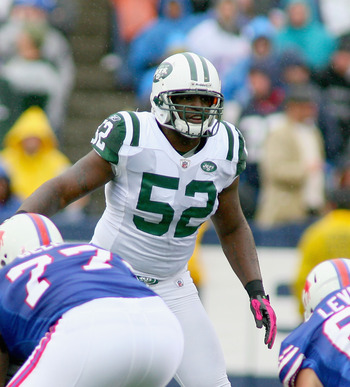 Rick Stewart/Getty Images
David Harris was selected to the All-Pro team in 2009, yet he has never been voted to a Pro Bowl.
Harris put up 100 tackles last year and has had over 120 twice in his career.
He is one of the best linebackers in the AFC.
2011 should be the year he is recognized for his All-Pro ability.
Santonio Holmes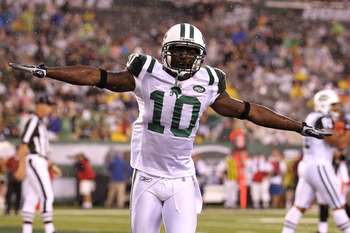 Al Bello/Getty Images
It may come as a surprise, but Santonio has never been selected to a Pro Bowl.
He has never been in a position like he is in with the Jets.
Last season Santonio and Mark Sanchez showed flashes of the rare bond between quarterback and receiver that has produced duos like Montana to Rice and Aikman to Irvin.
Holmes's wiggle after the catch and his ability in the red zone should give him plenty of opportunities to fly around the end zone.
The addition of Plaxico Burress should help Holmes tremendously.
With Burress running the deep routes in the playbook, Santonio should be free to get the ball in space and produce after the catch.
Santonio had around 700 yards receiving and six touchdowns in just 12 games last season.
In 2009, he had 1,200 yards and five touchdowns.
Santonio Holmes is in the prime of his career and poised to have his best season yet.
Nick Mangold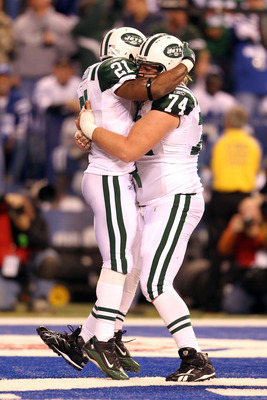 Andy Lyons/Getty Images
Mangold is probably the safest pick on this list.
Since he has come into the league he has been a presence in the Pro Bowl.
He is one of the best centers in the NFL, possibly the best.
Mangold has already made the Pro Bowl three times in his young career and he doesn't look to be slowing down anytime soon.
Mangold has never missed a start in his career.
Antonio Cromartie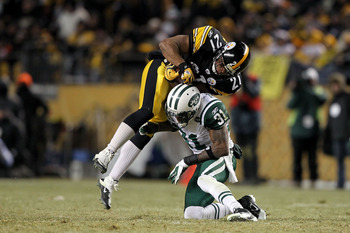 Al Bello/Getty Images
Darelle Revis is the obvious choice to make the Pro Bowl.
His counterpart at cornerback may not be everyone's favorite pick.
That being said, Cromartie will be playing with a chip on his shoulder in 2011.
As a competitor and a man he had to feel slighted by the way the offseason went.
The fact that he plays on the same team as Revis will help his cause.
Teams will be reluctant to throw towards Darrelle, therefore Cromartie will see more balls thrown his way.
Finally, the departure of Nnamdi Asomugha to the Eagles opens up the race for Pro Bowl corners in the AFC.
Darrelle Revis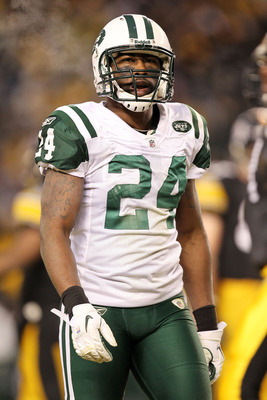 Ronald Martinez/Getty Images
Revis may seems like a no brainer...and he probably is.
The reputation he has built through his phenomenal play will definitely help him in the voting process.
Also, as much as teams will be avoiding Revis this season the Jets style of defense will cause quarterbacks to force the ball often.
The strength of the Jets secondary should help Revis get some more opportunities around the ball in 2011.
Revis has the most passes defended in the NFL since 2007.
This stat often goes unnoticed, but may be more important than interceptions.
Revis will play up to his high standards, and he will be recognized again in 2011.
D'Brickashaw Ferguson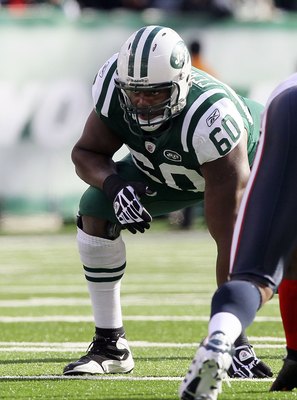 Jim McIsaac/Getty Images
In four seasons, D'brickashaw Ferguson has made the Pro Bowl twice.
He is only 27 and his skills are unlikely to erode anytime soon.
Ferguson has the ideal wingspan and athletic ability of a left tackle in the NFL.
He and Nick Mangold will have to hold down an offensive line that has some holes at other positions.
Shonn Greene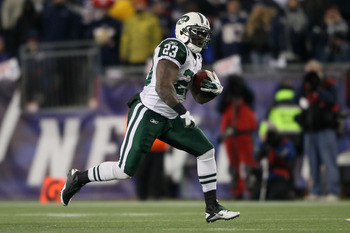 Elsa/Getty Images
Shonn Greene is a stretch.
Still, his playing style is in harmony with the offensive mindset of the Jets.
Greene has made some critical runs in the postseason and has shown a rare combination of explosive speed and rhinoceros power.
Unlike in the past, Greene will get the majority of the carries for New York in 2011.
Ladainian Tomlinson will provide more of the role he was intended to fill in 2010, primarily playing on 3rd down.
Greene will benefit from a Jets passing game that is showing glimmers of potential dominance.
Dustin Keller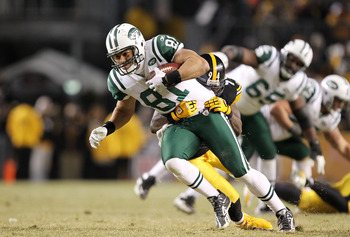 Ronald Martinez/Getty Images
When the Jets traded up to draft Keller in the first round in 2008, they saw the potential for a tight end with the receiving ability to create mismatches like Antonio Gates.
In 2011 Keller may join Gates for a trip to Hawaii.
Keller had four touchdowns in the first five games of last season, and he has emerged as one of Mark Sanchez's favorite targets.
The Jets receiving corps will be an improvement over last year, which should give Keller even more chances to make plays.
If you like my articles, check out my others
Keep Reading

New York Jets: Like this team?