College Football Realignment: 64 Programs That Should Be in a Super Conference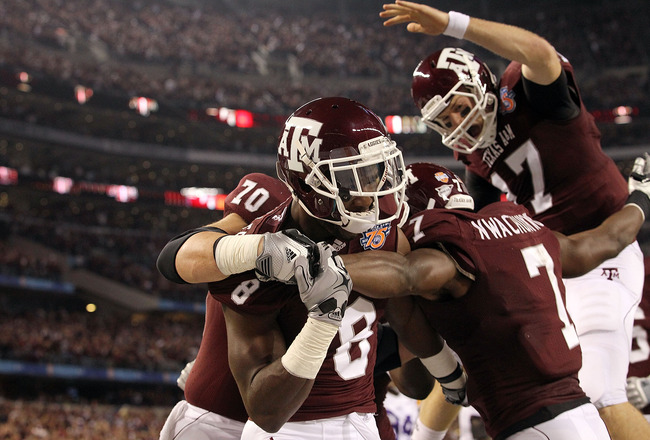 Ronald Martinez/Getty Images
For a while last summer, it looked like the Pac-10 would take away half of the Big 12 to become the Pac-16 and start off a new line of super conferences.
Texas and company decided to stay in the Big 12 and the Pac-10 became the Pac-12. It seemed like all was well again with the status quo in college football.
Texas A&M's bid to join the SEC has shattered that illusion.
So, if we do get an arms race and the current AQ conferences decide to transform into 16-team super conferences, what would they look like?
The first 16 teams in this slideshow would form the new "Great West." The next 16 would be the "Great Midwest." The 16 after that would become the "Great East" and the final 16 would form the "Great Southeast."
So, where would your team fit in? Read on.
USC Trojans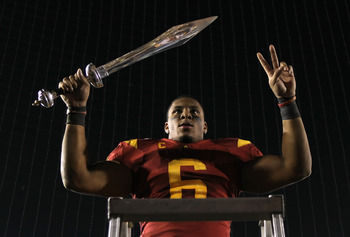 Jeff Gross/Getty Images
USC is an obvious choice here in the West. Over their long and storied history, the Trojans have won 37 conference titles since 1961, 11 national championships and six BCS Bowls (though the 2005 Orange Bowl win has been vacated).
Seven Heisman Trophy winners have played for USC, though Reggie Bush has since had to vacate his.
True, USC has struggled under the weight of recent NCAA sanctions, but give the Trojans a few years and they'll be right back at the top.
Clearly, USC will continue to "Fight On" if and when super conferences come into existence.
Oregon Ducks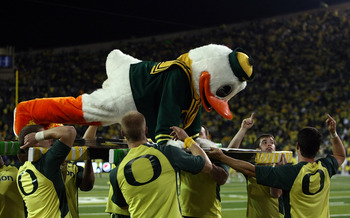 Jonathan Ferrey/Getty Images
Oregon is currently the best program in the Pac-12, so of course the Ducks are going to be able to sit pretty if super conferences form.
They played for the national championship just last year. Oregon has been to three BCS Bowls, though they've only won one.
So, if it ever forms, we will see the Duck continue to do his push-ups in the Great West.
Utah Utes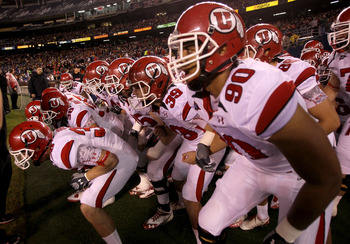 Stephen Dunn/Getty Images
Utah has made it to and won two BCS Bowls, including a stunning upset of Alabama in the 2009 Sugar Bowl, despite not being in an AQ conference until this season.
The Utes have done enough to get an invite to the Pac-12. It stands to reason that they'd keep their place in the conference should it expand further.
Boise State Broncos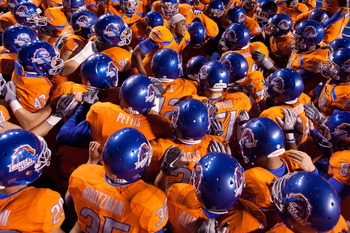 Otto Kitsinger III/Getty Images
As much as schools like Cal and Stanford would protest Boise State's inclusion into their conference due to academics, there's no way that the Broncos would get left behind. After all, Boise State has more BCS Bowl wins than the Golden Bears and the Cardinal put together.
In fact, the only current Pac-12 members that can claim that they've won as many or more BCS Bowls than the Broncos are USC and Utah.
Yep, we're going to see more of that blue turf if super conferences indeed form.
Stanford Cardinal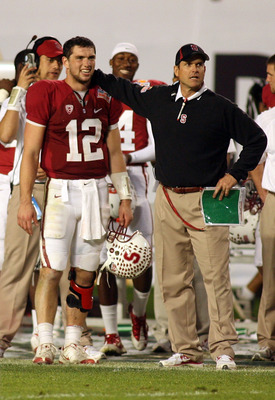 Marc Serota/Getty Images
If these super conferences were to form tomorrow, the Cardinal would have two people to thank:
Former head coach Jim Harbaugh and star QB Andrew Luck.
But Harbaugh has since left for the NFL and Luck will be at Stanford for at least two more seasons. How will Stanford do now? Stanford better hope they can maintain some of the Harbaugh/Luck era success or that expansion happens quickly—before the Cardinal has time to hit the Pac-12 basement again.
Nevada Wolf Pack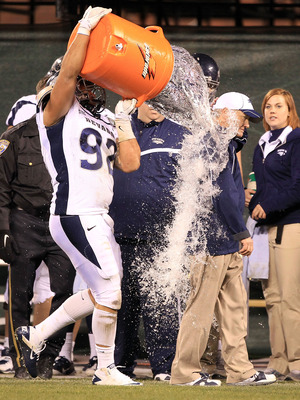 Ezra Shaw/Getty Images
Chris Ault ought to be proud of himself. After all, he's built a whole new offense in addition to building Nevada from the ground up. The Wolf Pack even finished 2010 in the Top 15.
The pistol offense will live on in the super conferences.
UCLA Bruins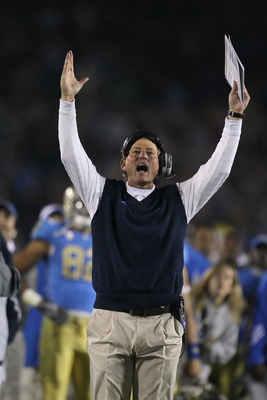 Jeff Gross/Getty Images
UCLA may have USC to thank for their inclusion into a super conference. After all, the Trojans wouldn't stand for leaving their old rivals behind.
The Bruins can boast a close loss in the 1999 Rose Bowl, but little else recently. UCLA has finished 7-6 or worse over the last five seasons.
If this keeps up, association with USC as a rival might not be enough to keep the Bruins around.
Washington Huskies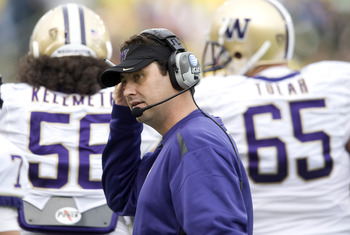 Steve Dykes/Getty Images
The BCS era has certainly been a roller coaster for Washington.
They've experienced the highs of beating Purdue in the 2001 Rose Bowl.
And they've experienced the rock-bottom lows of going winless in 2008.
Still, it seems that Steve Sarkisian has things on the up and up. After all, they did just take out Nebraska in this year's Holiday Bowl.
Colorado Buffaloes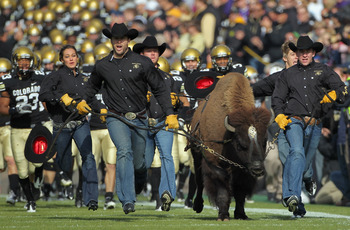 Doug Pensinger/Getty Images
Colorado gets in thanks to their successes and national championship back in the '90s—it certainly wouldn't be based on what the Buffaloes have done recently.
Still, those wins haven't been sucked dry to the point that Colorado would be left out. But the Buffaloes better find ways to win in their new conference or else.
Air Force Falcons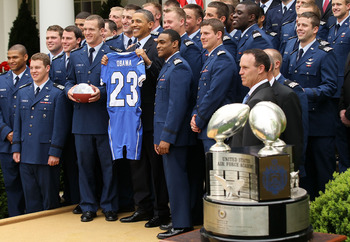 Alex Wong/Getty Images
While Air Force hasn't been able to make it to BCS Bowls or win conference championships, they are a consistently good team. The Falcons have gone to four bowl games in a row over the last four seasons.
Besides, do you want to tell the Air Force cadets that they're not going to make it? Good luck with that.
Arizona State Sun Devils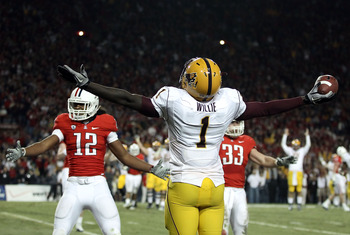 Christian Petersen/Getty Images
The Sun Devils certainly won more conference championships in the WAC before they joined the Pac-10, winning seven in the WAC over a nine-year period. Since then, they've only won three over the last 32 years, with the most recent shared title coming in 2007.
But their five bowl appearances over the last 10 years keep Arizona State in—though not by much.
California Golden Bears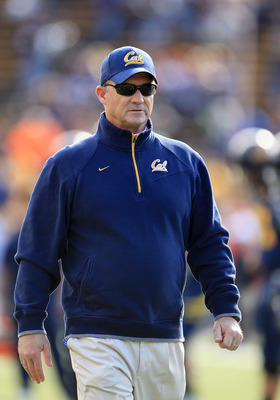 Ezra Shaw/Getty Images
For a while, Jeff Tedford had a nice bowl streak going. Cal had seven in a row before failing to make one in 2010.
Cal has also been ranked in the Top 10 as recently as 2004. Although, Tedford would be wise to do more in order to keep the Golden Bears in a super conference—and to keep him in his job.
Oregon State Beavers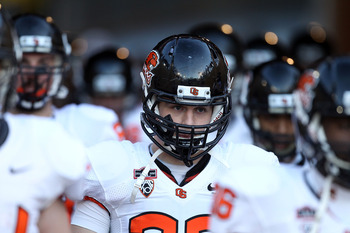 Ezra Shaw/Getty Images
Oregon State may not have the flashiest record (and who does in the Pac-12 besides Oregon and USC?), but they do have a solid one. They've gone an impressive 5-2 in bowl games over the last 10 years and they did beat Notre Dame in the 2001 Fiesta Bowl.
They are also famous for upsetting USC. Someone has to keep the Trojans humble.
Fresno State Bulldogs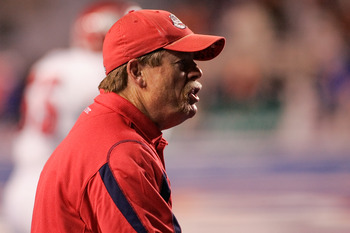 Otto Kitsinger III/Getty Images
The Bulldogs are one of very few teams to go to bowl games nine times out of the last 10 seasons.
And while Fresno State doesn't have the most dazzling resume, their consistency and willingness to schedule tough opponents anytime and anywhere gets the Bulldogs in.
Hawaii Warriors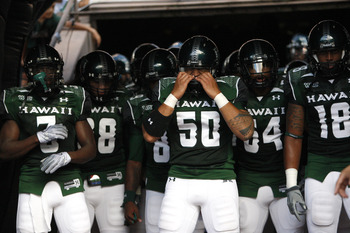 Kent Nishimura/Getty Images
Who wants a trip to Hawaii? Well, teams in the Big West would have that shot every other year in this super conference.
Hawaii has gone to bowl games seven of the last 10 years, including a Sugar Bowl appearance. And don't forget, the Warriors are one of only four teams to bust the BCS.
Arizona Wildcats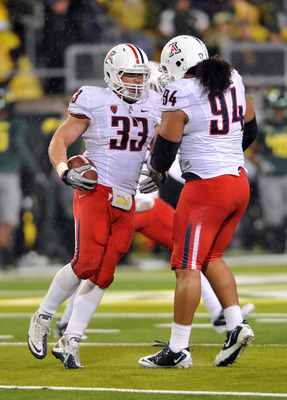 Steve Dykes/Getty Images
Arizona gets in, but barely. After all, the Wildcats really haven't accomplished much since they joined the Pac-10. Still, they've gone to bowl games the last three years straight, which is more than Washington State can say for itself.
Ohio State Buckeyes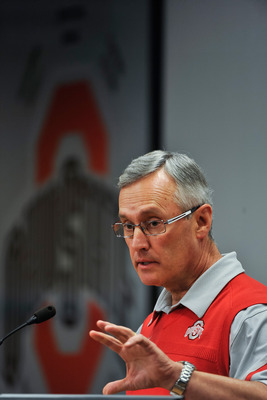 Jamie Sabau/Getty Images
The Buckeyes may be in a world of hurt with the NCAA, but there's no way they'd get left behind. They are tied with Oklahoma for the most appearances in BCS Bowls at eight and have a national championship under their belt.
Yes, the reign of the Sweater Vest is over, but it won't be too long before the Buckeyes are back up to full strength. Ohio State is too strong of a program with too many supporters to think otherwise.
Michigan Wolverines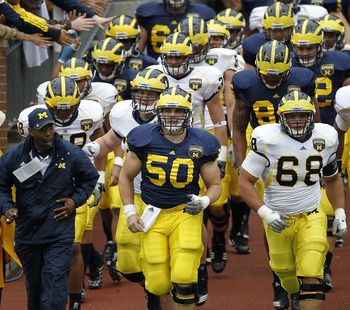 Leon Halip/Getty Images
As disastrous as the Rich Rodriquez era was, Michigan still has plenty going for it. After all, Michigan went to the 2007 Rose Bowl, and that wasn't too long ago.
Besides, what would college football be without Michigan facing off against Ohio State?
Oklahoma Sooners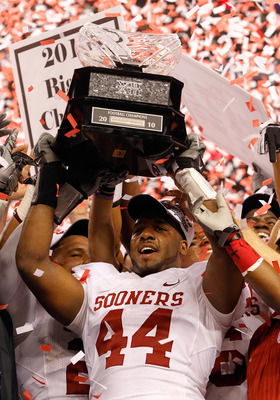 Tom Pennington/Getty Images
No one has been to more BCS Bowls than the Oklahoma Sooners. Of course, their record at said BCS Bowls is only 3-5, but don't forget that four of those games were for the national championship.
Even though Texas is perhaps the biggest money maker, and also the biggest diva, of the Big 12, Oklahoma is the most successful program. And, of course, you don't leave your best program behind when you form super conferences.
Texas Longhorns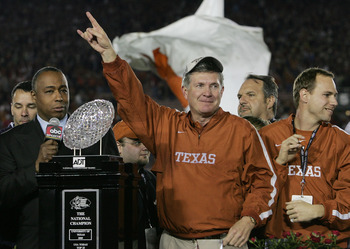 Stephen Dunn/Getty Images
Despite a 5-7 record last season, Texas is a clear choice for inclusion.
After all, they did win the 2005 national championship in one of the most fantastic games ever, and they did play for it all again in 2009.
Even the best of programs under the best of coaches have down years.
The Longhorns will live to hook 'em another day.
BYU Cougars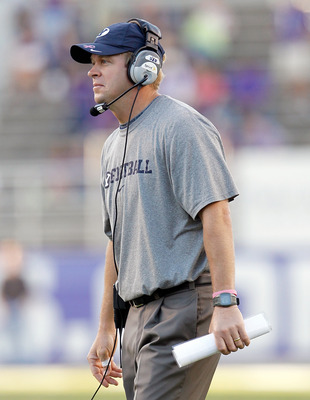 Tom Pennington/Getty Images
You'd think that BYU would be an obvious choice for the "Great West," but if the Cougars were ever to become part of the Pac-12 (which would be the basis for the Great West), it would have happened already.
Yes, this would separate them from their rival Utah, but what else is new?
While the Cougars haven't yet reached the heights that Boise State, TCU and even hated rival Utah have during the BCS era, don't forget that BYU is the last team from a non-AQ conference to win a national championship. Also, apart from last year's 7-6 hiccup, BYU is a consistent 10-win team.
And everyone that cares about the Big 12 seems to be saying that BYU would help save the conference should Texas A&M leave for the SEC.
Wisconsin Badgers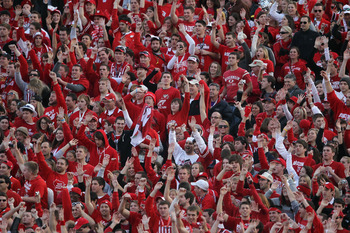 Jeff Gross/Getty Images
The mantle of the "it" team in the Big Ten has fallen upon Wisconsin, particularly now that Ohio State is having NCAA issues. They did just win the conference and make it to the Rose Bowl last season.
The Badgers will be doing plenty of jumping around for years to come.
Penn State Nittany Lions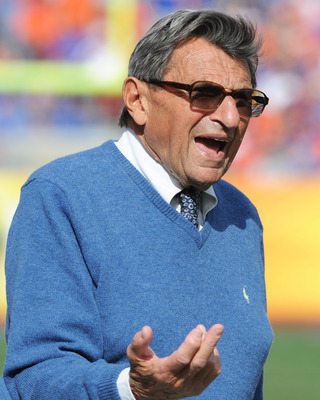 Al Messerschmidt/Getty Images
It's amazing what one man can do over a period of time.
In Joe Paterno's case, he's had a really, really long period of time as head coach at Penn State to accomplish a lot.
No coach has more wins over his career than JoePa. And as recently as 2008, he's been leading his team to BCS bowls. I'm sure that if Penn State could find a way, they'd make JoePa into a cyborg so that he could coach forever, particularly if these super conferences form.
Nebraska Cornhuskers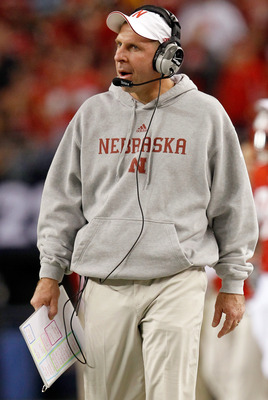 Tom Pennington/Getty Images
Ah, what would college football be without the likes of Bo Pelini and the Cornhuskers?
It's been a while since Nebraska was at the top of college football, but who knows? Maybe now that they are free of Texas' powerful influence, they'll be able to rise back to the top.
Their loss to Washington in last year's Holiday Bowl shows that they still have a way to go, but Nebraska is in regardless.
Oklahoma State Cowboys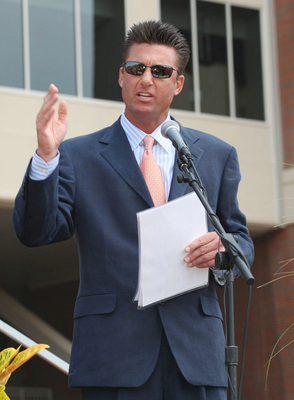 Christian Petersen/Getty Images
Oklahoma State's last two head coaches, Les Miles and Mike Gundy, seemed to have the program going in the right direction. Besides, how do you leave a program out that has T. Boone Pickens as a booster?
Oh, and they're a preseason Top 10 team this year.
Texas Tech Red Raiders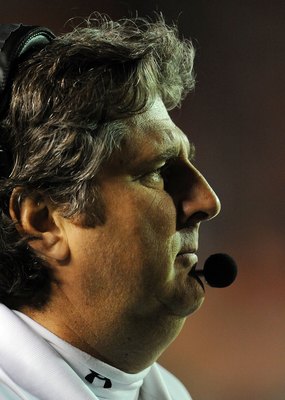 Ronald Martinez/Getty Images
As much as the Texas Tech administration would hate to admit it, a huge reason why Texas Tech would be included in one of these super conferences would be thanks to former head coach Mike Leach.
After all, it was on his watch that Michael Crabtree made that fantastic catch to stun Texas. Oh, and he never had a losing record.
Just sayin'.
Illinois Fighting Illini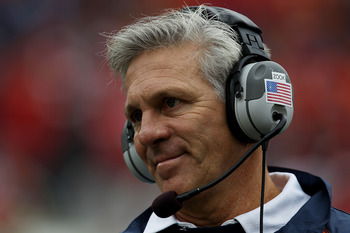 Jonathan Daniel/Getty Images
Illinois would make it in by the skin of their teeth. So, why do they make it in over teams like Northwestern and Purdue?
Illinois made it to the 2002 Sugar Bowl and the 2008 Rose Bowl. Purdue made it to a BCS Bowl once in '01 and Northwestern has never been.
So, Illinois stays in the same way that Ron Zook keeps his job:
By just barely hanging on.
Iowa Hawkeyes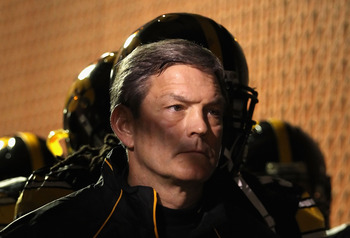 Christian Petersen/Getty Images
Iowa has been able to accomplish some impressive things under Kirk Ferentz. They've finished in the Top 10 four times in the last 10 seasons, played in two Orange Bowls and won one of them.
That's a solid resume for inclusion in a super conference.
Missouri Tigers
Jamie Squire/Getty Images
If Missouri does get invited into a super conference, the Missouri administration needs to give head coach Gary Pinkel a huge raise. Without him, the Tigers wouldn't even be considered.
But it's hard to ignore a program that's had 10 or more wins in three of the past four seasons. And it's even harder to leave them out given that recent string of impressive seasons.
Michigan State Spartans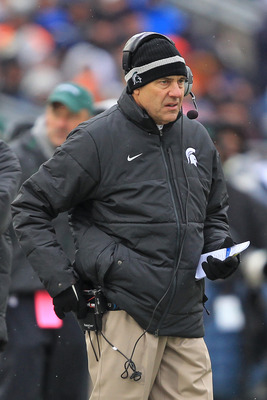 Hunter Martin/Getty Images
Michigan State hasn't been to a BCS Bowl yet, but they should have had the chance to go last year instead of Ohio State.
They also haven't won a bowl game since 2001, which is a bit concerning. However, with its most recent accomplishment of winning a share of the Big Ten and considering its rich history, Michigan State will remain in a power conference—for now.
Purdue Boilermakers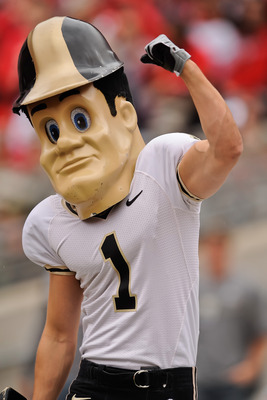 Jamie Sabau/Getty Images
Purdue makes it into the fold thanks to their good bowl record, which includes their appearance in the 2001 Rose Bowl. In fact, the Boilermakers went to seven bowl games over the last 10 seasons.
Not great, but not bad either.
Minnesota Golden Gophers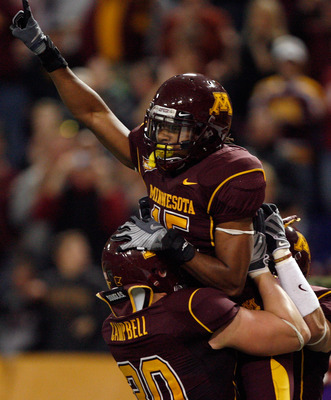 Harry How/Getty Images
The Gophers are the last team in from the current Big Ten. They've been good enough to get to bowl games seven out of the last 10 years, although they haven't won a bowl since 2004.
Minnesota is clearly on the bubble, but they beat out Indiana and Northwestern without too much trouble.
Virginia Tech Hokies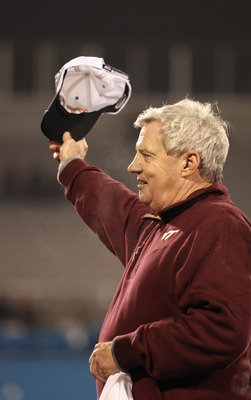 Streeter Lecka/Getty Images
You can count on the Hokies under Frank Beamer to be consistently good. Virginia Tech has won 10 or more games every year since 2004.
It's true that they don't have any recent national championships or a lot of great BCS Bowl wins (in fact, they only have one out of five trips), but you can't leave out a team that's gone 52-16 over the past five seasons.
TCU Horned Frogs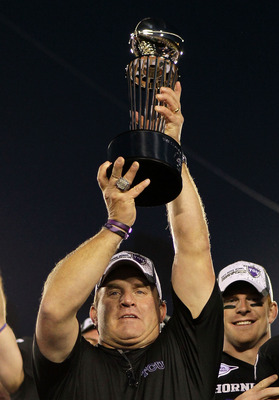 Jeff Gross/Getty Images
In 2012 TCU will become the newest member of an AQ conference. True, the Big East doesn't really make much geographical sense, but the Horned Frogs would probably fit in better in the Great East than the Great Midwest.
TCU is the first and only team from a non-AQ conference to ever win the Rose Bowl. That fact alone is enough to get them into a super conference, although there's plenty more praise you can heap on Gary Patterson's program.
West Virginia Mountaineers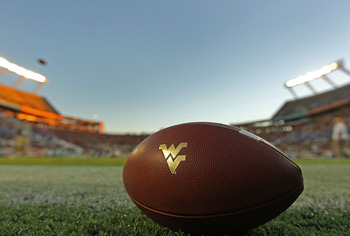 Mike Ehrmann/Getty Images
While the last couple of seasons haven't been gratifying for Mountaineer fans, they haven't been bad either. There are a lot of teams who dream of having nine-win seasons.
Besides, West Virginia does have that pair of BCS Bowl wins under He-Who-Shall-Not-Be-Named (Rich Rodriguez).
Notre Dame Fighting Irish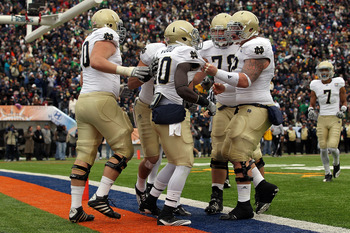 Ronald Martinez/Getty Images
Notre Dame would probably prefer to stay independent, but there's no way they'd get left behind in a super conference arms race that would probably drastically change college football's postseason.
Yes, Notre Dame hasn't exactly been, well, Notre Dame lately. But how could college football go on without the Fighting Irish? Besides, as down as Notre Dame has been, they've still gone to three BCS Bowls—and one of those only five season ago.
Pittsburgh Panthers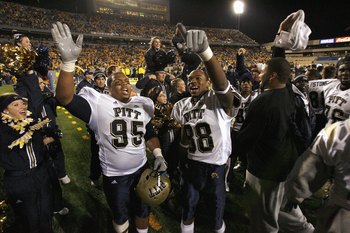 Kevin C. Cox/Getty Images
Pitt claims to have won nine national championships, but they haven't won any since 1976 and eight of those nine were from 1937 and earlier.
Pitt has been a regular in bowl games; they've gone to seven in the last 10 years, including one Fiesta Bowl appearance.
Houston Cougars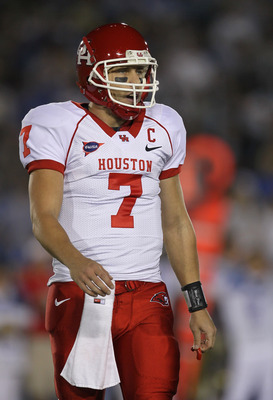 Stephen Dunn/Getty Images
While Houston may not get the welcome they deserve in the "Great Midwest" with a lot of the other Texas schools, the Cougars will be appreciated in the "Great East" along with TCU.
Navy Midshipmen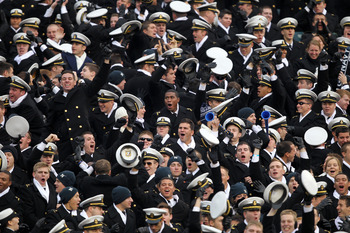 Hunter Martin/Getty Images
Navy's ship may not be flashy, but it sure is steady. The Midshipmen have gone to eight bowl games in a row, and that trend will likely continue in 2011.
Maryland Terrapins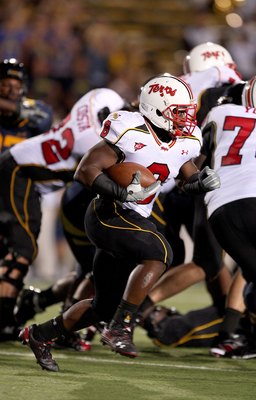 Ezra Shaw/Getty Images
Maryland actually has a pretty decent bowl record over the last 10 years—they've gone 5-2. Of course, there aren't any BCS Bowls on that list, but that kind of consistency is commendable.
Louisville Cardinals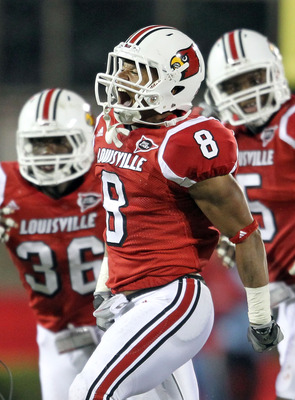 Andy Lyons/Getty Images
Before Utah was called up to the Pac-12, Louisville was the last team from a non-AQ conference to get invited to join an AQ conference.
And it didn't take the Cardinals very long to win the Big East, either. They even made it to the 2007 Orange Bowl and won.
Impressive.
Boston College Eagles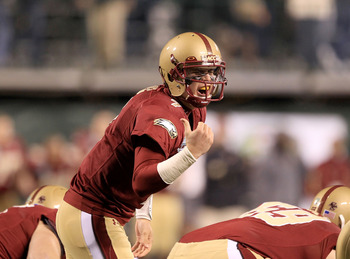 Ezra Shaw/Getty Images
Boston College hasn't had a losing season since 1998. Not even the likes of Alabama can say that.
Of course, Alabama has won a national championship since 1998, but I digress.
The Eagles have been good, but not great. But what else do you expect out of the ACC?
North Carolina State Wolfpack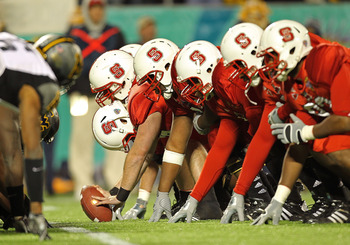 Mike Ehrmann/Getty Images
While Duke and North Carolina get the most attention for basketball, NC State is the best football program in the area.
In the last 10 years, the Wolfpack have won four bowl games and finished in the Top 25 twice.
South Florida Bulls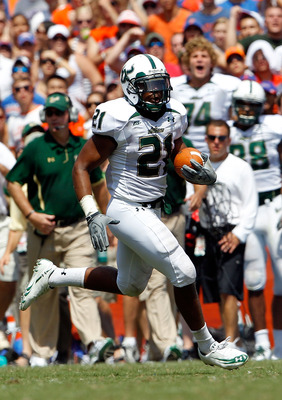 Sam Greenwood/Getty Images
South Florida is a definitive program on the rise. The Bulls have gone to a bowl game every year since they joined the Big East in 2005, going 4-2 in those games.
What's more amazing is that they've only been playing football there since 1997. That's quite the progress for a program that didn't even exist 15 years ago.
Cincinnati Bearcats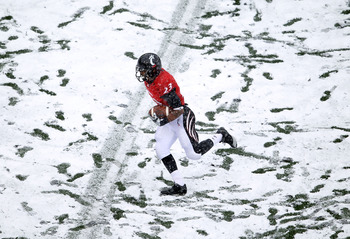 Andy Lyons/Getty Images
Under Brian Kelly, Cincinnati was able to make it to two-straight BCS Games in 2008 and 2009.
Kelly may be gone to coach at Notre Dame, but the Bearcats have done enough to punch their ticket.
UConn Huskies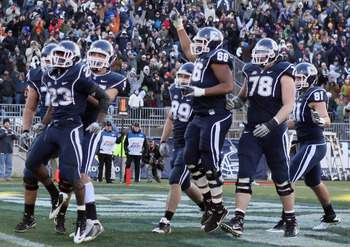 Elsa/Getty Images
UConn is another school that was in the FCS not too long ago. In fact, the Huskies didn't fully join the FBS until 2002.
After that it only took them two years to get a Big East invite and only six more to go to a BCS Bowl. Yes, it was as an 8-4 team from the weakest AQ confernece, but still.
North Carolina Tar Heels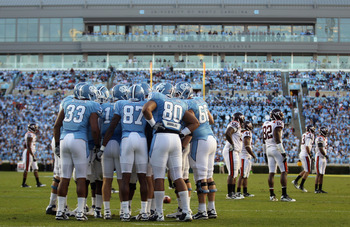 Streeter Lecka/Getty Images
Yes, this is a program that is in trouble with the NCAA and just fired their head coach right before fall camp started.
Seriously, the fact that the Tar Heels can slip in just goes to show you how weak this combination of the ACC and Big East really is.
Southern Miss Golden Eagles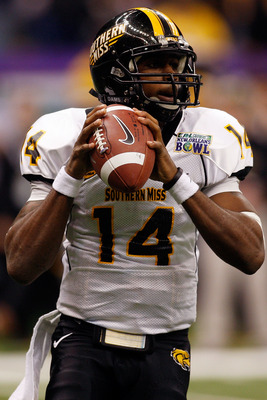 Chris Graythen/Getty Images
Southern Miss has a run of 17 seasons in a row without a losing record. Over that time, the Golden Eagles have compiled a 7-6 bowl game record.
Surely such steadiness merits reward.
Florida Gators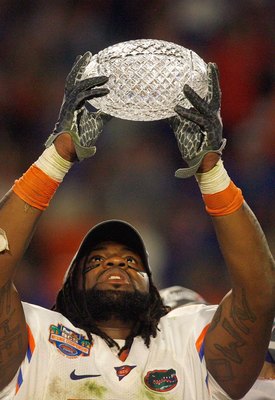 Eliot J. Schechter/Getty Images
In the BCS era, no SEC team has done better than the Florida Gators.
After all, no SEC team has more BCS appearances (six), BCS Bowl wins (five) and national championships (two, tied with LSU) from 1998 to the present than the Gators.
Yes, Florida is going through a bit of a transition now that Urban Meyer has decided to pursue a career in sportscasting (for how long is anyone's guess), but the Gators have surely done more than enough to punch their ticket into any new super conference that forms.
LSU Tigers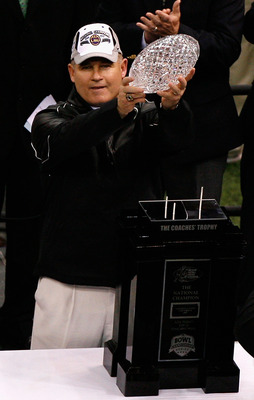 Christian Petersen/Getty Images
LSU is the only team to have gone to three or more BCS games and not lost one. In fact, the Tigers are 4-0 in big-time bowls, including two national championship games.
Obviously, the Tigers make it to a super conference.
Auburn Tigers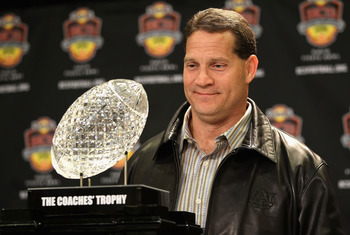 Christian Petersen/Getty Images
As hard as I am sometimes on Auburn, there's no question that they belong here. They just won the national championship and they should have gotten a shot at the 2004 championship.
Whatever changes happen in college football, Auburn will come out on the winning side.
Florida State Seminoles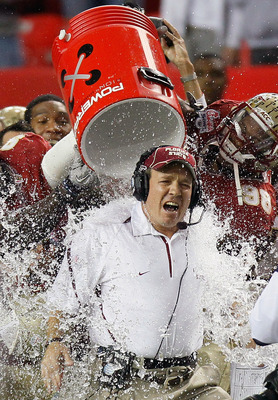 Kevin C. Cox/Getty Images
Simply put, Florida State is the best program right now in the ACC.
Yes, that isn't as good as being the best program in the SEC, Big Ten or the Big 12, but it's still something.
And the Seminoles have new fire now that Jimbo Fisher is at the helm. Whether Fisher will rise to the level of the legendary Bobby Bowden or not is yet to be seen, but what seems certain is that Florida State will continue to do just fine.
How would the Seminoles do in this hypothetical mega-conference, however? That would be interesting indeed.
Alabama Crimson Tide
Kevork Djansezian/Getty Images
Here's a stupid question:
Should the winners of the 2009 national championship be left out if and when super conferences come to be?
Of course the answer is a resounding no. The Crimson Tide will continue to roll for years to come.
Georgia Bulldogs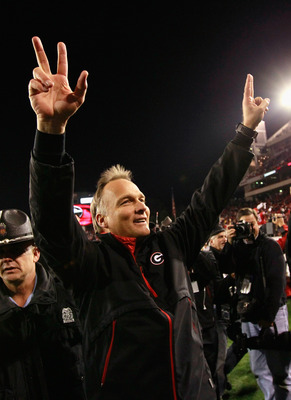 Kevin C. Cox/Getty Images
While Georgia hasn't been able to win a national championship in the BCS era like Florida, Alabama, Auburn, LSU and Tennessee have, they have won two out of the three Sugar Bowl games that Mark Richt and company have gone to.
Whether or not Richt himself will be around to lead the Bulldogs into this hypothetical new dawn of college football remains to be seen, but Georgia will be invited to remain either way.
Arkansas Razorbacks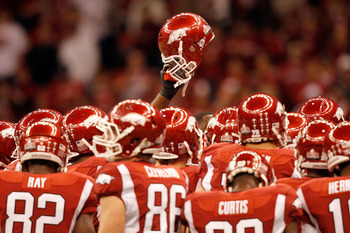 Matthew Stockman/Getty Images
While Arkansas is not yet on par with the likes of LSU and Alabama, they are a team on the rise. After all, the Razorbacks just beat out both the Tigers and the Crimson Tide for a Sugar Bowl bid.
Arkansas will have more time to catch up with the power teams of the SEC as a member of a power conference.
South Carolina Gamecocks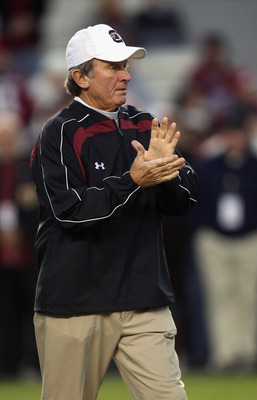 Streeter Lecka/Getty Images
Steve Spurrier has the Gamecocks rising to new heights. After all, they just won their first SEC East title.
And that's no small feat—even when teams like Florida and Georgia are having off years.
And don't look now, but South Carolina just might be the favorite to repeat in the East.
Tennessee Volunteers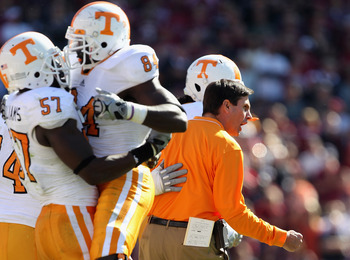 Streeter Lecka/Getty Images
Tennessee still has a ways to go to return to their former glory, but they'll get there.
The Volunteers won the national championship in 1998. Once Derek Dooley finishes cleaning up the mess left by Lane Kiffin, Tennessee will do just fine.
Georgia Tech Yellow Jackets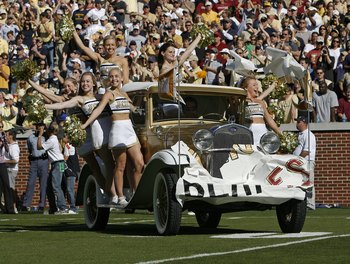 Mike Zarrilli/Getty Images
It's been a long time since Georgia Tech's heyday all the way back in the 1950s. But the Ramblin' Wreck has been able to put together three ACC Coastal Division wins since 2006 and an ACC title that they had to vacate in 2009.
A bit of a black mark on the program is that they haven't won a bowl game since 2004. That needs to change if Georgia Tech wants to sure up its standing should super conferences form.
Clemson Tigers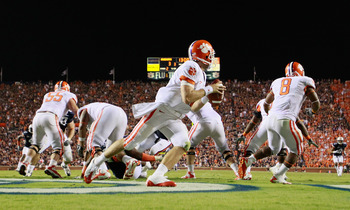 Kevin C. Cox/Getty Images
Clemson is another good-but-not-great program to come out of the ACC. It's true that the Tigers have been to bowl games in nine of the last 10 years, but none of those were BCS Bowls and they've only gone 4-6 in those games.
However, it is also true that the Tigers haven't had a losing season since '98—and that's no small feat.
Miami Hurricanes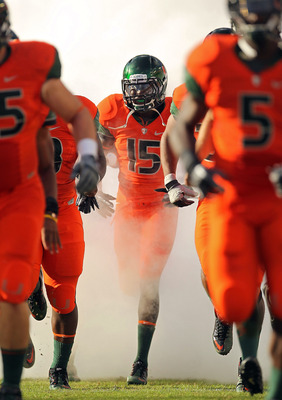 Mike Ehrmann/Getty Images
What do you do with a program like Miami?
On the one hand, they've played for two national championships within the last 10 years and won one. While they haven't lived up to that lately, Miami has done enough on the field to merit inclusion.
On the other hand, you have this massive Shapiro scandal hanging over the Hurricanes like a cloud of doom. If these allegations prove true and the NCAA decides to come down hard on Miami, it'll put the program back several years.
Until the NCAA reviews the evidence and a determination is made, Miami is in. But I wouldn't feel too comfortable if I were the Hurricanes. A hurricane of trouble might be headed their way.
Kentucky Wildcats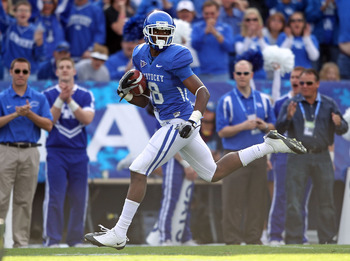 Andy Lyons/Getty Images
Kentucky is the last team in the current SEC allowed in (sorry, Vanderbilt). At least Kentucky does well enough to regularly go to bowl games; the Wildcats have gone the last five years in a row.
No, they're not an Alabama, Florida or even a Tennessee, but they've still done just enough to stick around.
Mississippi State Bulldogs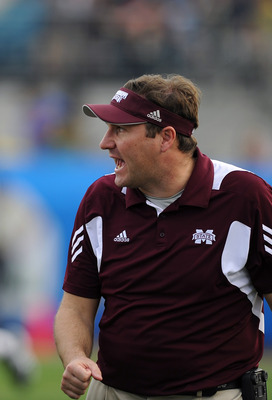 Rick Dole/Getty Images
Mississippi State gets in for two main reasons:
1. Ole Miss made it in, so there's incentive to keep up the "Egg Bowl" rivalry.
2. Mississippi State is a team on the rise under Dan Mullen.
But once again, Mississippi State doesn't have much wiggle-room here. They'll have to continue to improve—or some upstart team might take their place.
Ole Miss Rebels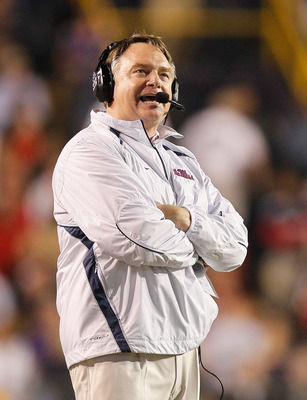 Kevin C. Cox/Getty Images
Ole Miss gets a boost from the fact that (1) they won three national championships between 1959 and 1962 and (2) that Archie and Eli Manning both played there. What also helps is that the Rebels won back-to-back Cotton Bowls in 2008 and 2009.
Still, the Rebels don't have too much room for error—and neither does their head coach, Houston Nutt.
Texas A&M Aggies
Ronald Martinez/Getty Images
I am granting Texas A&M's wish and placing them with SEC teams rather than keeping them with Texas. After all, this could be the domino that sets this mad wave of expansion off and leads to these super conferences actually forming.
But as they say, the Aggies should be careful what they wish for.
Still, the Aggies have enough tradition and history to make it into a super conference they help create.
Keep Reading