Chicago Cubs: Tom Ricketts Plan a Gamble with Stadium Renovations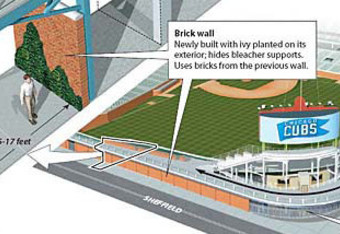 The big news, of course, was the firing of longtime Cubs GM Jim Hendry, who was actually dismissed on July 22 but allowed to hang on due to some ridiculous notion that the draft picks wouldn't sign if Hendry was gone.
Yet the team's future is tied into something just as important, or perhaps even more critical, than who Hendry's successor is going to be.
That is, the success or failure of the Tom Ricketts plan to turn Wrigley Field into Fenway Midwest will likely have such an impact on the owner's ability to maintain future payroll flexibility that the new GM, no matter who he (or she) is, will be feeling the consequences for many years.
You see, the plan involves more than $200 million in public funds to renovate the ballpark.
Why is this important? Because the Cubs are just about out of revenue streams and will need the windfall that the additional luxury skyboxes, advertising options and additional revenue that the renovated park will bring.
The idea is to cut into a healthy slice of the food and beverage pie that the current bar owners surrounding the ballpark currently enjoy.
By bringing in options for places to go for people that are inside the confines of a renovated ballpark area, Ricketts and the Cubs will gleam the benefit, rather than watch money go out the window to places like Murphy's Bleachers and the Cubby Bear.
Public financing of a sports stadium renovation is nothing new for Chicago, yet it is a pariah nonetheless, especially in the current economic climate.
The difference between what the Cubs want and what the White Sox received, however, is two-fold. First, the Sox had a backer in Mayor Daley, and second, they had leverage.
Ricketts has already said that the Cubs will never move, so why should Rahm Emmanuel or any lawmaker fear losing jobs and income from the city if they decline to fund this initiative?
Jerry Reinsdorf may have been bluffing, but if he was, he was holding a pretty nice set of cards in his hands. The Sox had a verbal agreement in place in Florida, with a brand new ballpark to boot. The Cubs have, well, nothing.
But if Ricketts beats the odds this could turn out to be a royal flush for the Cubs.
They could easily maintain a higher payroll and become players with the likes of the Red Sox and Yankees, while still building through scouting and player development.
It would also make this an even more attractive job for any prospective GM.
But if this plan falls through, as it did once before, the Cubs may become a small-market team operating in a big city. Not necessarily Tampa Bay Rays or Florida Marlins, but think Houston Astros, for example.
If that happens, the Cubs will be stuck in mediocre hell while trying to rebuild the farm system. Even the obsessively loyal-to-a-fault Cubs fans can't be expected to continue to support a losing team for many more years.
But if the plan succeeds, they can borrow on future hopes and pay for a competitive team while building toward the future.
It's a high-risk, high-reward gamble for Ricketts. But without leverage, it could be a losing hand.
This article is
What is the duplicate article?
Why is this article offensive?
Where is this article plagiarized from?
Why is this article poorly edited?

Chicago Cubs: Like this team?