2011 NFL Predictions: Denver Broncos, Kyle Orton Will Contend Without Tim Tebow
Kyle Orton, Throwing Over the Competition
Ronald Martinez/Getty Images
2011 NFL Predictions should be the focus of the league right now. Unfortunately for a lot of Denver Broncos fans, nobody seems to really be able to let go of the very transparent Kyle Orton-Tim Tebow debate.
Fans and critics alike feel the need to blame the Denver Broncos terrible 2010 season on Kyle Orton. It's easy to point the finger at the foremost face of the franchise for the last two years.
Here's some news for everybody: Kyle Orton was not their biggest problem, and he will contribute to a successful 2011 season for the Denver Broncos.
Let's look at why the Denver Broncos will contend for the AFC West division title—with or without Tim Tebow.
Kyle Orton Is What They Thought He Was and More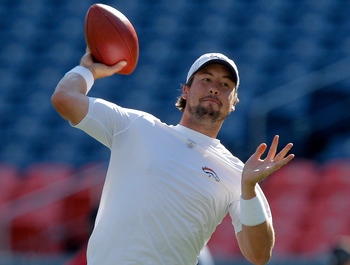 Kyle Orton, showing off the arm that's helped him keep his job in Denver
Justin Edmonds/Getty Images
If anybody still needs proof that Kyle Orton is a solid starting quarterback, they haven't been paying very close attention to the play on the field.
Orton has the unfortunate position of being the player "holding back" Tim Tebow. As fans scream and clamor to see Tebow take the reigns in Denver, they also forget Orton has an impressive resume as well.
Kyle Orton comes into the 2011 season with a W-L record of 32-30 as a starter. That's not very impressive at first glance; but take into account that the losses of last season cannot be blamed on Kyle Orton solely, if at all. Erase that year and his W-L record changes to 29-20.
Orton had to play without a running game, and without a defense to get the ball back. While almost running the offense by himself—if it weren't for Brandon Lloyd—Orton still managed to pass for 3,653 yards and 20 touchdowns in 13 games.
Those stats are exceptional for any quarterback, even in the most ideal situation. If he had continued for the remainder of the season he would have easily challenged Phillip Rivers and Matt Schaub for the league's passing title.
With only nine interceptions in 13 games, Kyle Orton displayed in 2010 exactly what Denver traded for in 2009—a game manager.
Even when every defense he played against knew he was going to throw the ball, Orton still only managed to give it away nine times over the course of the year—important given the fact that his defense could hardly get off of the field.
It's evident that any situation where a team cannot run the ball, the defense can rely heavily on a pass rush and good coverage, as there's virtually no worry of anyone coming out of the backfield. So for Orton to still put up the statistics that he did is commendable.
Kyle Orton is currently the Denver Broncos' best possible candidate for the starting quarterback position. This has been proven over and over again in 2011's short offseason.
A Solid Running Game Is Crucial Even in a Vertical Passing League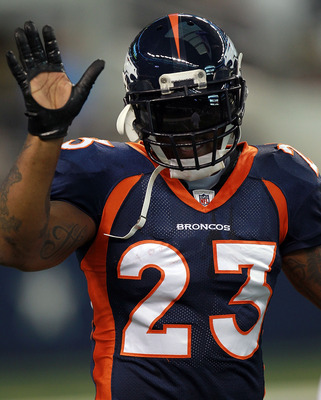 Willis McGahee waves to the camera, as if to remind us that are plenty of other stories in Denver.
Ronald Martinez/Getty Images
One of the core issues facing the Denver Broncos in 2011 is how they plan to rejuvenate their awful running game from the season prior.
The first addition to the team this offseason, head coach John Fox, comes to Denver as a defensive-minded run-first leader. He plans to supplement Kyle Orton's game management and passing ability with a run game that threatens to run over the opposition.
Knowshon Moreno comes into his third year in the league as a bit of a disappointment so far. Running backs entering their third year are expected to be reaching their prime condition. Moreno is very aware of his position and has capitalized on it during the first weeks of training camp and preseason.
During camp, Moreno appears to be a new runner altogether. He's quick to the gaps, and even faster after his first contact. It's apparent that he plans to earn and keep his starting position in Denver, and now he has help.
Acquired during free agency, Willis McGahee is already making a huge impact for the Denver Broncos' running game. McGahee came out on fire during Denver's preseason home opener against the Buffalo Bills, running for one score and catching another.
Denver finally has the red zone threat they've needed to round out their offensive game. Let's not forget that when Moreno did have a good year—his rookie year in 2009—this offense started out 6-0.
If Denver can combine their powerful—yet modest—passing attack with an equally aggressive running game, they are certain to have success on the offensive side of the ball. There may still be some fantasy football studs to pick up from Denver's roster.
Defense Was as Easy to Blame as Anything for Last Year's Bad Record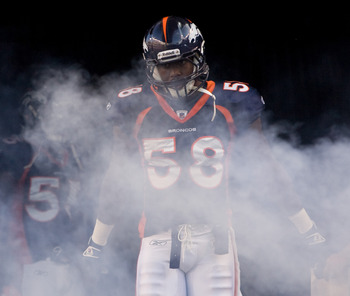 Justin Edmonds/Getty Images
From 2009-2010 a huge difference in the Denver Broncos' defensive scheme and success was apparent.
2009 found the Denver Broncos as the seventh-ranked defense under defensive coordinator Mike Nolan, and behind the talented play of Elvis Dumervil. A year later the Broncos found themselves dead last and gasping for air.
The loss of Elvis Dumervil had an enormous impact on the whole of Denver's defense last season. With his return, fans can rejoice in an actual pass rush. So what could be deadlier than the 2009 league leader in sacks returning to the lineup?
The addition of No. 2 overall draft pick Von Miller.
Opposing offenses now face what may turn out to be the most dangerous combination of pass rushers. Von Miller and Elvis Dumervil showed on Saturday night a glimpse of what we may expect this season from what some are now calling "Doom and Gloom." Any and all head coaches will have to game plan specifically against these two in order to keep their quarterbacks out of the dirt.
As if that wasn't enough, Denver still boasts two of the most talented defensive backs in the league.
Champ Bailey is proclaimed by many as the best cornerback in the game, and it's evident again that he hasn't lost a step with age. To aid Champ in his quest for defensive dominance is safety Brian Dawkins. Dawkins took a pay-cut this year to remain on Denver's roster, and fans should take this as a great sign for their future.
If a player with Pro Bowl-caliber skills is willing to stick around, even while being paid less money, it says something about his hopes for the team. I take it as a sign that this defense is gelling together, and they're confident in their ability to disrupt offenses this year.
Other notable returns and additions include safety Rahim Moore (currently in the spotlight for his controversial hit on Buffalo Bills wide receiver Donald Jones), the always exciting D.J. Williams (the only player to lead their team in tackles and sacks last year) and Cassius Vaughn (who's finally making a name for himself during this preseason with some very promising play).
A Difficult Schedule Can Actually Be a Good Thing

Ezra Shaw/Getty Images
The Denver Broncos come into the 2011 season with the third toughest schedule. This doesn't have to be bad news.
A great team will display their best qualities when faced with adversity, and this may be exactly what we see from the Denver Broncos this year. In the face of an entire season filled with difficult opponents, we can only hope that the Broncos rise to the occasion and take on the struggle head-on.
Knowing that an easy game is coming up can relax players and hinder their ability—or willingness for that matter—to prepare themselves. Preparation is half the battle. The Denver Broncos are aware that they're looking forward to a stressful path through the regular season and will therefore prepare for it accordingly. At least we all hope as much.
Conditioning should improve through harder and more uptempo regular season practice. Denver should come out of the gates with fire, determination, and a desire to prove the critics wrong as they accelerate through a schedule that most believe will tear the team to pieces.
Performance is a function of ability and motivation. And what better motivation than to open the season on a national stage against their division rivals, the Oakland Raiders. I can't think of a better way to open the season than for the Denver Broncos to efficiently dismantle the Raiders in front of millions of viewers on Monday Night Football on September 12th, 2011.
Denver Has the "X" Factor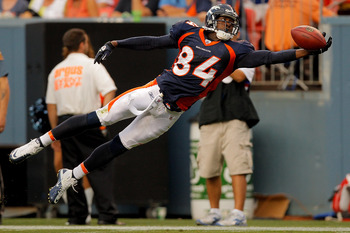 The circus catches continue in 2011 for Brandon Lloyd and the Denver Broncos
Justin Edmonds/Getty Images
When it comes down to making big plays, there's one Bronco in particular that stands above the rest—wide receiver Brandon Lloyd.
It's safe to say that leading the league in receiving yards in the 2010 regular season was no accident. In Lloyd's ninth season, he looks to continue his progress with Denver and help establish the team as a legitimate threat in the AFC West.
Brandon Lloyd feels this year as if he's improved on his fitness level and ability compared to 2010. During a short interview on the John Elway Show on Monday, August 22nd, Lloyd seemed confident and anxious to begin the year with Kyle Orton throwing him the ball.
If Lloyd manages to build upon his success from 2010, Denver Broncos fans will be in store for one spectacular show.
2011 NFL Predictions: Denver Broncos 11-5, AFC West Division Title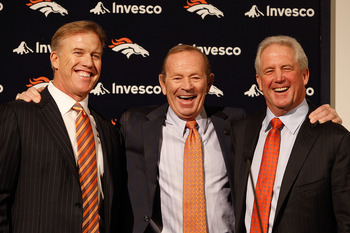 These guys might be a lot smarter than you think.
Justin Edmonds/Getty Images
The Denver Broncos had three key failures in 2010.
First—their inability to run the ball—has been answered by the promising play of Knowshon Moreno and the addition of Willis McGahee to help lighten the load.
Second, their inability to score in the red zone, which will now be aided by the renewed running game. If the Denver Broncos can efficiently run the ball, they increase their potential to score in short yardage situations, and decrease their predictability. Kyle Orton should throw and hand-off with ease in the red zone for more touchdowns than Denver has seen for a few years.
And yes, I'll play to all of Tim Tebow's fans' hearts here—Tebow will have a role in Denver's offense, especially in the red zone. Don't think because John Fox has him as third string that Tebow won't contribute something.
Lastly, defensive struggles were a killer for the Broncos in 2011, and John Fox has looked to answer the team's calls. Draft picks Von Miller and Rahim Moore join Elvis Dumervil, Champ Bailey and Brian Dawkins to come together as a serious threat to opposing offenses.
Behind the veil of a quarterback controversy that desperately needs to go away, John Fox and John Elway, along with GM Brian Xanders, have been crafting a team and filling gaps. They just might have put together one heck of a powerful squad.
In my first of many 2011 NFL Predictions I pick the Denver Broncos to finish the 2011 NFL Regular Season at 11 wins and five losses; barely beating out the Kansas City Chiefs as the AFC West Division Champions.
What do you think?
Keep Reading

Denver Broncos: Like this team?