Oakland Raiders Top 3 Concerns That Can Make or Break the 2011-2012 Season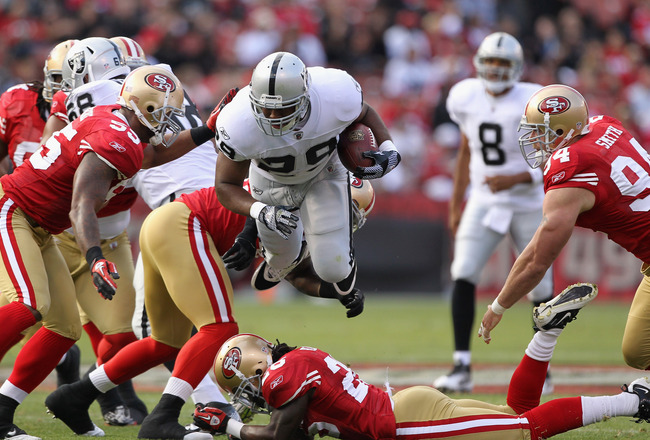 Ezra Shaw/Getty Images
The Oakland Raider roster is filled with speedy and physical athletes. The coaching staff has numerous years of experience and they know how to win. With this combination, the Oakland Raiders could make a run at the playoffs and the Super Bowl.
However, there are a few concerns that might cause the Raiders to fall short of the playoffs. I will go over my top three reasons on what can stop the Raiders from having a successful year.
No. 3: Run Defense

Watch 2:12

As we just saw in the Oakland vs. San Fransisco game, the Raider run defense struggled. Granted, I know that it is just the preseason, but you do not want to give up over 200 yards on the ground.
Oakland signed veteran Richard Seymour to a nice offer this summer and expect that physical presence in the middle of the line. The Raiders have always been known to have a physical defense and have shown shining moments, but they still cannot stop the big play.
If they can learn to limit the big plays, and defend the pass well, they could have a top-10 defense in the league.
No. 2 Offensive Line Play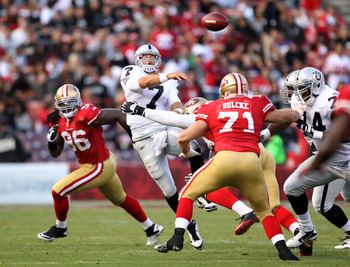 Ezra Shaw/Getty Images
Oakland produced one of the best rushing attacks in the league last year. The key to this was a solid run-blocking offensive line.
So far, the running game has looked solid, but the passing game concerns me. Oakland has speedy wide receivers, and when given time, they can burn anyone in the league. To have a good passing game, it starts in the trenches with a good pass blocking group of lineman.
In the recent preseason game against the 49ers, we saw all three quarterbacks get flushed out of the pocket and make rushed decisions. If the Raider line can reduce the pressure for Campbell and company, the offense could be deadly this season.
No. 1: Staying Injury-Free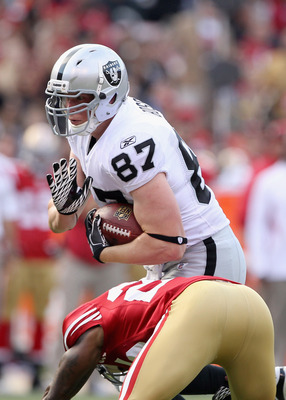 Ezra Shaw/Getty Images
To me, this is the biggest concern for Oakland. Staying injury-free at key positions could be what makes or breaks this season.
Jason Campbell and Kevin Boss were both forced out of the last preseason game, while Darren McFadden, Jacoby Ford, Taiwan Jones, Chris Johnson, Mike Mitchell, Hiram Eugene and Chaz Schilens have all sat out games due to injuries.
That is a lot of firepower on both the offensive and defensive side of the ball. It is tough to win games when some of your big playmakers are out with injuries. Look for the Raiders to make a run at the playoffs when fully healthy.
Keep Reading

Oakland Raiders: Like this team?