DeMarcus Cousins Talks Goodman-Drew League Game, Jimmer Fredette and NBA Lockout
August 23, 2011
DeMarcus Cousins, representing the Goodman League in Saturday night's showdown against the Drew League at Trinity University in Washington D.C., may have had the most impressive showing at the game.
While he didn't take home the MVP award or drop 30-plus points, he showed off some of the potential that made him the fifth overall pick by the Sacramento Kings in the 2010 NBA draft.
Cousins was a man possessed, attacking the glass and grabbing every rebound that went his way. He also played a pivotal role by starting the fastbreak with well-timed and accurate outlet passes.
He took advantage when facing smaller opponents with his large frame and long arms and habitually abused—and on some occasions, embarrassed—the taller JaVale McGee when they were matched up with one another. On back-to-back possessions, Cousins had two of the most memorable highlights of the game. Posting up McGee on the right block, he spun off of the Wizards center and pulled up for the easy dunk. When he got the ball back on the team's next possession, he took advantage of an overly aggressive McGee and went in for the tomahawk jam.
"Yeah, like I said, we're out there competing," Cousins responded in reference to the physical battle between him and McGee. "Bragging rights on the table."
While the Goodman league's roster looked more impressive on paper, Cousins believed that "both sides [were] equally talented."
Watching the game, it was clear that the two squads were more evenly matched than previously believed. With an intense back-and-forth battle and a thrilling finish, both sides didn't back down from the challenge.
Durant, who took home MVP honors after leading the Goodman team to victory behind his 44 points, was, according to Cousins, "not possible" to contain. Cousins didn't think the opposing defense did all that much, saying, while laughing, that "Durant just missed a couple of shots."
While the two teams weren't getting paid and a victory didn't make a difference in any sort of standings, an intense East vs. West coast rivalry was on full display. Cousins thought that "it started kind of going that way, but at the end of the day, we're all having fun."
While they were "having fun" according to Cousins, emotions ran high and it was clear that losing was not acceptable to either team.
A point of contention throughout and immediately following the game was the poor officiating. Calls were botched and overlooked on a number of occasions.
However, Cousins seemed to take it all in stride. "There was missed calls on both ends. There were calls that shouldn't have been made on both ends. In the end, we had a lot of fun and the best team won."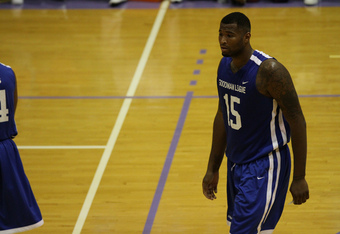 While Cousins was in good spirits when talking about the victory and his performance, his attitude seemed to shift when the topic moved toward the NBA and the ongoing labor dispute. It was obvious that he knew how dire the situation was and he didn't seem too optimistic.
"To be honest, no," Cousins commented about the chances of the 2011-12 season starting on time. "I mean, they're really not meeting and we're too far apart."
When asked about the possibility of playing overseas, Cousins said, "Absolutely. That's something me and my circle are talking about doing." While he didn't divulge any specific teams, he seems prepared to play elsewhere if the NBA were to miss some games or even the entire season.
Even with the threat of a lost season, Cousins did at least seem optimistic about the Kings' chances if the 2011-12 season were to take place. He believes that the Kings "can definitely make a playoff run. I believe it will be a better season next year," But he also added, "hopefully there is a next year."
Adding to his optimistic outlook on the Kings' future was Cousins' confidence in BYU sensation and first-round pick of the Sacramento Kings, Jimmer Fredette.
"Jimmer, he's going to bring a lot to our team, especially with his shooting abilities.  We definitely have a three-point threat out there, and hopefully he can come in and learn his role and help out the team."
Regardless of how the lockout progresses, Cousins seems focused and ready for whatever may happen.
"Basically, just trying to stay positive and staying in the gym every day," Cousins said about keeping occupied during the lockout. "Not knowing is a scary thing, so staying prepared is the best thing."