EPL: Could Edin Dzeko Become Pivitol in Manchester City's Quest for Success?
August 23, 2011
With Manchester City impressing again this weekend with a 3-2 win over Bolton Wanderers, there are whispers that the title could be a two way battle staying in Manchester.
With 'marquee' signing Sergio Aguero having the pundits eating out of his hand after a 30 minute cameo against Swansea last Monday, and David Silva again running the show against Bolton there have only been small reports of the vast improvement of Edin Dzeko.
The Bosnian forward, who arrived from German side Wolfsburg in the January transfer window, struggled to settle in the second part of last season and only found the net twice in 15 games.
But given time it looks like that Dzeko could become a big player for Manchester City.
He has started the season in brilliant form, scoring a longer ranger against Manchester United in the Community Shield, and adding to his tally further with goals against Swansea and Bolton in the subsequent fixtures.
The goal against Bolton on Sunday showed those signs on the Dzeko that people were used to seeing light up the Bundesliga when with Wolfsburg.
Those signs of course being a solid finish, containing both great power and great technique.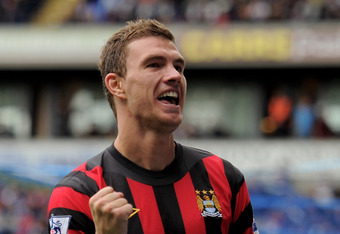 A notorious slow starter when arriving at a new club, it looks like the really Edin Dzeko is about to come to life in the Premiership.
But it is just not his goals that will be an asset to Roberto Mancini, it is also the work-rate of the tall centre forward.
Dzeko started off as a centre midfielder and you can see that in his play, he works the channels, closes down the defenders and works back to win some important interceptions.
This will please Mancini, but probably not as much as the early signs of a possibly fruitful partnership between him and new-signing Aguero.
With Dzeko acting as the pivot or the battering ram up-front, it gives the likes of Aguero and Silva to step back and work off the flicks being won by Dzeko.
His ability to hold the ball up is something that only he possess out of the front line players at City.
So if he can carry on the early season promise, and that all it is at the moment, then Edin Dzeko and Manchester City could be in for a very successful season.