2011 NFL Predictions: Six San Francisco 49ers Primed for Breakout Seasons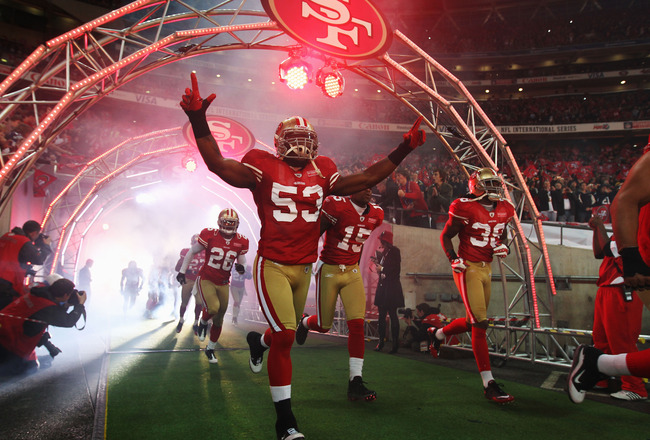 Ian Walton/Getty Images
Every NFL team has that short list of players that they expect to step up during the season. The good teams see those expectations fulfilled, while the bad teams are left questioning what went wrong.
Sometimes, every single player on that list takes the next step. See the 2010 Tampa Bay Buccaneers. But more often than not, there is a mixed bag in terms of results.
As a follower of the San Francisco 49ers, I would conclude that they normally fit in the last category.
How many times have we expected Alex Smith to take his game to the next level? I can count five times off the top of my head.
The difference between teams like the New England Patriots and San Francisco 49ers is the fact that the former sees its young players step up in a big way. The 49ers? Not so much.
But now we are hopefully beginning a new era of San Francisco 49ers football. An era in which the young core of this talented team steps up and proves themselves worthy of the expectations.
Because expectations are a funny thing, they leave you yearning for more while fully understanding the worse scenario is a strong possibility.
The expectations of the 2010 San Francisco 49er team was to win the division; they abruptly started the season with five consecutive losses.
Now the expectations for the 49ers seem a little more grounded. This could have to do with the fact that the media has been fooled in the past and now wants to simmer expectations.
Either way, in the landscape of professional sports you are always going to have someone throwing out certain expectations.
Well, I will be that "person" today. I am going to take a look at six San Francisco 49ers that I expect to breakout in 2011.
6. NaVorro Bowman Taking over for Takeo Spikes Could Work Well for the 49ers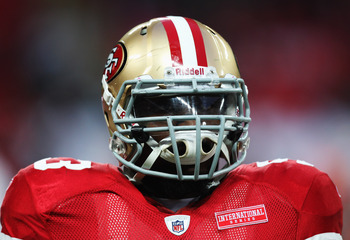 Warren Little/Getty Images
The one good thing that came out of Takeo Spikes missing his final game with the San Francisco 49ers was the fact that we got to see NaVorro Bowman start, and he performed extremely well.
It was week 17 of the 2010 season. The 49ers were out of the playoff race after a crushing loss to the St. Louis Rams the week before. Mike Singletary had just been fired and all seemed bleak for the red and gold.
Alex Smith was making what many people believed to be his final start as a member of the San Francisco 49ers. Jim Tomsula had taken over on an interim basis and the 49ers future seemed as dark as the weather on that January day.
One good thing does come out of rebuilding, you get to see young players step up.
This is exactly what NaVorro Bowman, a rookie third round pick from Penn State, did.
The 49ers destroyed the Arizona Cardinals 38-7 in that game and the defense dominated. The Cardinals ran for 78 yards on 22 carries, while Bowman was in the middle of most of the action. He ended the game with 8 tackles and anchored the middle of the front seven in the absence of both Takeo Spikes, and Patrick Willis.
Prior to the 2010 draft, Bowman was projected to be a first round pick. He was coming from "Linebacker U", had played extremely well over the course of the last couple seasons, and had all the physical tools to dominate at the next level.
Bowman, who left Penn State after his junior season, would compile nearly 200 tackles, eight sacks, three interceptions, and two forced fumbles in his final two seasons in college.
Off-field issues caused Bowman's stock to plummet following a successful 2009 campaign
The following is from Todd Sponsler at pennlive.com
Linebacker Navarro Bowman is already on probation for disorderly conduct, stemming from an on campus fight. Court sources tell WJAC that Bowman recently admitted to Centre County probation officials that he has smoked marijuana, at least twice, since December.
After a couple run-in's with the law, Bowman fell to the third round of the 2010 draft, where the 49ers traded down with the San Diego Chargers to acquire his services. An interesting anecdote from that trade is that San Francisco picked up a 2011 fourth round selection that they would eventually swap in order to trade up for Colin Kaepernick.
Bowman would be asked to move inside in the the 49ers 3-4 defense. Some would have expected a huge learning curve and tremendous struggle his rookie season, but it really didn't happen.
Now, he did struggle in pass coverage and recognizing offensive formations, but that is to be expected. However, Bowman ended up being a regular rotation player for the 49ers during his rookie season.
He ended the year with 46 tackles and saw extensive action in at least 12 of the games.
This season, Bowman will be asked to pair up with Patrick Willis in the middle of the 49ers linebacking crew, which should cause tremendous headaches for opposing offenses.
You are talking about two of the most physically gifted inside linebackers in the game complementing one another on what they do good. Both are extremely fast, have a nose for the ball, and can blow up the backfield within the matter of a second.
The fact that Bowman will be playing opposite the best defensive player in the NFL cannot hurt either. Teams are going to have a hard time accounting for him when they see Patrick Willis on the field. This means that you see Bowman running free a lot in 2011, which isn't a good sign for offenses.
He has a great knack for the ball and is a physically threatening presence. Speed is huge when it comes to this position in the 3-4 defense. If the offense is unable to initially account for Bowman, he will be able to make unimpeded plays on the ball carriers and quarterbacks.
Moving forward, I expect the duo of Willis and Bowman to be one of the best in the entire NFL.
In fact, it may happen sooner rather than later.
5. Alex Smith Has the Best Chance of Success He Has Ever Had in 2011.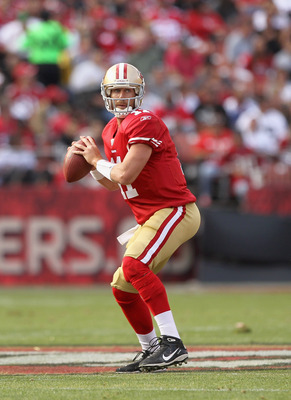 Ezra Shaw/Getty Images
Yes I did go here. I can hear the grumblings all the way from the other end of the Golden Gate. If you are going to come to my house with pitchforks please leave my cats out of it.
Haven't we been here six times before?
It seems foolhardy to expect to teach an old dog new tricks, and I am ready to take all the criticism that comes with including Alex Smith in this article. Look, my confidence level in Alex Smith has fallen drastically over the course of the last couple seasons.
With that said, there are multiple reasons to believe that Smith will have his best career as a pro in 2011.
Lets take a look at his 2010 campaign for a second:
11 games, 10 starts, 2,370 yards, 14 touchdowns and 10 interceptions.
If you pro-rate that over a full 16 game season you are looking at Alex Smith throwing for nearly 3,800 yards and 22 touchdowns.
Statistically speaking, the former No. 1 overall pick had a better 2010 season than Carson Palmer. Donovan McNabb, Mark Sanchez and Matt Hasselbeck.
In fact, over the course of the last two seasons Smith has a plus ten TD/INT ratio, is averaging nearly 240 yards per game, passing, and has a quarterback rating of over 82.
In Smith's final five starts of the 2010 season he had eight touchdowns, compared to just one interception. In fact, Smith threw only one interception in his final 162 pass attempts last season.
Not exactly eye-popping numbers, but solid nonetheless.
Alex Smith is set up with his best chance at success in 2011: he will have an offensive-minded head coach for the first time in his career, a scheme that seems to fit his talents better, a much improved offensive line and major talent around him.
If the offensive line holds up, which I believe it will, you will see Smith complete more passes, throw for more yards, and score more touchdowns. It really is that simple.
He has a true No.1 wide receiver in Braylon Edwards, nice depth at both the tight end and running back positions, and a quarterback guru in Jim Harbaugh.
This will also be the first time that Smith will be running a true variation of the west coast offense. You will see a lot of short slants, bubble screens, and quick outs; which means that the 49ers should rack up a lot of yards after the catch. This is going to pad Smith's stats in 2011.
The weapons Smith has around him are extraordinary in 2011: Braylon Edwards, Michael Crabtree, and Josh Morgan at the wide receiver position; the best overall tight end in the NFL, Vernon Davis, as well as a nice complementary back-up in Delanie Walker. The running game is going to be solid with Frank Gore and Kendall Hunter. Also, the pass protection should be much improved from the 2010 season.
I wouldn't bank on Smith as a starter in your fantasy football league, but if healthy, Smith could reach 4,000 yards passing and 25 touchdowns, which would quite a lot of skeptics.
4. Donte Whitner Fits the San Francisco 49ers Defensive Scheme Perfectly.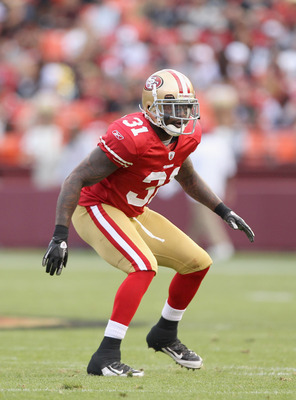 Ezra Shaw/Getty Images
It seems hard to gauge when an NFL player has "broken out", which means taking the next step in his career. Donte Whitner compiled 140 tackles last season for the Buffalo Bills. Can that be considered his "breakout season"?
I really don't think so, and this is why...
Whitner was a the No. 8 overall pick of the Buffalo Bills in the 2006 draft. He is only one of six safeties to go in the top ten since 2000. Eric Berry, LaRon Landry, Michael Huff, Sean Taylor and Roy Williams representing the other five.
When a player at a position that isn't usually drafted high goes in the top ten, there is going to be an expectation that he will end up being an All-Pro performer. Unfortunately, the only player on this list that made it to that level was Sean Taylor before he was murdered a few years back.
Donte Whitner struggled a great deal with the Bills for the most of his career there. He was extremely inconsistent in coverage and lacked the "field vision" and instincts to make plays in the passing games. These shortcoming almost garnered Whitner the "bust label" that so many top ten picks find themselves with.
Then it all came together for him in 2010 when the Bills switched to the traditional 3-4 defensive scheme. He was now in a system that best utilized his most important skills. Now Whitner was able to play in the box, make plays in the running game, and blitz the quarterback.
No longer was Whitner asked to player "center-field" and captain the back end of the secondary. Instead he played closer to the line of scrimmage and relied on exceptional physical ability.
This is the type of play that made Whitner a top ten pick coming out of Ohio State in 2006. It is also the type of player that the San Francisco 49ers defensive desperately needed.
With this in mind, the 49ers made a last ditch effort to obtain Whitner's invaluable talents. After it was reported that the hard-hitting safety had agreed to a contract with the Cincinnati Bengals, he quickly reversed course and signed with San Francisco.
Why the change of mind?
Whitner figured that the 49ers defensive style fit him best. After having a conversation with head coach Jim Harbaugh and defensive coordinator Vic Fangio, Whitner was sold on what San Francisco had in store for him.
3. Mike Iupati Will Be a Pro Bowl Peformer for San Francisco in 2011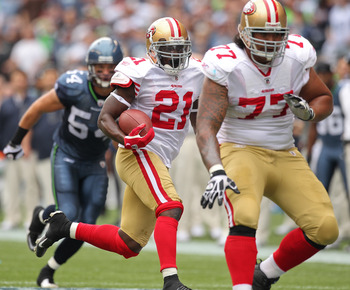 Otto Greule Jr/Getty Images
The 49ers raised a lot of eyebrows when they spent both of their 2010 first round picks on offensive linemen; this rarely happens in the NFL.
The reason San Francisco made the decision to upgrade that group during the draft was simple:
They were downright horrible along the offensive line in 2009.
While some people, including myself, may question the selection of Anthony Davis that season, there is absolutely no reason to question the 49ers pick of Mike Iupati.
The 49ers averaged over five yards per rush when they ran behind the massive right guard in 2010, one of the best numbers in the entire NFL.
At nearly 330 pounds, Mike Iupati is a physical specimen at the guard position. He does a great job swinging to the outside if necessary and it a great lead blocker up the middle. I especially like to see when he pulls on sweeps and gets outside in front of the running back. It is extremely hard for opposing defenders to fend off the block and tackle the ball carrier in that situation.
Iupati does need to work on a few things technique-wise, but he has the talent and ability to be a dominating interior linemen in the NFL.
I fully expect Iupati to improve on these issues in 2011 and make the NFC Pro Bowl roster.
2. Delanie Walker: No Longer a One Man Show for 49er Tight Ends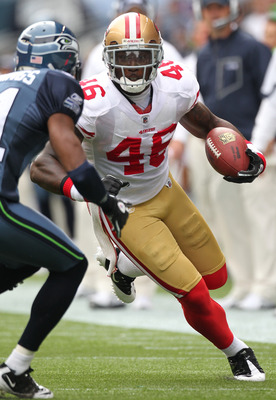 Otto Greule Jr/Getty Images
I have previously written about Jim Harbaugh's infinity for using multiple tight ends in his offense scheme. However, that was more about Vernon Davis and his possible inclusion into the annals of great San Francisco 49er tight ends.
Today I am going to focus on a lesser known, but equally talented tight tend; Delanie Walker.
The former Central Missouri State wide receiver would be a starting tight end on about half of the roster in the NFL. Walker's 83 receptions over his first five NFL seasons don't tell the entire story. He has been stuck behind Vernon Davis in a run-happy offense, and hasn't been utilized to the best of his abilities.
Under Harbaugh, you are going to see the 49ers run a lot more two tight end sets, Walker will also be lined up outside on occasion as a wide receiver.
At over 240 pounds, Walker is going to cause match-up problems against whoever covers him. He is too physically talented for smaller corners on the outside, and too fast for safeties and linebackers to cover on the inside.
Imagine a 49er pre-snap formation that features Braylon Edwards and Michael Crabtree on the outside, and a two tight end set of Walker and Vernon Davis on the inside. That is going to cause tremendous match-up problems for opposing defenses.
Who do you zone-in on? What player do you double cover? How do you defend this formation?
I am pretty sure that the defense will zone in on Vernon Davis inside, which will leave Walker in single coverage against a linebacker or safety. If Alex Smith can put the ball on target, a big if, Walker should see a minimum of 50 receptions in 2011.
1. Braylon Edwards Needs to Prove Himself Once More and He Will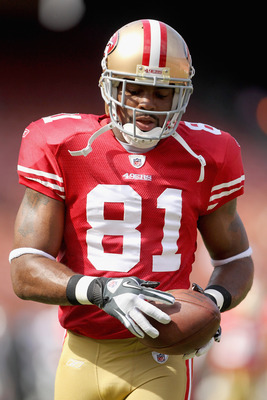 Ezra Shaw/Getty Images
I know what some of you are going to say, "How can a former Pro-Bowl receiver has a breakout season?".
Well, in Edwards' case it isn't only possible or likely, but a necessity for the advancement of his career.
Lets face it, Braylon Edwards needs to prove himself all over again. He signed a one year, one million dollar contract after being the top receiver for the New York Jets in 2010. A lot of criticism has been thrown his way due to off-field issues and drop pass issues.
However, last season, Edwards only dropped a handful of passes and proved to be a go to guy for Sanchez.
Now he needs to take that next step both on and off the field.
Edwards will immediately be the 49ers No. 1 receiver in 2011 and Smith's top outside target in the passing game. He is a tall, strong, wide receiver that causes tremendous match-up problems on the outside. Corners have hard time covering him deep and get baited a lot by his moves prior to the pass. Edwards is able to create a lot of separation at the line and finds himself in the open field a great deal.
The 49ers will be running a west coast offense in 2011, which fits Edwards skill-set great. He is great at running after the catch and getting the ball in space. You will see a lot of short slants and quick outs, which will lead to many yards after the catch.
Edwards' numbers might not show a dramatic improvement from the 2010 season because of the 49ers weapons in the passing game, but he should be a much better all-around wide receiver this year.
Despite the fact that San Francisco signed Edwards to just a one year deal, there are indications that this marriage could last much longer.
The former Michigan All-American has known Jim Harbaugh since he was a kid, and is intent on rebuilding his off-field image. What better situation to go into in an attempt to resurrect a once flourishing NFL career.
Look for him to take the step to elite status in 2011, which is the reason I have him No. 1 on this list.
Keep Reading

San Francisco 49ers: Like this team?