8 Miami Dolphins Who Need To Step It Up or Face the Chopping Block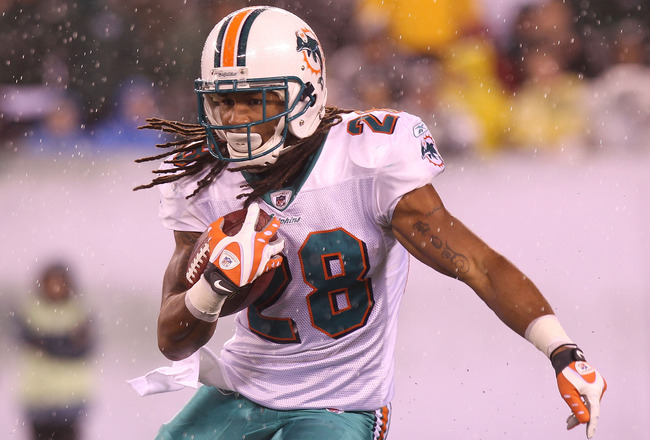 Nick Laham/Getty Images
We're now two weeks into the NFL preseason, and the Miami Dolphins roster is starting to materialize. The team currently has 83 players under contract, but 30 must be cut or relegated to the team's practice squad prior to the start of the regular season.
After two preseason games, it's easy to get a sense of which players currently tinker on the roster bubble. Younger players who receive elongated or minimal playing time are often in danger of losing their jobs, but until the entire offseason is played out, it's impossible to definitively predict how Miami's roster will look come September 11.
However, the Dolphins won't hesitate to cut underachievers. Earlier this morning, they parted ways with running back Kory Sheets and replaced him with veteran cast-off Larry Johnson.
Which players might soon follow in Sheets' footsteps if they don't improve their play?
Here's eight possibilities.
Nic Grigsby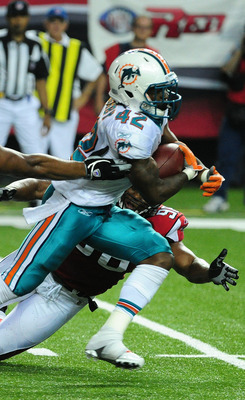 Scott Cunningham/Getty Images
Miami's decision to cut Kory Sheets bodes well for Nic Grigsby's long-term prospectus, but he needs to start producing.
The Dolphins scooped up the speedy back as an undrafted free-agent, but the former Arizona Wildcat has amassed a measly 10 carries for 21 yards in the team's first two preseason games.
Grigsby's chances of making the 53-man roster were slim to begin with, but the window has only grown more grim. The Dolphins figure to keep three or four running backs on the roster, and unless Grigsby makes some serious contributions over the next two weeks, he will face the chopping block or a demotion to the practice squad.
Lousaka Polite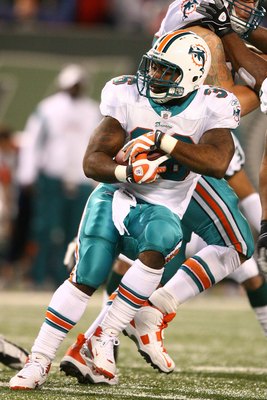 Al Bello/Getty Images
How long can a player ride one majestic season for? Dolphins fullback Lousaka Polite was arguably the best in the game two years ago, but his play hit a steep decline in 2010.
In fact, Polite was ranked 27th amongst fullbacks by Football Outsiders last season.
Tony Sparano has voiced confidence in Polite, but rookie Charles Clay has outplayed his incumbent throughout most of training camp. Polite used to be an elite fullback, and it's time for the team to reevaluate his value to the team.
Marlon Moore
Elsa/Getty Images
It's difficult to envision the Dolphins cutting a player with such sheer and electric athleticism, but Marlon Moore simply needs to increase his production.
Moore has reeled in a combined three receptions for 39 yards through two preseason games, but considering the Dolphins rich depth of wide receivers, those numbers might not suffice. On Friday, Moore dropped a potential touchdown pass from Matt Moore which only hurts his chances of making the final 53.
Brandon Marshall, Davone Bess, Brian Hartline, Clyde Gates and Roberto Wallace are all virtual locks to make the final roster. Marlon Moore needs to persuade Jeff Ireland to keep a sixth receiver on board over the next two weeks or he will hit the unemployment line.
Phillip Livas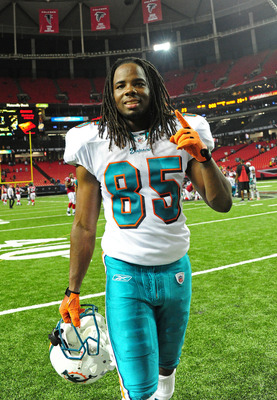 Scott Cunningham/Getty Images
When 5'7" rookie Phillip Livas cruised into the end zone after a 75 yard punt return against the Falcons two weeks ago, it appeared as though the Dolphins had finally discovered a lethal returner.
Special teams has undermined Miami for years, and they have shuffled kick returners to no avail.
However, Livas' hype train was derailed last week when he returned two kickoffs for 37 yards and two punts for 11 yards. Hardly impressive numbers.
Because the Dolphins are already overstocked with running backs and wide receivers, it's nearly impossible to see Livas figuring into this roster. He has two more games to showcase his return prowess, but if he posts another lackluster performance, Livas will be cut.
John Jerry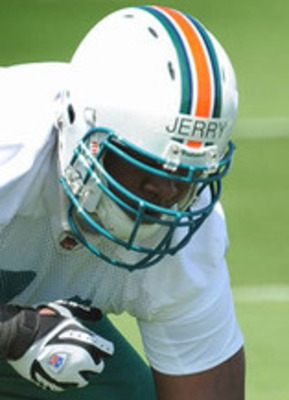 Following a disastrous rookie season, offensive guard John Jerry figured to make considerable progress and factor into the Dolphins offensive line rotation.
After all, Jerry was heralded as a safe third-round draft pick just one year ago.
Unfortunately, all optimistic outlooks have been decimated. Jerry remains a huge liability when he is on the field, and he currently sits behind both Vernon Carey and Nate Garner on the right guard hierarchy.
Miami won't hesitate to acknowledge and act on draft mistakes (See: Pat White), so Jerry might face the chopping block within the next few weeks.
Nolan Carroll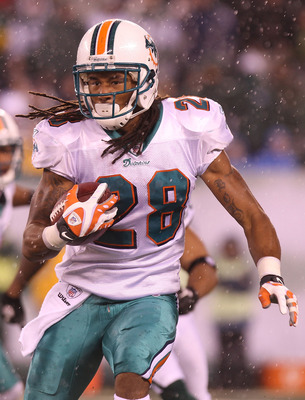 Nick Laham/Getty Images
Last summer, Dolphins fifth-round draft pick Nolan Carroll was a training camp superstar. He made highlight reel plays during practice, but looked only mediocre once game time rolled around.
Carroll served as Miami's primary kick returner during his rookie season, and only barely factored into the defensive back rotation.
Heading into his second season, Carroll figured to inherit a larger role; however, he has struggled mightily through the Dolphins' first two preseason games. If Will Allen returns from injury, then Carroll might become expendable.
Will Allen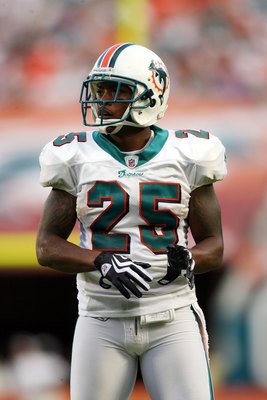 Marc Serota/Getty Images
Three years ago, Will Allen anchored Miami's secondary to a playoff appearance, but a pair of lingering injuries have derailed his career
A bad knee has kept Allen sidelined for most of the past two seasons, but he was supposed to return with a clean bill of health this summer and factor into the team's top three cornerback rotation. However, he has been a ghost at training camp and did not appear in the Dolphins' first two preseason games.
There's no doubting Allen's theoretical value to this team, but we still don't know if he is healthy and if he will be effective once he returns to action. If Allen remains hindered by these injuries, Miami might be best suited cutting him and promoting Benny Sapp into the nickelback spot.
Tyrone Culver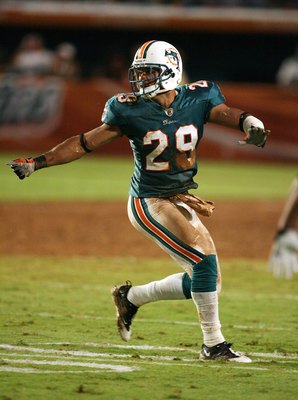 Doug Benc/Getty Images
After losing the starting free safety battle to Chris Clemons last summer, Tyrone Culver became a complete afterthought. He recorded only 11 tackles last season, and as the Dolphins add promising youngsters, Culver's role becomes increasingly slim.
Surrendering an inexcusable touchdown against the Falcons two weeks ago didn't exactly help his case.
Harry Douglas grabbed a touchdown reception on a pass that Culver should have most definitely broken up. Miami clearly likes Culver's potential, but unless he starts making plays or shows he can be a valuable special teams contributor, he might be cut.
Keep Reading

Miami Dolphins: Like this team?