Alabama Football 2011 Prediction: A BCS National Championship Run
August 31, 2011
Kevin C. Cox/Getty Images
It is time to start the prediction machine. With a little bit of priming I may just get this engine started and keep it on track.
None of the media nor fans know who will start at the quarterback spot but supposedly the coaches like what they see from both players. So, who cares? Four yards and a cloud of dust.
Bama has one of the easier schedules this season with their most difficult games at home. However, no one knows how anything will turn out.
September 3rd, Kent State
A good kick-start game. The quarterback(s) will learn to work in a live environment at game-time speed. The starters should be out of the game by the beginning of the third quarter if not midway through.
W
September 10th, at Penn State
The Nittany Lions have something to prove and want to show the old man they can do it. However, Evan Royster is gone along with three starters on the offensive line, but Penn only loses two defensive starters. This White Out will be a little tougher than you think and it will test Bama's mettle.
W
September 17th, North Texas
Back home for another tune-up. The key in this game it to come out injury free.
W
September 24th, Arkansas
After last year's come-from-behind victory in Fayatteville, the Hogs will be looking for some revenge. Replacing Ryan Mallet, three offensive linemen, Knile Davis and tight end D.J. William doesn't give the Razorbacks the best advantage for their first road game and true test.
Their defense has been improving the past couple of seasons and they do have some great receivers. It is hard for me to see this happening for them now at BDS, before Davis' injury maybe. They will give the Tide a hard-fought game.
W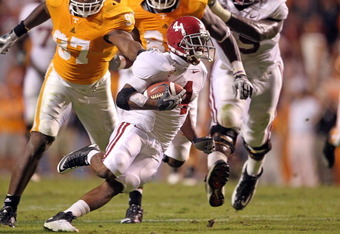 Andy Lyons/Getty Images
October 1st, at Florida
No one is denying that Meyer left the cupboard full, but no one is talking about the fact that an anemic offensive line just got a little worse. They return one starter from the O-line along with interception magnet John Brantley.
Even though much has been said about the defensive line the Gators still lost some great playmakers from last year. This is the start game for a gauntlet that will be spewed at the Gators nonstop. And, they will succumb to it. Build it back Muschamp.
W
October 8th, Vanderbilt
Easy win.
W
October 15th, at Ole Miss
You've got to watch the Right Reverend Nutt. Sometimes his sermons can get a team fired up...not this time. Ole Miss doesn't have enough defense or offense to win this one. But with a bye week they have chance to hang with Alabama.
W
October 22nd, UT
With a returning offensive line—minus one—and quarterback, the Vols have something to prove. Defensively they lose five starters on an average unit at best. They were below average at pressuring the quarterback last season and the teams they did beat down the stretch in 2010 were middle- to bottom-barrel teams.
W
November 5th, LSU
Now that we know what is going on at LSU it is hard to say what will happen with the quarterback situation come this time of the season. Saban doesn't lose to the same team consecutively often...if ever. This may be one of those times.
This should be the defensive brawl of the season. Les will throw out some trick plays when he can. What's new? But in the end, good old defense takes the game. At home, I give it to the Tide.
W
November 12th, at MSU
Yes, this is the hangover helper for the Bulldogs. Coming off of LSU gives MSU the best chance to succeed against Alabama. I believe they actually may do it after an easy weekend of UT-Martin.
L
November 19th, Georgia Southern
Getting back to reality, the Tide's season looks disrupted but finishing strong is what needs to happen. Tune up and get better.
W
November 26th, at Auburn
It is time for payback! Both teams will be hyped for this one. And, like Les Miles, Gus Malzahn will throw out plenty of tricks. It will be his only hope.
I don't care what Auburn person says they "rotated this many guys in" or "they have plenty of talent to fill the departed players." The bottom line is Alabama was embarrassed in 2010. Kind of like the Auburn Tigers were in 2008. And no matter who you put up or against the Tide will be no match for their "scorn" of 2010.
Get my drift? Bama doesn't destroy Auburn like most pundits think but they do succeed.
W
End Notes
Of course, I'm a homer. But if the gun is to my head, I would say the Tide go 10-2 in the regular season. Those two losses would come from the aforementioned MSU plus either LSU, or Arkansas. 
The bright side is every game is winnable with only a couple of games straight-up losable. The potential is there for a championship run unlike many other teams in the SEC.
While a lot of analysts are jumping on the "Bama-Wagon," and rightfully so, the truth of the matter is the Tide have a hard window to climb through. A new quarterback and replacing a talented wide receiver and downfield blocker like Julio Jones is never an easy task for any team. The real challenge is keeping their heads in the game.
With the running back tandem of Ed Lacy and Trent Richardson and short-yardage specialist of Jalston Fowler, Alabama will move the ball steadily behind a veteran line. The quarterback will be expected to make the plays and not lose the game, but never be a gunslinger—something I hope McCarron and Sims understand. Though, with experienced receivers like Maze and Hanks, their job should be a little easier.
As for defense, the Crimson Tide will more than likely field a top-five unit. Defensive backs should be better this year and negate some of those big-play mistakes of 2010. However, it is football so don't be surprised when it does happen.
The big factor for negating the big plays should be Dre Kirkpatrick. 
Dre is expected to be a high first-round draft pick for the NFL next year and if he wants that, then he surely will have to impress this season. I would expect having the potential of being worth $20 million just may inspire him.
Pressure must come to bear on the opposing quarterbacks. More often than not, those big plays were made because the Tide couldn't get to the quarterback fast enough. This year I expect a better pursuit.
The kicking game could be the Achilles heel for this team. Loss of field position on kickoff and punt returns will only subject the defense to more pressure. But, I do have to admit the Bama defense is good in the red zone. So, it may not be so bad.
Injuries—need I say anymore? Yes! It appears that we may have two capable quarterbacks. If not, then we have two bust quarterbacks that have yet to be seen. I doubt that.
It would be nice to see some more depth at running back based on this issue but we shall see Dee next season. Now that Duron has made it on campus (I personally thought this would never happen), the wide receiver corps has a little more depth behind DeAndrew White and Marquis Maze. Hopefully these backups know the routes and have the hands. 
The offensive line is a concern in a couple of spots for injury purposes, with Barrett Jones starting at left tackle and backing up left guard. In the grand scheme of things, they should be effective.
Saban has been recruiting top talent for years and it is now all his pickings. Let's see what this team is made of. 
It could be of national championship material. Or, it could be another 10-3 season.