Maryland Terrapins: Update on Former Terps Currently Signed to NFL Rosters
August 23, 2011
The University of Maryland at College Park's athletics department is known a lot more for its basketball program than it is for its football program, so former Terps football players in the NFL sometimes get overlooked by coaches and fans alike due to the lack of football tradition at the school.
Fans are most likely to hear of players from big football school like Ohio State, USC, Michigan and Miami (FL) among others. Differing from what most people believe, there are many successful ex-Terps that are solid NFL players and have been solid NFL players.
Here are some of them (sorted alphabetically by team) that have only left the Terp football program recently:
Torrey Smith (Baltimore Ravens)
Obviously, Smith is a household name amongst hardcore NFL fans due to being drafted highly in the 2011 NFL draft in the second round. Torrey is a tall, fast, explosive receiver who looks to be a mainstay on the Ravens roster, or any NFL roster for that matter.
Along with current Oakland Raider wide receiver Darrius Heyward-Bey, Smith is part of a duo of Terp receivers who have been drafted very highly (Heyward-Bey was selected in the first round) in the last couple of NFL drafts.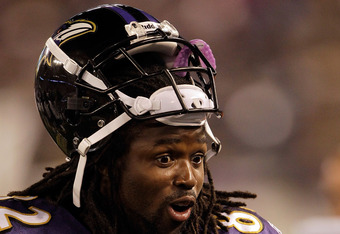 LaQuan Williams (Baltimore Ravens)

Williams was not as well known coming out of college but he still is a solid, productive wide receiver. He has been on training camp rosters with a few NFL teams in his short career already, but he should find a home in Baltimore.
LaQuan is a very well-rounded player, as he is also very good at returning kicks and punts on special teams.
Adam Podlesh (Chicago Bears)
Podlesh, who was recently signed by Chicago days ago, looks to be in the lead for the starting position over rookie punter Spencer Lanning. Podlesh had the starting job in Jacksonville for a couple of seasons but ran out his welcome.
Podlesh is a very productive NFL punter and can always be counted on for a good boot. He will most likely be the starting punter for Chicago on Week 1.
Phil Costa (Dallas Cowboys)
Costa is a versatile offensive lineman who really has found a niche with the Cowboys over the last few seasons. He joined the Cowboy roster as an undrafted free agent in 2010 and has worked his way from fourth-string center all the way up to second string.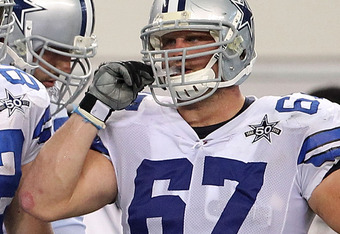 Costa is the next in line to start at center for the Cowboys when current starter and veteran Andre Gurode decides to retire.
Dan Gronkowski (Denver Broncos)
Gronkowski, one of three tight end/fullback brothers currently in the NFL (Rob on New England and Chris on Dallas), is not an explosive receiving target but is a very solid blocker, which is why he is on the Broncos roster and why he will probably make the team again this year. 
Travis Baltz (Indianapolis Colts)
Baltz, a rookie punter, probably won't make the Colts roster this year because they already have Pat McAfee, a West Virginia alum. This fact still doesn't take away the fact that Baltz is a good punter and will probably be signed by another team for this season.
Adrian Moten (Indianapolis Colts)
Last season for the Terps, Moten was an absolute monster at linebacker alongside fellow graduate Alex Wujciak. Moten's true athleticism was displayed in a game against Navy last season when Moten hurdled the offensive line and strip-sacked Navy quarterback Ricky Dobbs and the Terps recovered the fumble.
That play was on Maryland's 4-yard line, so it's safe to say that it was touchdown-saving. The Colts' beleaguered defense could use that sort of player so Moten has a good chance of making the 53-man roster of Indianapolis.
Will Yeatman (New England Patriots)
This former lacrosse team captain at Maryland was also very good at tight end in football during his collegiate career, which he parlayed into a contract with one of the NFL's most prestigious teams, the Patriots, during this offseason.
Yeatman is a couple of strings down on the New England depth chart, so it's a long shot he will make the Patriots. But he is athletic enough to be a difference-maker in the NFL, so another team might pick him up.
Da'Rel Scott (New York Giants)
Scott, a seventh-round draft pick of the G-Men in 2011, was very productive at Maryland but had some trouble staying on the field. He was injured multiple times during his collegiate career but when he was on the field, he was a big, fast running back that was hard to tackle in the open field.
He did everything at Maryland, like catching passes, going off tackle for a long run, inside the tackles for a short goal-line gain and he even threw some passes. He's an all-around running back who should find a role even on the running back-heavy Giants.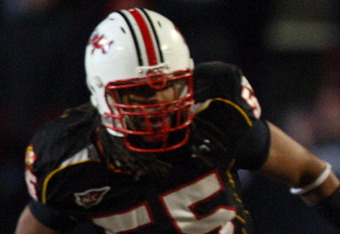 Bruce Campbell (Oakland Raiders)
Even though he is only projected to be the Raiders' third-string right guard this season, he still has a lot of upside, which the Raiders obviously agree with after drafting him in the fourth round in the 2010 NFL draft.
He also played defensive end in high school, which shows that Campbell also has the explosive speed and quickness needed to be an effective defensive end. This athleticism also helps Campbell stick with pass-rushers on the D-line.
Kevin Barnes (Washington Redskins)
Barnes, a 2009 third-round draft pick for the Redskins, is an extremely athletic and smart cornerback and will most likely make the Washington 53-man roster. He hasn't had much NFL playing time, but when he has played he has impressed greatly.
He has an uncanny knack for being in the right place at the right time in order to intercept the opposing quarterback. The Redskins have one of the most porous defenses in the NFL right now, so someone as talented as Barnes definitely deserves to be on the roster to help the team out with that.