WWE Raw August 22, 2011: Randy Savage Story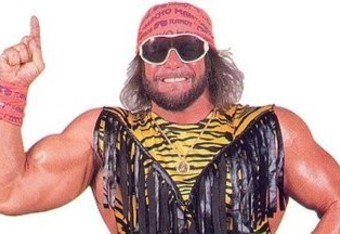 There is no reason for this at all, I just love old-school wrestling stories. If you like this one, I'll throw in a few more during commercial breaks.
This is from an old Wrestling Observer issue when Savage was wrestling in Nashville back in the day:
They ended up on the ground punching and kicking and screaming in front of this old school giant juke box. The police were called, being told by the employees that their friend was in a fight with the crazy wrestler Randy Savage. It should be noted that wrestling was huge on television in the city, and everyone knew Savage, and most people in town thought he was crazy. The cowboy then pulled a knife on Savage.

Savage saw the knife, leap frogged over the counter, and grabbed a kitchen knife. At about this point, sirens were blazing signaling the police being about to arrive. The cowboy, hearing the sirens and seeing Savage with a knife of his own, ran out the door.

Two police officers, who recognized him immediately, came into the Waffle House and Savage started cutting a promo, complete with "Oooh yeah, can you dig it." The staff said that Savage started it. They tried to arrest Savage, but Savage started yelling how the other guy started it and he was the victim. They tried to arrest him, but he wasn't being cooperative. At this point Savage started fighting the police officers while a crowd gathered. They couldn't overpower him and get the handcuffs on. So they decided to pepper spray him. One officer pulled out the spray, as another officer held Savage. If you've ever seen a wrestling spot, well, Savage ducked and you can predict what happened next.
Most recent updates:
This article is
What is the duplicate article?
Why is this article offensive?
Where is this article plagiarized from?
Why is this article poorly edited?