Arsenal Transfer Rumours: Riccardo Montolivo of Fiorentina Targeted by Gunners
August 22, 2011
Football Italia is reporting that Fiorentina midfielder Ricardo Montolivo is a target for Arsenal.
Montolivo was linked with a move to Arsenal last summer as a replacement for Cesc Fabregas but since the Spaniard stayed on for another season, Arsene Wenger opted against making a bid.
With Fabregas now at Barcelona and Arsenal enduring a torrid time, Wenger could make a move for Montolivo before the transfer window closes at the end of this month.
The green signal is the availability of Montolivo.
Fiorentina have made it clear that they are willing to sell the Italian international to a club abroad.
AC Milan were keen on the player but the Viola remained steadfast in their decision not to sell Montolivo to another Italian club even if that means losing him for nothing next summer.
The midfielder has only one year left on his contract and has already rejected an offer from the Viola to extend his contract, much like Samir Nasri's situation at Arsenal.
Fiorentina are forced to sell and the prospective buyers could secure the talented Italian midfielder's signature for a fee in the region of £10 million.
Montolivo is of German descent but opted to represent Italy at international level. He had a tough time at the beginning of his career but came to prominence at a time when Fiorentina and Italian football came under the shadows of the Calciopoli scandal, which was not an ideal scenario for a youngster to prosper.
He hasn't had much success in the colours of Italy in the early part, but of late he has played well on the international stage and was one of the few Italian players who came away with any pride from the FIFA 2010 World Cup.
With age he's matured and now looks a solid player capable of dictating play from deep positions.
He's the more mobile version of Italian legend Andrea Pirlo. Montolivo has good vision and diverse passing range.
He's also very aggressive with his tackling. Montolivo doesn't score too many goals but when he hits a ball, it stays hit.
He's a powerful long-range shooter—a fact well documented by his debut goal for Fiorentina against Ascoli that was measured at 72 mph.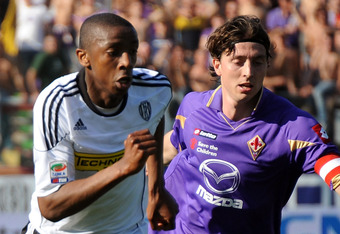 Last season Fiorentina struggled for most parts but Montolivo was the shining light with an 83 percent pass completion rate and an incredible 2.8 tackles per game.
Italians often end up as flops when they leave Serie A for glory elsewhere. The most recent case of Alberto Aquilani strengthens the argument, though it must be said his poor injury record scuppered his chances.
Montolivo is not as talented as Aquilani but he's more aggressive and physically imposing. He enjoys the physical side of the game but at the same time is inventive as well.
It's not for nothing that he's widely known as the Italian Fabregas.
One major weakness of Montolivo is his tendency to drift away from games when the going gets tough.
If you offer him a strong defence and a sharp attack, he will dictate the game from the midfield. But when the weight of the team falls on his shoulders, he often ends up being a failure.
In short, to get the best out of him you need to offer him a strong platform alongside players of his level or better.
You can't expect him to be a talisman capable of winning you games single-handedly.
That said, I do believe he would be a good signing given his relatively low fee due to the contract situation. It must be noted that he was rated at £18 million last summer.
Bayern Munich were also reported to be interested in his signature but have backed off now, paving the way for Arsenal to conduct the transfer.
Wenger could sign Montolivo to add strength in depth, and he would offer cover in all three midfield positions in the current Arsenal system including the defensive midfield spot.