Miami Dolphins: Projecting the 53-Man Roster Mid-Preseason
August 23, 2011
With two preseason games in the books, it's a pretty good time to see who might make a team's opening day roster and who won't. Obviously, teams will add player's right up until the start of the season, but minus a few waiver wire pickups, here is one guess at where the Miami Dolphins will stand when they face the New England Patriots on September 12th.
This projection is broken down into four self-explanatory categories, "on the roster", "probable", "long-shot" and "unemployment". Projections for the "on the roster" and "probable" categories definitely count towards the 53-man roster and I have added in one player listed as a long-shot for good measure. The number in parenthesis next to the position indicates how many total players I believe Miami will carry.
Quarterback (3)
On the roster - Chad Henne, Matt Moore
Probable - Pat Devlin
Long Shot - Kevin O'Connell
Analysis: Henne has likely locked down the starter's role with his 15 completions out of 24 attempts for 196 yard effort against Carolina. Moore is an intriguing option with starting experience if Henne should falter. The only intrigue here comes at the third quarterback spot.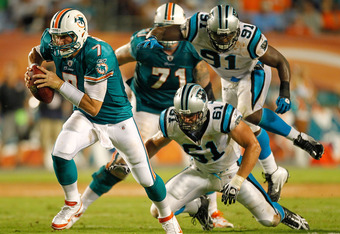 The guess is that Miami will go with the rookie Devlin if for no other reason than if Henne and Moore would both go down, then the Dolphins would have to find a proven veteran to take over the reins and neither Devlin nor O'Connell would be pressed into duty. Devlin is the better bet for the future—which is the purpose of having a third quarterback on most teams.
Running Back (3)
On the roster - Reggie Bush, Daniel Thomas
Probable - Lex Hilliard
Long Shot - Larry Johnson
Unemployment - Nic Grigsby
This was probably one of the easier positions to figure out after free agency. The only surprise has been how fresh Bush has looked. He would appear to get the wealth of the carries if he continues the dynamic play he showcased against Carolina.
Thomas figured to have a learning curve coming into the NFL and there are doubts as to whether he is an aggressive enough runner, but he will get enough carries for the Dolphins to clearly find out. Hilliard figures to be a goal-line option due to his 240 pound frame.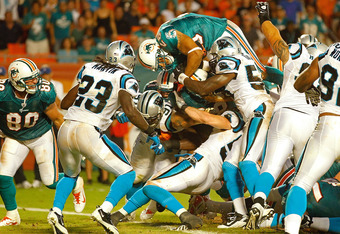 Kory Sheets was just released and Johnson signed. I'd be surprised, make that shocked, if LJ still has something left in the tank. He hasn't produced since 2008 or starred since 2006. I'm not saying he won't make the roster and I think it will come down to whether Miami decides to keep four running backs or six receivers, but Johnson circa 2011 isn't the sure bet he'll be hailed to be. Grigsby hasn't flashed NFL potential. 
Fullback (1)
Probable - Lousaka Polite
Long Shot - Charles Clay
The Dolphins know what they have in Polite which is crucial to the veteran keeping his job, even with the possibility that newly-signed Johnson could take away his short yardage role. I don't think that Miami gives up on Clay, but I think they will work him in as a tight end. More on that in a bit…
Wide Receiver (6)
On the roster - Brandon Marshall, Devon Bess, Brian Hartline, Clyde Gates,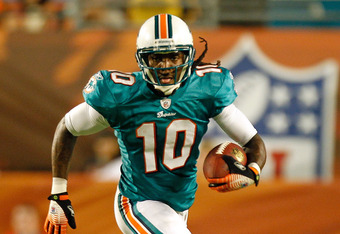 Probable -Roberto Wallace
Long Shot -Marlon Moore, Philip Livas
Unemployed - Julius Pruitt, Patrick Carter, John Matthews
Perhaps one of the hardest positions for Miami to make its cuts in the next couple of weeks. This decision comes down to Wallace, Moore, Livas and whether Miami keeps five or six players at this position.
Wallace has been maddeningly inconsistent, but his 6'4", 225 pound frame probably will give Miami incentive to give him more time to develop. Moore has talent, but recently hasn't shown enough of it to secure a roster spot.
The sad reality is that 6'0", 190 pound receivers need to stand out and the former Fresno State Bulldog hasn't. Livas is going to need another preseason effort as a returner like he had against the Falcons to prove that he should stick. He's a long shot but I have a feeling that he will make it.
Tight End (3)
On the roster - Anthony Fasano
Probable - Charles Clay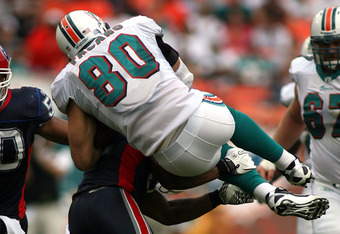 Long shot - Jeron Mastrud
Unemployed - Mickey Shuler, Dedrick Epps, Brett Brackett
Fasano will madden fans (pun intended) with his occasional drop, but Miami is in a precarious position if Fasano goes down. The aforementioned Clay has potential as a receiving target but can't possibly be counted on as an in-line blocker. Mastrud has the size to block but the truth is that Miami suffers a huge drop off after Fasano. Shuler hasn't yet been healthy during the preseason. I think the Dolphins will carry three tight ends into the season, but that third guy may not be on the roster yet.
Offensive Line (9)
On the roster: Jake Long, Richie Incognito, Mike Pouncey, Vernon Carey, Mike Colombo,
Probable - Lydon Murtha, Nate Garner, Joe Berger, Ray Feinga
Long Shot - John Jerry
Unemployed - Tyler Donahue, Allen Barbre, D.J. Jones, Matt Kopa, Garrett Chisolm
The starting five seemed to be locked into place barring injury, which would be great news for an offensive line that was in flux for all of last season. I don't know how Murtha rates as highly with the Dolphins' brass as he apparently does.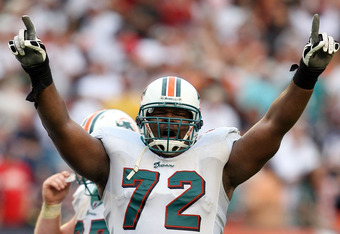 Still, his versatility to play either tackle spot and Garner's flexibility to play virtually anywhere on the line are probably too good to pass up. Yes, Jerry was a third-round pick last season but he simply hasn't emerged as the run-blocking guard the Dolphins thought they had drafted in 2010.  Don't be stunned if Miami makes a trade or picks up a player on waivers to strengthen this group.
Defensive Line (7)
On the roster - Jared Odrick, Randy Starks, Kendall Langford, Paul Soliai, Tony McDaniel
Probably - Phillip Merling, Ronald Fields
Longshot - Ryan Baker
Unemployed - Frank Kearse, Robert Rose, Johnny Jones
This is clearly the deepest, most talented group on the roster. It's also the best trade chip that Miami has to offer. Merling would seem to be the most likely to be moved given a low base salary but don't rule out a player like Starks being shipped if it brings good immediate value in return. Trades are difficult in the NFL and what it makes it harder for Miami is they need a player to help them now not a draft pick for a player down the road.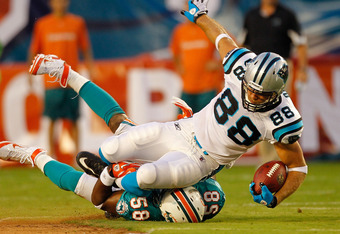 Linebacker (8)
On the roster- Cameron Wake, Karlos Dansby, Kevin Burnett, Koa Misi, Jason Taylor
Probably - A.J. Edds, Ike Alama-Francis. Jason Trusnick
Long shot- Marvin Mitchell, Austin Spitler
Unemployed - Mike Rivera, Quinton Spears, Jonathan Freeny
Once again, there isn't much debate about the starters on this unit other than Misi vs. Taylor for the one outside linebacker spot. Edds has flashed enough in pass coverage that he makes for a valuable back-up. I need one more preseason game to put him on the roster. Trusnik's value as a special teamer ups his stock. I really liked what I saw out of Mitchell in limited duty but fully realize it was against third and fourth string players. As such, Francis gets the slight nod because he is the only other legitimate outside linebacker on the team.
Defensive Backs (10)
On the roster -  Vontae Davis, Sean Smith, Reshad Jones, Yeremiah Bell, Chris Clemons,
Probably -  Benny Sapp, Jimmy Wilson, Nolan Carroll, Tyrone Culver, Will Allen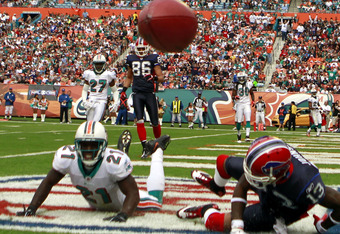 Longshot - Nate Ness
Unemployed - Mark Restelli, Jose Perez, Vincent Agnew
There are a couple of intriguing issues in the secondary. It's a coin flip as to whether Jones or Clemons gets the start at free safety. Will Allen's inability to get on the practice field much less into a game has put his roster spot into jeopardy. Seventh-round rookie Jimmy Wilson has shown too much promise at cornerback not to make the final 53.
Kicker, Punter, Long Snapper (3)
On the Roster: Dan Carpenter, Brandon Fields, John Denney
Simply put, there is no competition for these spots on the team.
Well, that's how I think the roster shapes up. What do you Dolphins fans think?