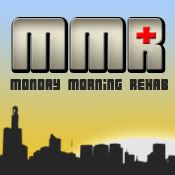 With half the preseason in the books, it looks like the Colts are ready to push the panic button.
With good reason, too. Peyton Manning, he of offseason neck surgery, may not be ready to start the regular season in three weeks. And there are no good options at quarterback on the roster right now.
Manning has yet to practice in training camp. It would not normally worry me, because of his history and reputation, but it really does sound like this is serious and not just posturing by the Colts.
His fantasy stock has been slowly slipping in recent weeks, but figures to take a major tumble starting this week. Hard to believe it is going to get any worse, because he currently is being drafted as the 12th-best quarterback in Fleaflicker leagues.
Let that set in for a minute. Peyton Manning. 12th quarterback off the board.
He has been elite for so long that you just expect him to be gone from your cheat sheet by the end of the 2nd or 3rd round. Now he is the 12th quarterback off the board in drafts. And it could get worse!
Hey, I would take him as my No. 2 QB in a heart beat.
Peyton Manning [QB, Colts]
From ProFootballTalk:
Colts owner Jim Irsay wrote on Twitter that the team is evaluating the quarterback situation because it needs to be prepared for the possibility of playing without Manning early in the season.
This is bad news for the Colts, who could take a major step backward this season. But then again, some experts have expected that to happen the last few seasons (here come the Texans!) only to whiff.
Ryan Williams [RB, Cardinals]
From ProFootballTalk:
Cardinals rookie running back Ryan Williams is expected to miss the season after injuring his knee Friday night.
What a devastating blow for the rookie running back, who figured to see prominent action in the backfield this season. For fantasy owners, that is now two rookie running backs lost for the season. The crop continues to get thinner at an all-important fantasy position.
Jahvid Best [RB, Lions]
From ProFootballTalk:
The second-year back came out of Friday's game early and it appeared that he underwent concussion tests. After the game, the team let Best speak to reporters. That's usually a sign things aren't too serious.
All the Lions need now is for Best to get hurt after losing Mikel LeShoure for the season. If this team is going to live up to expectations this year (and they are high!), players like Best need to escape the preseason healthy.
Jeremy Maclin [WR, Eagles]
From FFToolBox:
According to ProFootballTalk.com, "[T]he word in the locker room is that Maclin suffers from mononucleosis and/or the lingering effects of it. Maclin disclosed in April that he lost 15 pounds in February with a 'mono-like' illness."
Good to hear Maclin was cleared of anything more serious. There was a cancer scare for a little while. The Eagles are expecting him back soon, but he still has a lot of catching up to do from a conditioning stand point. Expect his average draft position to keep slipping to a more reasonable value.
Peyton Hillis [RB, Browns]
From FFToolBox:
Cleveland Browns running back Peyton Hillis suffered a hamstring injury near the end of practice Wednesday. Head coach Pat Shurmur said Hillis felt his hamstring nag "just a little bit" and wouldn't classify it as a true injury just yet.
Madden curse! Just kidding. No reason to push the panic button, Hillis just caught the hamstring bug that has been going around all training camps. This should not be an issue.
The MMR will continue to run every Monday morning as scheduled during the regular season. If you have an injury update or want an update on a certain player, please leave a note in the comments.