Is Carl Crawford Likely To Survive in a Boston Red Sox Uniform?
August 22, 2011
Over the winter, the Red Sox signed Carl Crawford to a seven-year, $142 million contract, making him one the highest-paid outfielders in baseball history.
Crawford came with some hardware and a ton of expectations for Red Sox Nation, coming off a career year in 2010. He won his first Gold Glove and finished seventh in the MVP voting with a .307 average, 19 HR, 90 RBI and a .356 OBP.
According to an article written by Tom Verducci of Sport Illustrated, an anonymous GM was quoted as saying, "[Bleeping] Theo, What a brilliant move."
Was it brilliant, or is it still too early to evaluate Crawford's play?
Through 126 games, below is where Crawford currently ranks among all outfielders in major league baseball. 
* 43rd in batting average at .251
* 60th in HR with eight
* 50th in Runs scored with 49
* 53rd in RBI with 40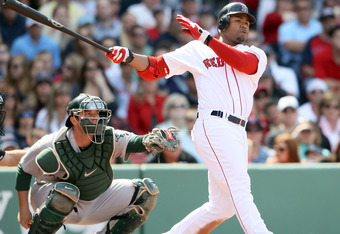 * 53rd in total bases with 149
* 54th in OBP at .287
Use whatever adjective you will to describe his play, but the bottom line is Crawford is not performing to his past proven ability. 
Since August 9, Crawford has gone 8-for-43 with a .186 batting average, including an 0-for-9 against his former teammates the Tampa Bay Rays in Boston last home stand. 
Crawford has shown a glimmer of hope though. In May, Crawford had 3 HR, 15 RBI, a .304 batting average, .328 OBP and 54 total bases—his best month to date.
Columnist John Tomase writes in today's Boston Herald, "He acknowledges he hears the boos, even on the road, where every visitor gets booed. Earlier this season, he admitted that a particularly negative string of questions from a local radio reporter ruined his mood. In recent days he has finally taken to dismissing questions about his performance altogether, because what's left to say?"
Callers on Boston's sports radio talk show WEEI this morning were phoning in stating that part of Crawford's problem may be that Francona hasn't been confident batting him in the two-hole, where he's bat a majority of his career and feels most comfortable, but instead has him bat in the sixth spot. 
The last time I checked, Crawford was a professional baseball player being paid $14 million (in 2011 alone) to hit where asked to bat, when asked to bat. This notion of being comfortable (if true) is something he needs to get over and over quick if he wants to survive in Boston.
Plus, he hasn't hit well enough to earn a No. 2 spot in the lineup regardless of what people think of where he deserves to bat in the order.
As we've seen with past experiments such as Julio Lugo and Edgar Renteria, some players are just not cut out to play in a high-pressure atmosphere such as Boston. 
So what will Carl Crawford ultimately end up doing with his tenure in a Boston Red Sox uniform?