New Jersey Devils Looking to Build on a Solid Second Half of Last Season
August 22, 2011
The New Jersey Devils have been surprisingly quiet during the free agent period this offseason, leaving them in an interesting position for the next season. There are quite a few unknowns going into the year that may complicate their effort to return to the postseason.
Goaltending is the first question to be considered for any team, and the Devils are no exception. Brodeur has the kind of insurance he needs in Johan Hedberg and should be able to get some rest this year.
However, a true two-goalie system is rare in the NHL and I believe that Martin Brodeur will bounce back and have a great year. This may complicate things because it is hard for coach Peter DeBoer not to give into temptation when he has one of the greatest goalies of all-time on his bench.
Their defense is a little short on established names, but youth must somehow step in during training camp and allow the Devils to showcase their fine farm system. They have lost some depth after their top two pairings.
The Devils have many pieces that could produce in the range of 15 goals on offense, and Zach Parise, who is one of the top five scorers in the league when healthy. I personally think that scoring will not be as much of an issue for them as people may say.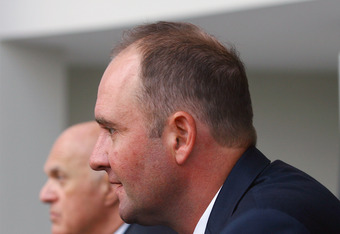 The problem with the Devils continuing their winning ways is that they are not really outstanding in any one facet of the game and may be lost in the shuffle of competitive teams in the East. They may be able to contend based on playing a tight defensive system like they have in the past.
New coach Peter DeBoer is nothing like Jacques Lemaire, who came before him. DeBoer may introduce another shift in the Devils' philosophy. I am not sure he will turn out to be the best fit for New Jersey.
One good thing is that the Devils are getting younger and so it is more acceptable for them to try and vie for a low playoff seed. I don't think many analysts see New Jersey as being a contender for the Stanley Cup at this point.
Assuming the Devils have not made any more moves by the time the season comes around, they may be destined for 10th place, or a fate that is sometimes worse—being swept in the first round of the playoffs.