SEC Expansion: Go Noles!—to the SEC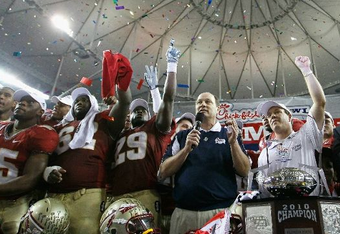 Each day, the chatter grows. Yesterday's news was that the A&M-to-the-SEC deal was a done deal.
I do not know if that is true or not—but it does not matter. Like most, my inclination is that, regardless of whether it's already done, Texas A&M is SEC-bound. And so the question is not if, but when.
And the notion raises another question.
Adding A&M to the league gives the SEC an odd number of teams. There is no reason to doubt that the SEC will look to even out.
\Who will be the SEC's 14th team?
Oklahoma, Clemson, and Virginia Teach have all been mentioned. But yesterday's buzz was that the SEC's 14th team would be the Florida State Seminoles.
As an FSU alumnus and avid fan, admittedly, I was conflicted by the notion. Averse to change, I preferred the idea of FSU staying in an expanded and strengthened ACC.
But the more I thought about it, the more this thing becomes a no-brainer. And the reason FSU should accept without a moment's hesitation an invitation to join the SEC can be summed up in one word: money.
FSU's athletic department is poor. In fact, Standard & Poor's would probably give it a CCC rating.
Consider this: According to Forbes, for the 2009 football season, FSU recognized $18,958,861 in football revenue and $16,345,376 in football expenses, yielding a profit of $2,613,485.
Let me put that in context.
In that same year, Virginia Tech recognized $31,155,870 in football revenue and $16,302,767 in football expenses, yielding a profit of $14,853,103.
Clemson recognized $30,944,503 in football revenue and $16,305,528 in football expenses, yielding a profit of $14,688,975.
Georgia Tech recognized $24,870,064 in football revenue and $15,519,206 in football expenses, yielding a profit of $9,350,858.
Among its ACC counterparts, FSU ranked ninth in football revenue; third in football expenses; eighth in football profit; and, having broken even, dead last in athletic-department profit.
This chart shows how the business of FSU football stacks up against its ACC counterparts and its would-be SEC counterparts.
For FSU, joining the SEC would be like hitting the lottery or marrying someone who is well-to-do.
In the SEC FSU's football revenue will likely increase because ticket and concession sales will likely increase because (1) most SEC fanbases travel better than most ACC fanbases and are thus more likely to follow their teams to Doak and (2) matchups against SEC teams will do more to entice FSU fans to attend home games.
And, of course, FSU would get its slice of the SEC's pie.
Also, as a member of the SEC, because many of its road games will be closer to home, travel expenses will decrease, though not significantly.
Business 101 teaches us that when revenues increase and expenses decrease, profits increase. And in college football, as in any business, the bottom line is all that matters.
Regarding FSU's ability to compete in the SEC, damn those who think the Seminoles could not.
Last year, FSU would have easily been the SEC East Champs. That the Seminoles beat the SEC East champions—the South Carolina Gamecocks—in the Chick-fil-A Bowl backs up such an assertion. Ask Marcus Lattimore if Greg Reid and the Seminoles are tough enough for the SEC.
And, in case you missed it, FSU had the nation's top recruiting class last year, according to ESPN. This year's class is currently ranked No. 2 by Rivals.
All the ingredients are there for the Seminoles to make a run. I guarantee you that the powers-that-be at the SEC have taken notice of this.
There is little reason to doubt that, with the program Jimbo Fisher et al. is putting together, FSU can compete with the best of the SEC—even become SEC champions someday—and avoid getting lost in the middle of the pack.
Simply put, there is no reason why FSU should not join the SEC, if invited. 
And the odds that the SEC will invite the Seminoles are seemingly favorable—especially if the SEC seeks to become a superconference, a concept Mike Slive has commented on.
"I could get to 16 teams in 15 minutes," the SEC commissioner supposedly said at SEC media days.
I would be willing to bet that he could get to 16 sooner than that.
So, even if A&M is the 13th team and some other team—say Oklahoma—is the 14th team, FSU still has a very good chance at being the SEC's 15th or 16th team, especially if the Seminoles have a special season.
And even if Slive was jiving about the SEC becoming a superconference, his hand may eventually be forced.
Superconferences are a self-fulfilling prophecy. If the Pac-12 becomes the Pac-16, you can bet your you-know-what that the others—the SEC, the Big Ten and the ACC—will follow suit.
And what gives life to the notion of a superconference is the death of one of the big-six conferences. And for the Big 12, the prognosis is bleak. Its death is nigh.
Hello, superconferences.
I have previously written about what I think the superconferences will look like. But that was before I thought FSU should join the SEC.
Now, of course, I expect the college football landscape to look different once the realignment dust settles. Tomorrow this will change.
And such a seismic shift in the game of college football would certainly take some getting used to. And it is difficult to imagine chants of S-E-C! from Seminole Nation.
But, from a financial standpoint, for FSU the move would clearly be for the better.
And you can bet the farm that FSU can compete in the best league in the land.
NOTE: This article was originally published here by the same author on August 12. It is republished here for the purpose of putting into context future Bleacher Report posts by the author about being Mike Slive; how superconferences lend themselves to a playoff; and how the ACC—about which he is paternal—can be saved
This article is
What is the duplicate article?
Why is this article offensive?
Where is this article plagiarized from?
Why is this article poorly edited?

Florida State Football: Like this team?