Fantasy Football Sleepers: Grading Top 5 Rookie QB's Fantasy Value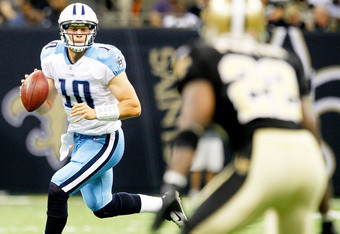 The 2011 NFL draft may be looked back on as the draft of the quarterback. There were quite a few quarterbacks taken in the first round, and quite a few shockers if I can be honest.
Some of these quarterbacks weren't projected to go until at least the second or third round, yet somehow they were drafted high in the first.
Their new NFL teams obviously saw high value in them, or at least enough to take a chance.
What kind of fantasy value do these young quarterbacks possess though?
Check out their fantasy grades:
Andy Dalton, Bengals: C
Dalton gets a C because at the very least he is playing, which is more than he can say about some of his fellow rookies. He's the Bengals quarterback for better or for worse. Unfortunately, I think it's going to end up being for worse in 2011. He is an interesting keeper pick though.
Blaine Gabbert, Jaguars: B
The Jaguars moved out long-time quarterback David Garrard to obviously make room for Gabbert on the field. He won't be starting at first, but eventually I expect him to take over the reins at quarterback. He's shown enough for me to think he can be a fairly productive rookie.
Cam Newton, Panthers: A-
Newton has all the physical abilities to be a star in the NFL, but he just has to put it together with being a quarterback. It's going to take him some time, but I think he has a lot of worth, especially as a keeper. He is raw, but in the next few years he could really explode.
Christian Ponder, Vikings: D
I doubt we'll see much from Ponder this season, if anything. You may consider him in the next few years because he does have great intangibles for an NFL quarterback. Right now, the Vikings are doing the right think with him by keeping him on the bench. Unfortunately, that doesn't help him in fantasy, or you.
Jake Locker, Titans: B+
I believe the Titans are going to go with Matt Hasselbeck at quarterback for as long as he can produce and stay healthy, but there is no doubt that Locker will eventually be their starter. I also think he is the most NFL ready quarterback out of all the rookies. He looks good, and whenever he gets playing time he will shine. For now, his value is down because he will be on the bench.
Most recent updates:
This article is
What is the duplicate article?
Why is this article offensive?
Where is this article plagiarized from?
Why is this article poorly edited?