TNA Knockout Tara: A Woman's Praise That Is Much Overdue
August 22, 2011
Hey, Bleachers!
What bought me back today can be answered in three words and one name: Lisa Marie Varon—better known as Victoria in the WWE and currently Tara in TNA.
I was browsing through some videos of SmackDown circa 2007 and 2008 and ran across a match between Mickie James and Victoria that got me thinking.
Why hasn't Lisa been praised? In my opinion, she hasn't. I don't see any articles on here about her, and I bet if I Googled "TNA Knockouts" or "retired WWE Divas," I'd have to search past the first or second page to see her name.
And for the life of me, I can't fathom why. She can move in the ring, looks like she has charisma (if given the chance to flaunt it), and regardless of what people say, the woman looks GREAT for her age.
When I look back at her WWE career, there were plenty of times where she could have been pushed and I don't know why she wasn't.
Blogs will tell you it's because she didn't fit that model mode Vince McMahon is oh so fond off or they'll say it's because of her age. Well, all of that may be true but there's one thing you cannot take away from Lisa and that's the fact that the woman is talented.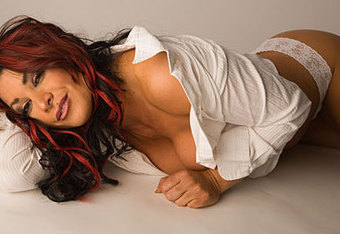 She's a two-time Women's Champion and a four-time TNA Knockouts Champion.
She and Lita made history by being the first women to compete inside of steel cage in 2003.
Although I'll say she's at her best when she's a heel; she was a face in 2004 and I loved every bit of it. She looked happy, the in-ring performance was there and it was great seeing such a beautiful woman doing it.
You never heard about her complaining about anything although she should have; especially in 2006 when her jobbing fest began. She would lose to the likes of Maria, Ashley, Trish, Beth Phoenix, Mickie James, Candice Michelle, Michelle McCool and a lot of her matches were taped for Sunday Night Heat. That's self-explanatory in itself.
I mean seriously, Victoria's talent surpassed about half of the WWE's Diva roster at that time and she was jobbing to women who couldn't wrestle their way out of paper bags. But like a champ, Victoria went out there every night and did her thing. I respect her for doing so.
I thought a 2007 draft to SmackDown would help stir Victoria back in the main event picture but she never got a third chance to enjoy the Women's Championship and she was thrown into mixed tag team matches where she shared some wins and losses.
April of 2008 Natalya was introduced as a protégé of Victoria's, who said that the competition on SmackDown as a joke. Girl, I couldn't have agreed with you more!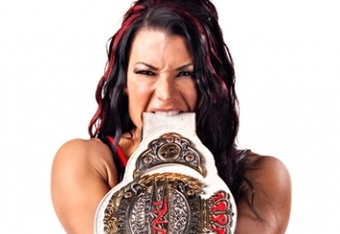 Natalya and Victoria quickly became my favorite duo because they had the beauty, brains and the technique. Unfortunately, they didn't make the impact I was hoping for. Victoria would quickly job out to the Bella Twins who I have personally dubbed the Bella Bores because I'd rather watch a dog lick itself over any of their matches.
January 16, 2009 was billed as Victoria's last match in the WWE and after suffering a ridiculous lost to Michelle McCool; Lisa gave a tearful goodbye and I'll admit; a part of me left with her.
But I felt like she was right in leaving. She didn't like the direction the WWE was taking their Divas and I completely agree. Why should we tune in every Monday and Friday night to watch 3 minute matches where the Diva clearly with the experience loses to a woman that simply looks nice in booty shorts?
Lisa's talent wasn't being utilized and I can't think of any reason why it shouldn't have.
Now we reach TNA where Victoria is now Tara, the sexy spider loving Knockout.
Here, I can tell that Lisa really blossomed. She has control over her character and now can give true wrestling fans what they want; WRESTLING. I think she really shines through this gimmick and platform because in TNA; the women aren't just eye candy.
That was always the thing I loved about TNA's Knockout Division. They're sexy as hell and give you matches and feuds to remember. They're not one dimensional like the WWE Divas and are given a variety of different types of matches to participate in.
Here, Tara is a former TNA Knockouts Champion and is currently the Knockouts Tag Team Champion and despite being 40 years old; she is showing no signs of slowing down.
She keeps herself in shape and clearly has a genuine passion for what she does. I heard that she's interested in doing MMA and I'm 100 percent in support of it. I feel like women such as Lisa can do whatever they want too and not have to be subjected to the stereotypes that unfortunately plague them.
So to you, Ms. Lisa Marie Varon, I want to personally thank you for doing your thing and wish you numerous amounts of support.