NFL: Denver Broncos' Three Most Improved Areas of Emphasis in 2011 Bring Hope
August 22, 2011
In the Broncos first two preseason football games, they have dictated on defense and moved the ball on offense. 
Against Dallas, the Broncos essentially had the game in hand until the third-string defense gave up a long touchdown drive and two-point conversion late in the game to lose by a single point.
Against Buffalo, the Broncos should have dominated the Bills and for the most part they did just that.  However, the Broncos could have scored more and kept the Bills slightly more at bay. All in all, it was a pretty good preseason outing.
The Mile High Re-Build appears to be ahead of schedule and could bring about a prosperous future, possibly sooner than later.  Keep in mind, this team has only been together since the end of the lockout. 
While most national prognosticators have put the Denver Broncos around five wins, it's clear this football team is not just improving; they are flat-out better than expected and possibly ahead of schedule.
There are three keys that are making this team more competitive right away, and it gives them the potential to compete in every game during the 2011 NFL season.
Those three most important keys to the Broncos' turnaround – also happen to be areas that are proving them to be much improved.  Don't just take this article or the first two preseason games as proof; take to heart and further consideration that the Denver Broncos have looked much improved in practice this season.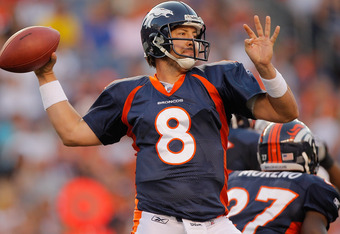 John Fox is a no-nonsense coach, so the quarterback play has improved, the run game is better, and the defense is now fending for itself.
You see, it's really simple; it's that football adage that teams play how they practice as the new mantra of this Broncos club.  In the case of the Denver Broncos it could not be truer than on this young 2011 campaign, following two preseason games. 
So this article will focus on the three areas of most improvement previously mentioned and one area the Broncos must improve in to attain more wins; that being higher expectations.
Earlier in the week I was at Broncos training camp specifically focused with an eagle eye on this one point of how they practiced. 
There are marked improvements; not just in the station work but in the intensity of the practices and as Brian Dawkins has put it, their "legs are fresh." What's making it all possible is the paradigm shift in football philosophies. 
The Broncos have moved from Josh McDaniels''broken version of the New England spread offense", (which essentially must have every piece of the puzzle executing exactly right or it will break).  Denver is back on track with a fundamental, run-balanced offense with some smash-mouthed elements.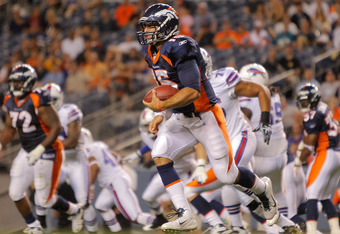 This team clearly has higher expectations of itself, which makes reaching double-digit wins a slight possibility.  With that, it's important to know exactly where they stand in their improvements and how close they could be from contending.
Denver Broncos Quarterback Play Is Much-Improved
With the quarterbacks in the Broncos camp, it's now conceivable that there are four future NFL starters.  The pace of the practices and competition at the quarterback position has clearly upped the ante and the play of all four quarterbacks. 
Yes that's right, there are four, not just the three we are accustomed to seeing.  In addition to Kyle Orton, Brady Quinn, and Tim Tebow, there is rookie signal-caller Adam Weber out of the University of Minnesota who shows promise.
Kyle Orton may not have proven anything in Dallas with his limited play last week, but he had a solid week of practice and brought his best against the Buffalo Bills on Saturday night.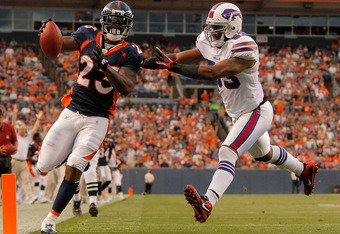 While Orton did show some of his old third-down failings, he also showed he's matured and has gained support through the Broncos run game, which is clearly more physical when called upon...more on that later. 
Still, Kyle showed something during the Broncos training camp practices and through two games.  He is not entirely the same quarterback; he is rising up to take control of the Broncos starting quarterback position with some authority. 
The thing we don't see him hitting is the panic switch, and we do see the offense responding and improving under his leadership. 
It's been an area of emphasis for the Broncos brass to get back to doing things first class and finding first class talent.  Well, contrary to what the popular belief is, the Broncos do have talent at quarterback.  Are these top-tier NFL quarterbacks?  No, not right now, but each possesses something special and even intangible to their game.
Is it good enough to get them to the playoffs and find those valued playoff wins?  The answer is yes if it's Orton or Quinn and maybe if it's Tebow...in large part because the concept of team is falling into place.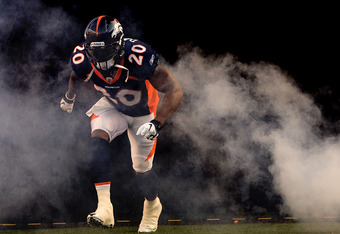 More than likely if Tim Tebow plays this season it won't be as the first backup quarterback.  He may be seen much as he was last season, in specialized packages, especially in short-yardage situations.  Those packages will probably only occur when it is deemed to be better to pull the starter out of the game or to throw a true change of pace into the ball game. 
Essentially, this is where Josh McDaniels' approach with Tebow missed. McD's approach was the equivalent of shoving a square peg into a round hole.  More than likely, Broncos fans will not see that this year. 
Again, John Elway and John Fox are on the same page about guys earning their playing time and Tim Tebow clearly isn't ready to start, so he's more than likely the third-stringer.
Kyle Orton's greatest intangibles are his knowledge of the offense and the chemistry he's had with the receivers.  In fact, Orton and Brandon Lloyd possess chemistry that is among the best aerial combinations in the NFL. 
Brady Quinn has come on in practice and it is translating into games; he has all the tools you want to see in an NFL starting quarterback: athleticism, rocket arm, and now he has added maturity and greater mental toughness to his game. 
Don't be surprised if one of these top two quarterbacks are dealt for future value, but in the meantime, it's a nice situation to have on this Broncos team. 
Tim Tebow is as strong a quarterback as there has ever been, he is improving, and he still can become a starter in time, he needs a little more coddling to bring him up to snuff, but he has a great tool set to draw upon. 
Finally, there is Adam Weber, who needs to be retained at all cost because he could develop into something special, He, like Brady, appears to have all the tools; he just needs what rookies need: more maturity and knowledge of the system.  Look for Weber on the practice squad if there are no trades made before the season begins.
It should be mentioned that in practice, the way these four quarterbacks have thrown the ball has varied a bit.  The strongest arms belong to Quinn and Weber, and they have strong velocity and tight spirals to match. 
Orton has a certain ability to throw balls that are nice, but he also shows that he can "pull the string" a bit to make an excellent throw at a lower velocity.  
Much has been made on Tim Tebow's throwing motion; it has improved, but he still has more to learn.  Tebow needs to work harder on tight spirals; he throws the ball like a college quarterback in some sense, where his focus isn't entirely on getting that tight spiral down the field. 
When Tebow throws, there are occasional "bail outs" and "mishandlings" of the ball that keep him from having NFL-tight spirals.  There is a slight difference between an NFL ball and a college ball, with the NFL ball being slightly more aerodynamic.  It can take some getting used too, so don't fault Tim Tebow; chalk it up to being part of his learning process.
All in all, the Broncos have depth at quarterback that they might not have even known they really had as recently as a few weeks ago.  The fact that there is depth here probably will make one of them expendable at some point in order to strengthen the Broncos future outlook through the draft. 
The one thing fans should take to the bank this season is that the quarterbacks are more set up for success than they have been the previous two seasons. 
That much will prove itself out on the field, essentially leading to greater prospects at winning a larger number of games than last season, with a possibility of competing for a playoff slot.
The Running Game Is Getting Better Overall
The ultimate barometer for the 2011 Denver Broncos will be their running game.  If the Broncos fail to run well, it might lead to them losing games. So as the run game goes, so goes this Broncos season.
Prior to giving the backs their due, credit the offensive line for having a renewed focus and emphasis on the run game. 
Something the Broncos line lacked the previous two seasons was the run game, plain and simple, and it was due in large part to the lack of line surge by an over-matched offensive line. 
Obviously, the line surge is showing up now due to dedicated emphasis on creating bigger holes, quicker, with more surge coming out of the O-line as a unit. 
Offensively thus far, the Broncos are averaging just over six yards per offensive play; that is due in large part to the running game success.  The offensive line is anchored by center J.D. Walton, a second-year starter out of Baylor who started every game out of necessity last season. 
At the guards, Chris Kuper and Zane Beadles tip the scale just over 300 pounds a piece and are bringing about a resurgence in the middle run game.  At the tackles, standout Ryan Clady is matched opposite of Orlando Franklin. 
Clady was a Pro Bowler in his rookie campaign but has battled injuries to get back to his former self; he appears to be slated for an excellent 2011 campaign. 
Franklin is fairly solid in run blocking but needs to make major improvements in his pass protection.  Still, Franklin has the sort of frame and pedigree you like to see in a starting tackle, so look for him to improve overall.
At the running back position, Knowshon Moreno has toughened up...period.  On the Tuesday practice prior to the Bills game, Moreno was hit probably as hard as he will be all season by Brian Dawkins in practice. 
Without a doubt, Moreno felt the impact, but he got right back up and kept chugging the rest of the week and it showed up in the game. 
For the second consecutive week Moreno now has a rushing average over four yards per carry.  That's saying something, given the fact that he was not getting near a four-yard average in McDaniels' spread offense. 
Moreover, Moreno has shown up this season slimmer and stronger, and it is showing up on the field of play.  Finally, his mental toughness is showing up better than ever as well; the game is slowing down for him and he is becoming more effective.
Willis McGahee has shined early on, proving he has more left in the tank than some in the local media may have thought.  He proved it Saturday night out of the backfield with two key screen passes out of the backfield. 
One scored a touchdown, the other almost did, and he racked up 33 yards on those two plays alone.  When the Broncos chased Travis Henry a few years back it was Willis McGahee they should have been chasing and he is proving that. 
Earlier in the week at practice, McGahee could be seen making above-average runs just as he did the previous week against Dallas, where he ran twice for 17 yards, over an eight-yard average against the first-teamers.
In reserve, the Broncos are very strong with Lance Ball (who is fighting hard to hang on to the third-back slot), and Jeremiah Johnson, who has the best sense of north and south running since Terrell Davis was starting for the orange and blue. 
Finally, there are upstarts Brandon Minor and C.J. Gable, who both bring elements of smash and dash to the line-up.  It's very possible they all stick around, with one on the practice squad.  That would give the Broncos a full stable of complementary tail backs that they traditionally had.
So while the Broncos' offensive line and running backs are essentially no-names right now, they have much to prove in overcoming their last-place position in the NFL rushing stats from the previous two seasons. 
This group is hungry; something you can't see a stat on just yet, but it will eventually show up.  Trust this much, the Broncos run game is returning and it appears to be back with a vengeance.
Denver's Defense Is Back on Track
Now the thing that will make the Denver Broncos a competitive team this season bar none is the defensive unit.  This group, much like their offensive counterparts, has much to prove but they want to prove it as a unit with the right message. 
This defense wants to send the message that they will dictate the tempo.  This defense is coming together...believe it...trust it...it's back on the right track.
While the Broncos have started sluggishly in both preseason games, what you like to see is a responsive defensive unit.  Meaning, how do they act and react after bending or giving up points?  Do they toughen up or is it still a challenge for them to get off the field of play? 
This Broncos defense has proven that they may bend from time to time, and they might even break on occasion, but they will fight every down to control the tempo.  That is major missing component in the Broncos defense of the last decade.  So that is an encouraging step in the right direction.
Additionally, the re-emergence of Elvis Dumervil combined with Von Miller and DJ Williams and the potential of Robert Ayers on the outside has give the Broncos a unique key for pressuring the pocket. 
Denver's defense sacked Dallas QB's three times and Buffalo QB's once with numerous pressures in both games that caused poor decision-making.  That is part of the message of dictating on defense.  This unit will not wait for plays to come to them; they will seek it out through scheme and through action.
In the defensive backfield, Brian Dawkins will still be part of the pressure packages, but he will be a little more insulated with great DB speed around him.  Champ Bailey is proving to be his usual great self, nowhere near losing a step. 
Rahim Moore brought a bit of cheap shot during the Buffalo game, but it was a teaching moment and he was just trying to ensure the play would be broken up.  Andre Goodman is back and has been tested, but he is standing toe to toe and making his coverage assignments.
Probably the standout player of the week was Broderick Bunkley, who made his presence felt numerous times from his D-Tackle position. 
It's something you like to see given the fact that the Broncos had to replace Ty Warren and Marcus Thomas as starting DT's earlier this week due to injuries.  Bunkley seems to act the part and appears to be very happy with his opportunity in Denver.
With the Broncos defense this week, the "next man up" philosophy seems to work in keeping this unit upbeat and on pace to do something special this season.
That leads to the brief comment about where the Broncos future resides, it's simple, it's higher expectations.  This team has John Elway guiding the organization right now.  Keep in mind no other quarterback in the history of the NFL has played in five Super Bowls.  John knows hard knocks and he knows the thrill of ultimate victory, and he played on a team that was as close to a three and four peat as there has ever been in the modern era.  The bar in Denver has clearly been raised and players are responding to the challenges before them.  The one key element this team will need in order to be the traditional threat they used to be is crystal clear - it's higher expectations.
The Broncos organization is world class and has offered up a strong response to its' most recent blunders.  The fact is the Broncos are on a solid pace, however the expectation bar should ever be in front of this franchise.  Keep in mind the community invested in a new stadium in order to propel the franchise and community into the future, one which has seen far too much losing and an economical down-turn which truly hurts the fan-base where it hurts most.  While other larger U.S. cities benefit from either their location and / or businesses, Denver is an inland outpost, dependent on the outside world to help it thrive economically.  
So it's a time for the organization to get back on track as much as it is a time for America The Beautiful to get back to work.  
It's about expectations in either case, and it's time to raise them in Denver, especially as it relates to this football team and world class organization.
---
Follow Chaz's national sports feed and other linked list on Twitter!