Ohio State Football: 5 Key Players for the First Five Games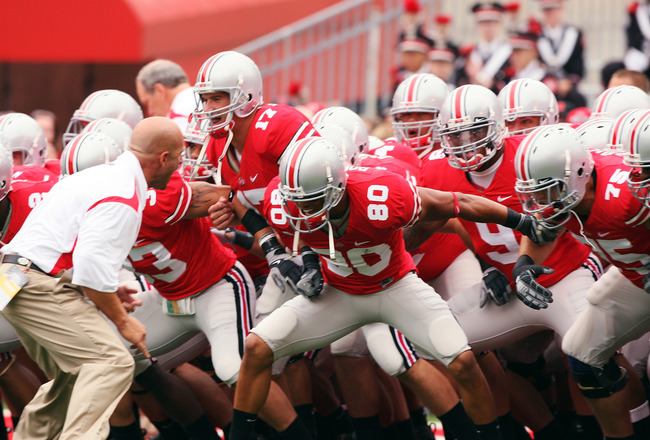 Jamie Sabau/Getty Images
With the upcoming season quickly approaching, fans are eager to see what Buckeyes will step up in the first five games. As is well documented, some players will be suspended for the beginning of the schedule, including last year's leading rusher and leading receiver. Not to mention the permanent loss of Terrelle Pryor, who was easily OSU's best player.
Buckeye nation is anxious to see what players will be able to pick up the slack and continue their Big Ten dominance. In order to continue this supremacy, other players on the roster must fill in with production and/or leadership. Here are the five Buckeyes that will.
5. Jonathan Hankins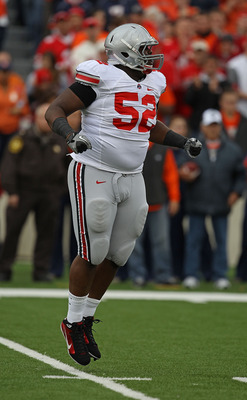 Jonathan Daniel/Getty Images
At 6'3" and 335 lbs "Big Hank" is a complete monster in the middle. However, despite his colossal size, Hankins is very athletic and has great feet. The sophomore out of Detroit is the kind of player that is so hard to recruit due to his rare combination of size and athletic ability. Hankins does an excellent job of making holes and collapsing the pocket, which will free up many of his blitzing teammates. He certainly has raised many eyebrows during the fall practices including one particular play in which he completely steamrolled All-Conference center Mike Brewster. Look for Hankins to be a big space-eater and a surprising playmaker this upcoming season.
4. Jake Stoneburner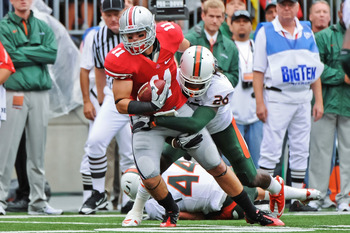 Jamie Sabau/Getty Images
Just as dog is man's best friend, a solid tight end is a new quarterback's best friend. No matter who wins the starting job at QB, we know for sure that they will have little to no experience at all. On top of that, they will also be missing their top wide receiver for the first five games. The only remedy for all this misfortune and inexperience is a reliable and talented tight end. Stoneburner's 6'6" 245 lbs frame certainly will create mismatch problems for Linebackers and Safeties, but he also has exceptional athleticism for a tight end. Stoneburner was actually recruited as a wide receiver and is an excellent route runner. One thing you can count on this season is seeing a ton of catches from number 11.
3. Tyler Moeller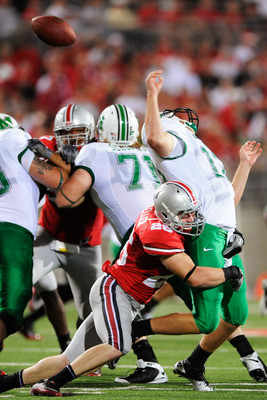 Jamie Sabau/Getty Images
Anytime a sixth year senior is an effective leader it is extremely beneficial, but even more so when a defense loses seven starters and has plenty of underclassmen on the field. This is the situation Ohio State is faced with and Moeller's experience offers some much needed leadership and reliability. Moeller plays with a ton of speed and an extremely high and constant motor. His passion and type of play motivates his teammates and he is probably the best blitzer on the team. Expect Moeller to live in opponent's backfields this fall and add some fire to the defensive unit.
2. Mike Brewster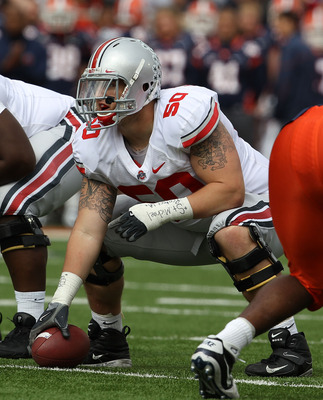 Jonathan Daniel/Getty Images
Center is probably the most unsung position in football. However, the Buckeyes center's value goes far beyond the football field. Not only is a solid center essential to any successful offense, but Mike Brewster has proved to be the absolute leader of this team. With all the turmoil and irresponsibility swirling around this program, Brewster has led by example throughout his career. His leadership is vital to the success of this season. Brewster has constantly stood up for the program and consistently remains positive about the upcoming season despite all the troubles during this past summer. With a new head coach, a new quarterback, and all eyes on this team, Brewster is the perfect player to lead them through the fire.
1. Jordan Hall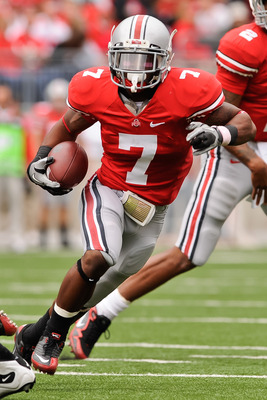 Jamie Sabau/Getty Images
"I believe he can be one of the most versatile players in college football" is what new wide receiver coach Stan Drayton thinks of junior running back Jordan Hall. Drayton even compares him to Jeff Demps who he coached at Florida before coming to Columbus. This versatility is key for Ohio State's offense considering they will be without their top passer, rusher, and receiver from last year for the first five games of the season.
The Buckeyes plan to use Hall at the slot as well as running back in order to get him in more space. Hall has proven that he can do great things in space last year when he was 16th in the NCAA in average kickoff return yards. During the first five games of the schedule, don't be surprised to see Hall with the ball plenty of times in order to make up for his suspended teammates.
Keep Reading

Ohio State Football: Like this team?