New England Patriots: Tight Ends the Key to Vaunted Offense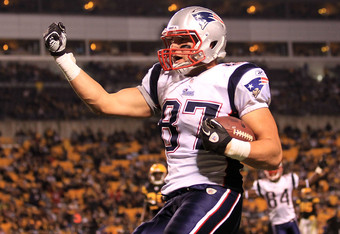 PITTSBURGH - NOVEMBER 14: Rob Gronkowski #87 of the New England Patriots celebrates scoring a touchdown against the Pittsburgh Steelers on November 14, 2010 at Heinz Field in Pittsburgh, Pennsylvania. (Photo by Chris McGrath/Getty Images)

Tom Brady dropped back into the pocket, eyes downfield, unconcerned about the four Tampa Bay Buccaneers driving towards him. He knew he had Aaron Hernandez running up the seam, and his throw to the second-year tight end reflected that confidence.
The throw spiraled right into Hernandez's hands in the end zone, completing the final part of a five-play, 64-yard drive for a touchdown. Hernandez was all by himself. It was easy. Too easy.
The drive was a brief snapshot that showed just how lethal the New England Patriots offense is. And how the tight ends have everything to do with it.
Simply put, New England's top tight end tandem of Hernandez and Rob Gronkowski is more than just a pair of talented pass catchers and run blockers. The two create the difference between New England having a great offense and the Patriots having a unit that, when clicking, is as close to unstoppable as exists in the NFL.
That's not what this past offseason would suggest. After all, that was when New England added bombastic wide receiver Chad Ochocinco to an already dynamic group of wideouts. Surely, that would be the Patriots' strength. Or perhaps running back, which beefed up with the addition of draft picks Shane Vereen and Stevan Ridley, would be the heart of the New England attack.
Instead, it's last year's newbies, Gronkowski and Hernandez, who bring a dimension to this offense that puts it on the elite level.
The easiest way to tell the tight ends' impact is in the matchup havoc they create. Gronkowski is a 6'6", 265-pound menace who outmuscles any defensive back that tries to take him on. Hernandez is a 6'1," 245-pound wide receiver in a tight end's body, who blows past any linebacker that draws him as an assignment.
As a result, the defense is always at a disadvantage. Stock the field with lighter, faster players, and Gronkowski is dragging them up the field. Put more physical players out there, and Hernandez is shaking them off as he runs his route across the field.
Kids on Halloween don't like candy as much as Tom Brady likes those matchups. That's a completion and a first down—or more—nearly every time.
Of course, defenses could opt to focus on shutting down Brady's wide receiver targets. The Buccaneers tried that. At the beginning of this article. It didn't work.
The tight ends' success in the passing game helps the running game as well. Against Tampa Bay, for instance, the Patriots ran 36 times for 200 yards. A lot of those runs came on draws, when the linebackers, making sure to keep an eye on the tight ends on the field, were unable to commit to stopping the run, allowing holes to stay open that would normally have closed.
Gronkowski and fifth-round pick Lee Smith are also able run blockers, so the Patriots have no problems lining up and running through the trenches, either.
New England has tried, in vain, for years to find tight ends that fit into the system. All struggled, or failed. Jermaine Wiggins, Christian Fauria, Daniel Graham, Ben Watson and Chris Baker had their moments, but they didn't change the game.
These guys do. With Hernandez ad Gronkowski on the field, defenses have to change their schemes. The passing attack improves, the running game improves and any time points go on the board, the defense improves.
The Patriots have depth at nearly every position. Without Hernandez, Gronkowski or even both, they're still a good team, able to move the ball, able to get points.
But with them, they're much better than that. They're elite.
That's the way it was last year. As the Patriots have shown already, it looks like that's the way it'll be this year as well.
This article is
What is the duplicate article?
Why is this article offensive?
Where is this article plagiarized from?
Why is this article poorly edited?

New England Patriots: Like this team?