Carson Palmer Exemplifies a Huge Problem with Professional Athletes
August 22, 2011
By now, we're all aware of the Carson Palmer situation.
The man that the Cincinnati Bengals decided to make their franchise quarterback has all of the sudden decided that he doesn't feel like playing for the Bengals anymore. Even though he is still under contract through the 2014 season.
After many disappointing seasons in Cincinnati, the Bengals had the first overall pick in the draft in 2003. In a draft that produced Andre Johnson, Terrell Suggs, Troy Polamalu, Anquan Boldin, Osi Umenyiora and Nnamdi Asomugha, the Bengals selected a Heisman-winning quarterback out of USC named Carson Palmer.
For a little while, it looked as if Palmer would lead the franchise for a long time. He brought the team back to relevance and signed a huge extension in 2005. The total value of the deal was nine years and almost $120 million.
Palmer was then quoted as saying "Hopefully this is the last place I'll end up playing." Ah, how things change.
A couple of tough seasons later, Palmer claims he will never play with the Bengals again. He demands a trade. And if he doesn't get his wish, he will retire.
So here we are, with a stupid game of chicken between a quarterback and an organization. The player has his demands and the power to retire, but the organization wants to send a message by not letting a player dictate how they run a franchise.
Palmer doesn't need the money. And if we didn't already know that, he took the liberty of telling us earlier this offseason.
We all know that the Bengals have not been the definition of a model franchise. They have had their fair share of questionable off-the-field players and haven't been able to find much long-term stability.
Palmer was supposed to be the foundation of stability. When you sign a player for that many years and that much money, you expect to get a long-term return on your investment.
And when you're the player signing the deal, you agree to honor the terms within the contract. Even when things are not going well, you are expected to show up and perform at the highest level possible every Sunday, when physically possible.
With great fame comes great responsibility. Hear that, Carson?
When you signed your name on that line, you took a lot of money. The Bengals didn't pay you that money to retire because you wanted to play with another team. They payed you because they put their trust in you.
The Palmer situation is a perfect example of a couple of problems in professional sports.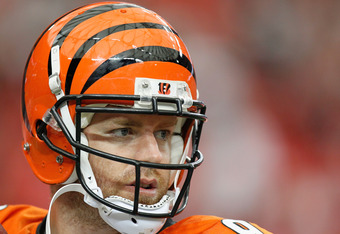 We'll start with the flaw on the side of the organization, and the owners in particular.
These days, it seems that giant contracts are just being thrown around to anybody after a good season or two. Was Carson Palmer really ever worth a nine-year contract, let alone $120 million? My list of quarterbacks that are worth that money? Tom Brady, Peyton Manning. Maybe Drew Brees and Aaron Rodgers. That's it.
I understand why teams do this, though. They want to lock up their future and be able to build around it. And the foundation of that idea is a solid one. But it's been taken to a whole new level.
Just look to the NBA, where terrible contracts are very easy to come by. And these contracts cripple the growth of a franchise for years at a time.
Now, on to the flaw of the players that is shown through the Palmer case.
The players are overjoyed when a franchise wants to enter a long-term, expensive relationship with them, as they should be. It must be a great feeling to be worth millions of dollars.
So they sign the contract. And do I blame them? Not one bit. They have worked hard and played hard, and I would never expect someone to turn down money.
The problem is when the player finds it okay to bail as soon as things stop going as planned. A la Palmer.
Look at Steve Nash. He is a widely respected veteran and a great player who earned his contract. Here we are, in 2011, with Nash nearing the end of his career and the Suns seem to be rebuilding. In a position where many players would complain and demand a trade, Nash is honoring his contract! A man of his word, amazing!
So, Carson, stop being a brat and report to your team. You owe them nothing less than 100 percent effort. After all, they thought you were a franchise player.
And franchise players aren't supposed to act like a spoiled little kid. Am I right?
Follow me on Twitter @JrMarkyMark