NFL Predictions: 7 Favorites for the Regular Season MVP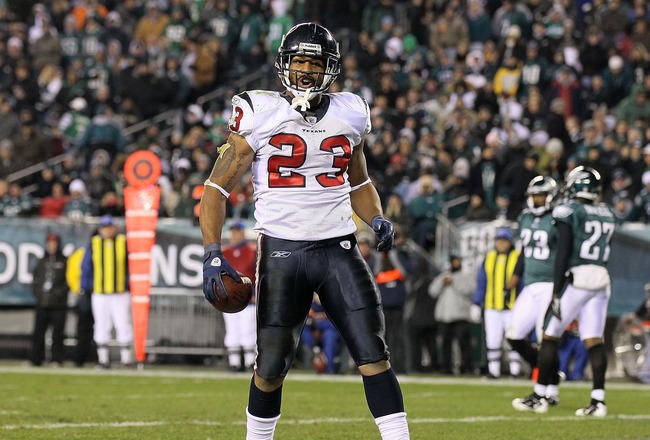 Jim McIsaac/Getty Images
The start of the 2011 NFL season is rapidly approaching, and talks of possible MVP candidates are already in full circle. To me, there are seven clear cut candidates that have the potential of taking over the prestigious hardware of the MVP award.
Tom Brady took home the trophy last year, receiving the first unanimous vote in MVP award history. This years MVP will most likely reign from the quarterback position, so without further ado, here are my seven potential candidates for the 2011 MVP.
Honorable Mention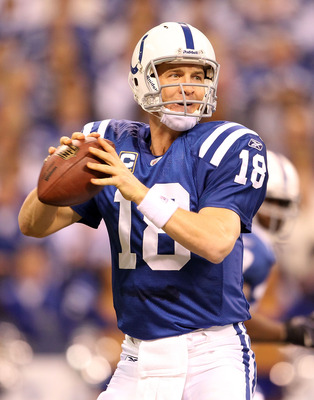 Andy Lyons/Getty Images
It will be interesting to see how Peyton Manning performs early on in the 2011 season, due his second offseason neck surgery in three years. Manning will still have a "Peyton Manning" type season, but I don't seem him as a main threat for the MVP this season.
Maurice Jones-Drew
Jones-Drew is about as talented as they come, but does he have the supporting cast around him? The Jaguars could go head into this year with rookie Blaine Gabbert as their starting quarterback, which will increase the pressure on Jones-Drew to preform.
Chris Johnson
Chris Johnson has yet to report to Titans camp, which could hinder his ability to start on opening day. Johnson would be a sure contender if it weren't for the contract dispute, and it wouldn't surprise me if he missed some game time.
Michael Vick is the epitome of a high-risk, high-reward player. Vick had a stellar season a year ago, but every defensive coordinator that knew they were going to face him spent a little more time in the film room than by the pool this offseason, and it wouldn't surprise me if they had his number.
7. Drew Brees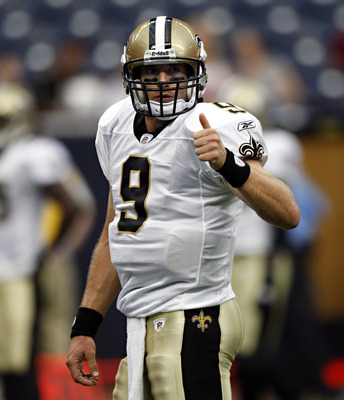 Bob Levey/Getty Images
Drew Brees threw a career-high 22 interceptions in 2010, but I'm going to defer half of those to the Madden curse. Brees still had a great season besides the interceptions. He tossed 33 touchdown passes while throwing for over 4,600 yards.
Brees has all of his favorite targets from a year ago back, and may have even upgraded with Darren Sproles over Reggie Bush in the backfield.
Projected Stats:
4,500 passing yards
37 touchdown passes
14 interceptions
6. Jamaal Charles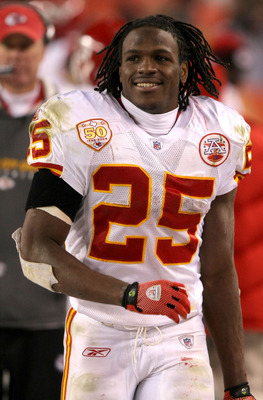 Doug Pensinger/Getty Images
Jamaal Charles was a monster during the 2010 season. Charles rushed for over 1,400 yards and averaged 6.4 yards per carry, all while splitting carries with veteran Thomas Jones. Charles was also used in the passing game hauling in a career high 45 receptions.
The Chiefs will be battling the San Diego Chargers for the AFC West crown this season, and Charles will have to be the main catalyst for consecutive playoff berths for Kansas City.
Projected Stats:
1,550 rushing yards
7 rushing touchdowns
50 receptions
5. Matt Schaub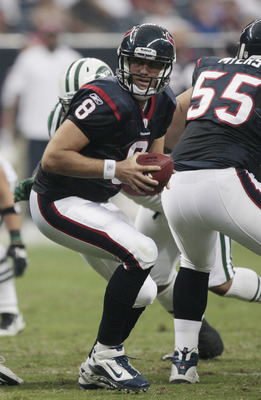 Bob Levey/Getty Images
Matt Schaub is my dark-horse candidate to take home the hardware for this upcoming season. The Texans defense will make a few more stops then they did last season, which will allow Schaub to have more opportunities to put the ball in the air.
Schaub has thrown for over 4,000 yards in each of the past two season, and this season looks to be no different.
Projected Stats:
4,600 passing yards
38 touchdown passes
65 percent completion percentage
4. Arian Foster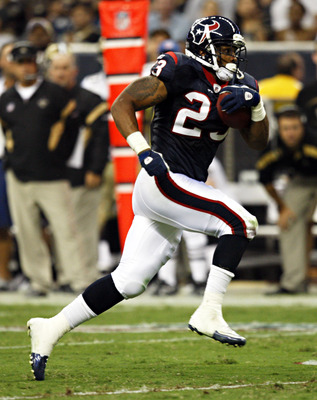 Bob Levey/Getty Images
Arian Foster exploded on onto to the scene in 2010, and did so by leading the NFL in rushing yards with over 1,600 of them. Foster will look to duplicate his amazing season, and has a great chance to do so with an improved Texans defense, and a consistent Texans offense.
I do not expect Foster to be a "one-year wonder," so look for Foster be equally as productive on the ground, and to to be more involved in the passing game this season.
Projected Stats:
1,650 rushing yards
12 rushing touchdowns
70 receptions
3. Adrian Peterson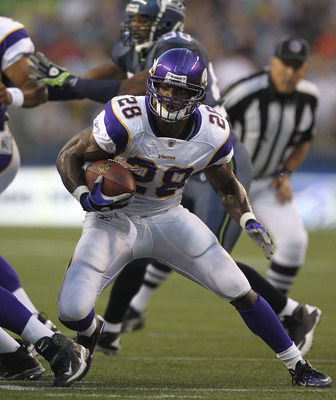 Otto Greule Jr/Getty Images
Adrian Peterson is still arguably the best player in the NFL, and this season will prove once again why he is. Peterson averaged 4.6 yards per carry last year, all while having inconstant play from the quarterback position.
Look for Peterson to have a great season, due to the fact that Donovan McNabb will be an upgrade and his play action abilities will continuously keep the defense on their toes.
Projected Stats:
1,600 rushing yards
14 rushing touchdowns
45 receptions
2. Tom Brady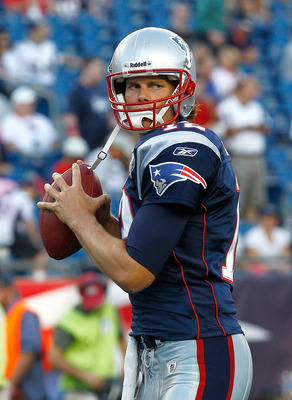 Jim Rogash/Getty Images
Tom Brady had a stellar 2010 campaign, in which he took home the MVP trophy unanimously. Brady could be even better this season with his new weapon Chad Ochocinco and his young tight ends.
Brady was the first unanimous MVP because he was only intercepted four times last season, while throwing 36 touchdowns. Any season like that is hard to duplicate, unless of course your talking about Tom Brady.
Projected Stats:
4,100 Passing yards
37 TD passes
10 interceptions
1. Aaron Rodgers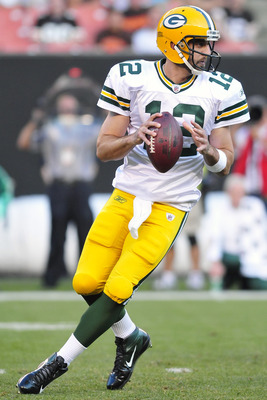 Jason Miller/Getty Images
Super Bowl champion Aaron Rodgers is my favorite to win the MVP trophy in 2011. Rodgers will have weapons like Jermichael Finley and Ryan Grant healthy, and their backups have already proved that they are viable options as well.
Rodgers failed to throw for over 4,000 yards this season, but that was due to missing some time with a concussion. This Packer team is scary, and with Rodgers at the helm its hard not to imagine this team going far in the playoffs.
Projected Stats:
4,500 yards passing
40 touchdown passes
9 interceptions
Keep Reading

Houston Texans: Like this team?