Dallas Cowboys vs. San Diego Chargers Live Blog: Notes on the 'Boys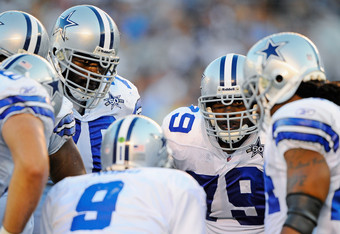 Kevork Djansezian/Getty Images
Tune in for news and notes from the Cowboys vs. Chargers Week 2 preseason game. How will the 'Boys fare with their starters receiving significant playing time? Tony Romo and Co. should play well over a quarter against Philip Rivers and the Bolts.
As this one comes to a close, let's remember preseason can be misleading. Some coaches call plays to win, and others call plays to assess their players. I think Garrett is in the latter group. Tanner, Arkin, M. Johnson, Sensabaugh, Church, McGee and Tyron Smith impressed me.
Next week, the Cowboys starters will play the majority of the game. Even with "vanilla" play-calling, it will be our best chance to see how this team might fare in 2011. Judging from tonight, they still need a lot of work.
Phillip Tanner out of Middle Tennessee State is absolutely beasting. He had a long touchdown run during which he lost his helmet called back, but he sure has made an impression on the coaches tonight. If he can sustain this kind if play for two more weeks, the Cowboys might not be able to sneak him onto the practice squad.
I also like what I see out of guard David Arkin, who has shown a nice combination of strength and athleticism. He's surprised me with his agility when getting to the second level.
Phillip Tanner may be fifth on the depth chart at running back, but he has shown more burst than anyone other than Felix Jones. He's probably practice squad material.
Stephen McGee continues to show good presence in the pocket. He's really improving in that area.
Side note: Anyone else see Felix Jones' beard?
McGee looks good early. The Cowboys ran a playaction pass out of Ace that was supposed to be a screen, but it wasn't there. McGee bought time and hit John Phillips down the sideline. Jesse Holley was lined up illegally so the play was called back, but nice awareness from McGee.
Jeremy Parnell just got called for holding, but he has impressed me so far this preseason. I think he's the third-best offensive tackle on the team. That doesn't bode well for Dallas, but Parnell is coming along nicely.
Check that: Miller drops SD linebacker to the turf in pass pro. Consistency matters though, and Miller has only shown flashes thus far in 2011.
Lonyae Miller has had such an incredible opportunity to win a roster spot with both DeMarco Murray and Tashard Choice injured, but he hasn't taken advantage. He continues to run hesitantly and isn't overwhelming in pass pro.
Stephen McGee is in the game at quarterback.
Cowboys down 17-7 at halftime. Check back for more in the second half.
At the two-minute warning, San Diego is up 17-7 after a Ryan Mathews touchdown. I'm sure Rob Ryan isn't showing too much on defense, but there sure have been a lot of blown assignments. There's really no excuse for that, especially if the team is in base fronts and coverages.
On offense, Jon Kitna is now in the game.
Sensabaugh made a heck of a play to intercept a pass, but his heel was just out of bounds. He is more valuable to Dallas than people realize. In what is another contract year, you can expect solid play from Gerald as he becomes accustomed to Ryan's scheme.
Rob Ryan's defense is certainly chaotic, lining up defenders in untraditional spots and sending a lot of defensive backs on blitzes. This idea isn't inherently optimal, but it does create confusion on the offensive side of the ball and open up the possibility for big plays on D. Examples: McCray, McCann, Elam have all blitzed tonight, while Ware has been in coverage more than "usual."
Barry Church is having a nice night, both on defense and special teams. He needs improved play to secure a roster spot, but I think he will be okay. In my opinion, he is more athletic and has more upside than Danny McCray. Expect the Cowboys to keep at least five safeties.
Martellus Bennett drops a likely touchdown, but Witten makes up for it with a TD on 3rd and goal. Romo rolled around to buy time for Witten to get open in the back of the end zone. His ability to buy time is highly underrated and makes up for his average accuracy.
Tyron Smith looks really impressive at right tackle.
Cowboys motioned into Double Tight Right Strong right and ran. . .a strong side dive. 87% of plays in that scenario last year were strong side dives. Let's hope the predictability does not carry into the regular season.
Felix Jones looks noticeably larger.
Rivers to Randy McMichael for TD. 10-0 San Diego. Blown coverage by Dallas.
On offense, Ogletree takes a screen for a first down, and Felix Jones is having an unbelievable first half. He has a chance to have a monster season for the 'Boys, assuming he can stay healthy.
Garrett calls a fullback dive on first down. . .a call that is clearly for preseason purposes to analyze inside blocking.
On Romo's second audible, he throws a flare to Lonyae Miller for a first down.
Rob Ryan is showing a lot more unique alignments this week than last. You can probably count on seeing even more innovation as the defense gets accustomed to their assignments. Although they continue to yield ground to San Diego, the tackling also looks MUCH improved from 2010.
Kenyon Coleman got called for offsides. He is starting over Igor Olshansky, and I don't think Olshansky will get his job back. Click below for my 2010 Cowboys defensive end analysis.
After the first quarter, San Diego is up 3-0 and driving on Dallas.
I notice the Cowboys' cornerbacks are playing off quite a bit, even in man coverage. We'll see if Rob Ryan sends them up to press at some point.
I don't know why anyone tries to get outside of DeMarcus Ware. . .it ain't happening.
After another screen to Dez Bryant, Romo was just picked. It came out of Ace formation, and the Cowboys ran a playaction pass. The team often runs playaction out of Ace, and this time Romo checked out of the play. He used a "kill" call, meaning the team ran the second play he called in the huddle. Romo made a poor read and threw a strike...right into the safety's chest.
The Cowboys run a screen to Dez Bryant. They did this too much last year, as he averaged only a few yards per reception on these. I love the idea of Garrett calling more screens to running backs in 2011, which will happen due to a far more athletic offensive line, but not to receivers.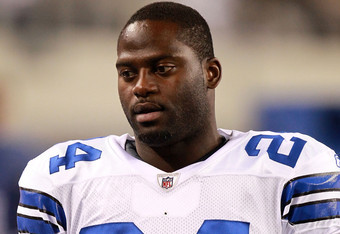 Rob Ryan is showing a lot of unique pre-snap alignments and disguising blitzes well. The Chargers took advantage of a mismatch with Vincent Jackson on Orlando Scandrick for a big play. With Alan Ball starting at cornerback opposite Scandrick, however, everything will be a mismatch. The Cowboys held up in the red zone to force the Chargers to kick a field goal. DeMarcus Ware recorded a sack, Gerald Sensabaugh forced a fumble, and Barry Church made a diving deflection in the end zone.
Felix Jones continues to show great burst and an improved ability to run between the tackles. Tyron Smith looks really good, particularly on a third down pass. Dez Bryant dropped an easy catch, however, and the 'Boys were forced to punt after three plays. Let's continue to watch Smith at right tackle against Shaun Phillips.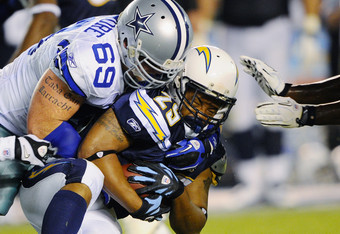 Dan Bailey failed to record a touchback on the opening kickoff. If he cannot consistently boot the ball into the end zone, David Buehler's job will probably be safe. The Cowboys forced a three-and-out and Danny McCray got pressure on a third down blitz. Click below to read 15 things I think are important to watch regarding the Cowboys' play in this ball game.
This article is
What is the duplicate article?
Why is this article offensive?
Where is this article plagiarized from?
Why is this article poorly edited?

Dallas Cowboys: Like this team?