NBA Lockout 2011: Okay David Stern, Owners, It's Not Funny Anymore!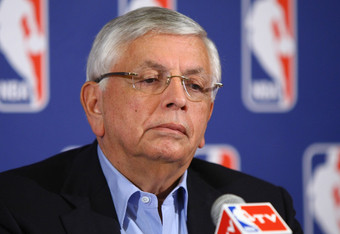 Neilson Barnard/Getty Images
LeBron James, Dwyane Wade and Chris Bosh are scheduled to head into the newly-renovated Madison Square Garden on November 2nd to take on Carmelo Anthony, Amare Stoudemire and Chauncey Billups.
This should be one of the hottest tickets to buy in all of sports—actually, make that all of entertainment for that matter—and yet here we are, a couple of months away, and I am willing to bet very few people have rushed over to the box office.
Why? Well, can even the most optimistic of us still believe this season is going to come on time?
I could handle the NBA lockout in June. I had just gotten through with the best NBA Finals, NBA playoffs and regular season in recent memory. Call me naive, but I just assumed everything would be worked out in the same way that I knew the NFL eventually would be.
July came and the normally-scheduled free agency frenzy was put on hold. But I was still okay and feeling positive. I mean, this wasn't the 2010 offseason with the landscape of the league dramatically shifting at each word leaked from LeBron James' mouth. Nor was it the 2012 offseason that could include Dwight Howard, Chris Paul and Deron Williams.
Don't get me wrong, there are still some good pieces in the 2011 free agent list, but I'm not going to wake up in the middle of the night to Google Nene Hilario rumors.
Then came August. Yes, the news of the NFL finally settling their differences and putting together a deal should have seemed like a boost to me and the rest of the NBA fans. But it's an entirely different scenario.
The NFL took months to figure it all out and they actually make money. How long is it going to take for the NBA, who is not nearly as financially secure, to come up with a deal that works?
I have hit my tipping point with the NBA lockout. How many more "so-and-so player has said he wouldn't mind playing overseas" stories are they going to release to us before we all snap and say that this is not actual news!
Today on Yahoo! the main stories in the NBA section are Kevin Durant scoring 44 points in D.C's Goodman League, Tim Hardaway now becoming a supporter of gay rights (yes, the same Tim Hardaway) and Chase Budinger resuming his volleyball career during the lockout. Geez, I don't know which of these stories I should click on first.
I am one Kris Humphries and Kim Kardashian wedding photo showing up on Sportscenter away from losing it.
I can't take any more baseball highlights, and this whole Merril Hoge vs. Tim Tebow battle has to be in the top five for most overdrawn, unexciting, non-story of any offseason ever. When ESPN started covering LeBron James's pro-Tebow tweets, I honestly considered giving up viewing sports all together.
So what do I, a mere fan, have to offer to the NBA labor dispute?
Admittedly, I don't understand the economics as well as the people fighting it out behind closed doors. But I do have a few humble suggestions for how to speed this process up. Over the next couple hours, days, weeks, I will be posting updates and suggestions on the NBA lockout in this very chain.
Hopefully, we can talk about an actual NBA season again sometime soon...
Let me use the example of Derrick Rose. In the Hungry Howies plan, the maximum deal he could be signed to as a rookie would be four years, $20 million. As a top five pick in the draft, he would have that deal secured. As you know, Rose reached MVP, aka the $20 million a year top echelon in his third season. In the old system he would have to wait a year or two before signing his fat deal.
Play-For-Your-Pay would be different. If you have a season where you jump over two groupings (going from $5 to $20) you have the option to essentially become a restricted free agent that offseason. So for Rose, he could say to the Bulls, "I want my $20 million for 2011-12 otherwise I'll go find it with another team."
The Bulls, who will ultimately offer him that type of a deal a year later, would then structure his new deal a year earlier. Rose makes more money, Bulls lock him in for five years, everyone's happy. Of course, Rose would have the option to ask for more money, but not the max as to give the Bulls management wiggle room to still build him a championship level supporting cast.
If you have back-to-back seasons when you play above your grouping (a $5 putting up $10 numbers, a $10 being a $15) you can become a restricted free agent that off-season. Maybe you have two years, $10 million left with your team, but know someone out there would fork over a four year, $32 million deal or at least two years, $18 million. If your current team doesn't want to match it, and you don't want to stay for less money, go get yourself paid.
On the flip side, if you play below your grouping for a season or two, you are not penalized with a faster team option or a downgrade in pay. These are guaranteed contracts. The owners already have a hard cap, shorter contracts and restrictions on the maximum for certain players. They shouldn't also have the ability to opt out of a contract earlier, because of poor play.
The players have incentive to put up big numbers every year to earn more money. They also will remain to be protected from the type of thing you see in the NFL where they can be cut at training camp and see $0 that year.
All we hear about is owners vs. players. Tune in for my next update when I break down what we, the fans, should get out of this new deal.
This article is
What is the duplicate article?
Why is this article offensive?
Where is this article plagiarized from?
Why is this article poorly edited?
Part of the discussion going on right now is the owners wanting essentially a bailout from their bad contracts. The two names that come to mind are Gilbert Arenas and Rashard Lewis. A few years ago, it was Eddy Curry.
What happens in these circumstances is a player will have a big season or a few high level years and some team gets a little trigger happy and offers a monster long term deal. At the time, it may seem like a smart idea, but then two years later you realize, "Oh crap, he's not worth half of this, no one will want this contract in a trade, we're screwed for three more years!"
Arenas is scheduled to make $19.2 million this season, $20.8 million the year after, and $22.3 million the year after that in the final year of the deal. Arenas is making more money than Dirk Nowitzki, Carmelo Anthony and teammate Dwight Howard.
Rashard Lewis is the second highest paid player in the league. Let me repeat that, Rashard Lewis is the second highest paid player in the NBA, only behind five-time NBA champion, Kobe Bryant. Lewis is owed roughly $46 million over the next two seasons.
The owners of the Magic and Wizards along with other teams who have less extreme, but still painful versions of these type of contracts want the freedom to chop off one of these deals going forward into the new CBA. Call it the ultimate forgiveness plan.
I say no. I have a plan for how to avoid these situations in the future, but owners need to tough it out and deal with these consequences as a painful reminder that they can't be stupid with their money in the future. Forgive them of these contracts now and they'll never learn.
First off, Hungry Howies plan would have never allowed Lewis or Arenas to get over $15 million. Neither one was a top two player at their position at anytime in their career. The numbers you saw above would have at most been $30 million still owed over two years or $45 million owed over three.
Let's use Gilbert Arenas as the example. It was in the 2008 offseason that Arenas signed his six year, $111 million dollar deal with the Wizards. That's too much money and way too long of a deal.
Under my Hungry Howies plan, Arenas as a free agent in 2008 would have been eligible for the $15 million bracket since he had been a three time All-Star, had a second team All NBA selection and had those 28/29 ppg seasons in '06 and '07.
With the contract lengths I discussed in the last slide (five year max for the $20 million grouping, four year max with team option on the fourth for everyone else) the Wizards could have put a four year, $60 million deal in front of Gilbert. To give the Wizards an edge over other suitors, there would be a rule in place that the original team can offer as large of a signing bonus as they would like to sweeten the deal.
In the first three years of the real life deal, Gilbert Arenas played a combined 55 games. In the fourth year, the Wizards traded him away to the Magic to take on a bloated Rashard Lewis contract. Lewis's contract is one year shorter so they kind of came out ahead.
With the team option on the fourth year, they could have decided not to pick up Arenas at the $15 million, scheduled price. They might have offered him a new, cheaper deal (think Richard Jefferson), or let him go sign somewhere else. Either way, the Wizards would have saved themselves a whole lot of money.
Does it seem too owner friendly? Maybe. To help alleviate that, I introduce to you the Play-For-Your-Pay rule in Part 2 of this.
This article is
What is the duplicate article?
Why is this article offensive?
Where is this article plagiarized from?
Why is this article poorly edited?
Almost everyone loves a good trade rumor story. This website is practically built on them. It's fun to read about the way salaries could balance out and it gives fans hope that a quick fix is on its way.
But last year went way too far. The Carmelo Anthony rumor filled where-is-he-going circus went on the entire first half of the season and I don't know if there's one person, NBA fan or not, who wasn't annoyed by it.
What was scary about the Carmelo Anthony situation was the realization that this could happen every single year for the rest of our lives. If there is a 2011-12 season, it's going to be the Dwight Howard/Chris Paul circus. After that, Kevin Love/Blake Griffin. When will it end?
So how can this be put to an end? Should teams penalize or ban any reporter who asks their star player about their trade status? Think about it, the Denver Nuggets could have set the tone at the beginning of last season banning any reporter or newspaper from coming to the games if they uttered the words, "Carmelo Anthony, do you want to go to New York or New Jersey?"
I don't like that approach, because the journalist's job is to inform the people of what is going on and last year--in Denver, New York, New Jersey--the biggest story was whether or not Carmelo Anthony was leaving/coming.
The plan has to be equal to the owners and the players. The owners should be protected from this chaos, but the players deserve to stick up for themselves, vocalizing a trade request if they feel they are in a crappy situation and their management won't go out and sign better players.
Insert Hungry Howies plan. First of all, the longest contract a player can sign in the league will be five years. However, the only players who can sign a five year contract are the $20 million grouping (LeBron, Dwight Howard, Chris Paul, etc.).
The structure of these contracts would be the first three years all guaranteed along with a no-trade clause. The fourth year would be a team option, the fifth year, a player option.
The owners get the security of having their superstar locked in for three years, four years if they pick up the team option, and are protected from all the trade rumor drama while they attempt to win a ring in those first three seasons. If the player has gone downhill in his skills (age, injuries) the team can get out of the contract by not picking up the team option for year four and save themselves $40 million off the final years.
The players benefit by having the first three years of guaranteed money. In year four, they can demand a trade or urge their bosses that, "if you don't get me some talent to play with, I'm taking my player option somewhere else."
Also, if the player signs the contract at age 28 and by year five they are really feeling the effects of being 33, the player option allows them to still make the big bucks even though they may only be worth half of that $20 million total.
Now, the deal doesn't have to be the five year variety. If it's three year, all three years are no-trade. If it's four year, then the team has a team option on that fourth year. There would be no two year contracts for these guys.
For everyone else, the $5, $10, $15 guys, the maximum contract is four years. However, that fourth year is a team option, so owners can technically get out of these deals after three years. On the flip side, teams can hang on to a younger player who blossoms for that extra year before offering a bigger contract.
The maximum contracts look like this:
$20 million guys: Five year, $100 million or above, team option on year four, player option year five.
$15 million guys: Four year, $60 million, team option on year four.
$10 million guys: Four year, $40 million, team option on year four.
$5 million guys: Four year, $20 million, team option on year four.
Of course the owners could do less than the maximum years in their deals.
Owners win because they can get out of the fourth year of deals and have their superstars locked in for at least three rumorless seasons.
Players win because contracts are still guaranteed, owners can't get out of deals until that fourth year, and superstars can sign five year deals.
Tune in for my next update where I will discuss player incentives to play better and get more money along with the Gilbert Arenas/Rashard Lewis fat contracts that owners want out of.
This article is
What is the duplicate article?
Why is this article offensive?
Where is this article plagiarized from?
Why is this article poorly edited?
The Hungry Howies system would be a major victory for the owners and would probably be considered a huge loss to the players.
To make a bargain work, the players are going to need some incentives and the owners are going to have to give up some demands to balance things out.
I said a hard salary cap of $60 million should be put in place for the upcoming season. Now that number would be the base for next year, but would change based on the revenues made for each season. Let me explain.
Right now, the players get 57 percent and the owners are at 43 percent. What does that mean? Look at it this way.
Say the NBA, all 30 teams, brings in $4 billion from things like TV deals, merchandise, tickets sold, parking at the stadium, concessions, etc. Fifty-seven percent of $4 billion is $2.28 billion. Divide $2.28 billion (the players' share) by 30 (the number of teams) and you have $76 million dollars.
That $76 million would be the salary cap for each team. Players want it to be 57 percent or higher, because it means more money for them. Likewise, the owners actually want the numbers reversed so they take in 57 percent and fork over 43 percent in salaries.
If each team is at $60 million, then you have a total of $1.8 billion (60,000,000x30 teams) that would be going to the players. Out of $4 billion, that's 45 percent. A very owner friendly number.
The problem with this is twofold. The argument isn't as simple to say, "Well, isn't a good compromise a hard cap, but a high percentage revenue to the players?"
The issue with this logic is let's say you set a hard cap at 57 percent and the numbers come out to be $76 million for each team to use on salary. The good teams in big markets will use up every penny of that amount and still make a profit whereas teams like the Sacramento Kings, Milwaukee Bucks, New Orleans Hornets--who all struggle to fill the seats--can not afford to dish out more than $30 or 40 million and still come out on top.
There is a reason 22 of the 30 teams did not make a profit last year. I'll get into revenue sharing, ticket pricing, whether or not to contract/relocate in future slides, and end this with a suggestion on players earning more revenue.
I don't think the players should ever fall below 50 percent. After all, we fill the stadiums and watch our television sets for the players. Not the owners. I think the number should be 55 percent going to the players and 45 percent to the owners.
The hard cap would stay at $60 million. This way, the big city teams can not outspend the small market teams into oblivion.
As you saw earlier, 30 teams at $60 million is $1.8 billion total. Now, say that 55 percent of the league's earnings comes out to be $2.2 billion. With that extra $400 million dollars, you spread it out to the 360-400 players who logged in playing time in at least 50 games. That comes out to be roughly a $1 million bonus for every NBA player who played over half a season.
An extra $1 million is a big deal. Maybe not for the LeBron James, Carmelo Anthony, Kobe Bryant figures, but for the lower level guys it's the difference between the $2 million a year contract with their team versus a $3 million total they bring in.
Players get 55 percent. Owners 45 percent. Deal.
This article is
What is the duplicate article?
Why is this article offensive?
Where is this article plagiarized from?
Why is this article poorly edited?
Bill Simmons has a really good breakdown of players he puts into monetary values in terms of dollar bills and change. I don't know if you will like his plan or my plan better, but I hope you agree that the owners need to make smarter decisions with how much money they give to which players.
I want to put the Final Four of the NBA Playoffs into the Hungry Howies system to show how it would work.
Miami Heat
The Hungry Howies system would be tough to maneuver with their Big Three. LeBron James and Dwyane Wade would both be eligible for the $20 million category. Chris Bosh would be a $15 million piece. Between those three, they have absorbed $51-55 million of the $60 million hard cap.
The Heat can either fill out the other nine spots with the $5 million types (using the minimum salary levels of this region) or the stars can accept less money. If the player decides on his own that he wants less than his salary region, then the owners can gladly sign him.
With Wade and LeBron, they both make millions off the court and would rather win multiple rings then make extra salary. As you saw in real life, they decided to take the $15 million salary to make things work financially.
The Big Three then adds up to $45 million. That gives them $15 million to find nine players. Give that much space to the mastermind of Pat Riley and he will make it work.
Chicago Bulls
Rose is a $20 million guy. Carlos Boozer and Joakim Noah are both $10 million, although the case could be made for the $15 region. Luol Deng is a pure $10 million candidate. The rest of the roster is in the $5 million category.
Hungry Howies system approved.
Dallas Mavericks
Mark Cuban spent far over the soft cap last year, but all his pieces actually would work in the Hungry Howies system.
Dirk Nowitzki is a $20. Jason Terry, Shawn Marion and Tyson Chandler are all $10. Jason Kidd, JJ Barea, DeShawn Stevenson, Brendan Hayward would all be in the $5 grouping. It would take some smart accounting, but the Championship Mavericks could make it work.
Oklahoma City Thunder
Kevin Durant is a $20. Russell Westbrook, well, time will tell if he's a $10 or a $15. James Harden is a $10. The rest do not exceed $5 million.
The Thunder are the poster-child for small market team being able to contend in the NBA. They will benefit from the Hungry Howies system as will teams like the Memphis Grizzlies and New Orleans Hornets.
With a hard cap and a fine-tuned, structured system put in place, players should understand which grouping they belong in and owners will stop over spending.
This article is
What is the duplicate article?
Why is this article offensive?
Where is this article plagiarized from?
Why is this article poorly edited?
I am assuming most of you have heard of Hungry Howies. If you haven't, well, the best way to describe it is a pizza chain somewhere in between the quality of Little Caesars and Dominos.
Recently, as in some time in the last one to five years, Hungry Howies released a deal called the $5/10/15/20 plan. For $5 you get a small, 1-topping pizza with 20 ounce of Pepsi or a medium 1-topping pizza, no drink. At $10 you get a large 1-topping with Howie Bread and dipping sauce. At $15, ok, you get the point.
If Hungry Howies wants to sponsor this article, I will go into further detail on the $15 and $20 options. I will accept pizza payments.
So what does this have to do with the NBA?
Salaries should be divided into four categories, just like Hungry Howies. Only difference is the NBA would deal in millions of dollars. There would the the $5 million/10/15/20 groupings. I would set a hard cap (gasp from the players) at $60 million.
Here's how it works.
There will be a $5 million cap on the following players: rookies, non-All-Stars, players who have never averaged double digits in points, rebounds or assists. Teams can give these guys anywhere from a 10-day minimum contract in the thousands or max out at $5 million.
Say a team can not attract the star players to their city and has to build through the draft. That's fine. Under the Hungry Howies system, a twelve-man roster of the $5 million types would at the very most be $60 million dollars. See, it fits perfect in the hard cap.
Next is the $10 million options. These guys have put together double digit seasons in either points, rebounds and assists. They have been to All-Star games, and are what you would consider to be key role-players for building a championship.
I'm sure there would need to be some more nitpicky detailed restrictions to help the owners from overspending, but that's for the lawyers to figure out.
Basically, Mike Miller is a $5 and Shawn Marion is a $10. Giving either one more than their max limit is too high and dropping Marion a category lower is not fair to his impact on the game.
The $15 millions should be very restricted. This is normally a sidekick piece on a contender or the star on a bad team. Pau Gasol, Rajon Rondo, Rudy Gay are good examples of this grouping.
For example, look at the Los Angeles Lakers. In real life, Pau Gasol is scheduled to make $18.7 million in 2011-12 and Andrew Bynum is at $15.1. In the Hungry Howies system, Gasol would not be allowed over $15 million and Bynum would be in the $10 million category. There's an easy $8 million dollars of savings.
The final category, the $20 million is fittingly the most exclusive. Now unlike the other categories, the owners are free to go over if they would like. Think of it as a $20 million + tip. Why? Because these players put your team in the immediate conversation of an NBA title.
Use the first team All-NBA or have it be a combination of coaches vote, players, fans, etc., but essentially the list would be the top two players at each position.
For me, it looks like this:
PG: Chris Paul, Derrick Rose
SG: Kobe Bryant, Dwyane Wade
SF: LeBron James, Kevin Durant
PF: Dirk Nowitzki, LaMarcus Aldridge
C: Dwight Howard
Now, there were probably two things that stood out with my list as being upsetting. First, the LaMarcus Aldridge inclusion. I think Aldridge is severely underrated and has carried the Trailblazers to respectability the last couple seasons when they could have easily fallen apart.
Second, I only have Dwight Howard listed as worthy of this category for centers. Each year, a new list will be put forth for the free agent period. An option may be to include another power forward rather than two centers.
Twenty years ago, the NBA was center heavy. Back then, you may have put four centers and said no power forwards. The group can change and players will aspire to be in this $20 million or above category.
This article is
What is the duplicate article?
Why is this article offensive?
Where is this article plagiarized from?
Why is this article poorly edited?