Cleveland Browns: Complete Report Card Following Preseason Week 2 Loss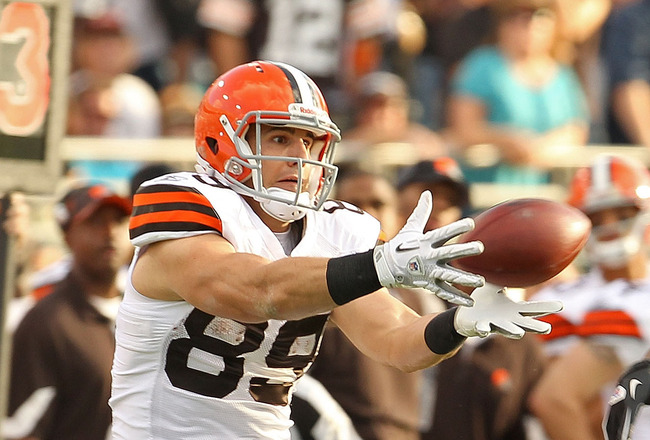 Mike Ehrmann/Getty Images
The Cleveland Browns came up short in their second preseason effort of 2011 on Friday night, losing to the Detroit Lions 30-28.
Unfortunately, you can't win 'em all, but luckily in the preseason you don't really need to. It was disappointing to lose Friday night's game, especially after leading nearly the whole night, but it wasn't as bad as it looked.
The first team did a bang-up job in the first half of the game. It wasn't mistake free, certainly, but for the most part it played a very solid game of football. The second and third teams looked a little iffier, once again raising questions about the Browns' depth issues.
It's early yet, but after two preseason games, we're starting to get a better idea of where the Browns stand. Following is the complete report card for the Browns performance on Friday night.
It was difficult to grade by position for this game given that in many cases, the starters did very well while their counterparts on the second and third teams performances brought the grade down, but we can still get a general idea of how each spot looked overall.
Be sure to share your own grades in the comments below!
1. Quarterbacks and Offensive Line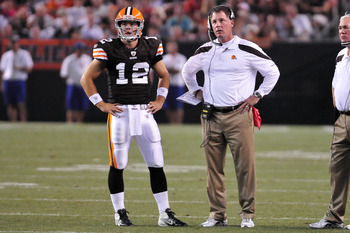 Jason Miller/Getty Images
He didn't look quite as flawless as he did in game one of the preseason, but Colt McCoy impressed again on Friday night, going 10 for 18 with 96 yards and three touchdowns.
McCoy connected with Evan Moore twice and Greg Little once for those three scores, and a number of the incomplete passes were drops on the part of receivers rather than accuracy errors by McCoy.
There is still work to be done to smooth out the rough spots, but overall McCoy looked every bit the starter the Browns need him to be, and the West Coast offense really seems to suit him.
Backup Seneca Wallace did alright, going 6 for 8 for 40 yards in a performance that was unremarkable but also unconcerning.
Jarrett Brown went 0 for 4 with no passing yardage, making some wonder if there would be competition for the third quarterback slot after all. Brown has played well in practice but had two bad game outings in a row in the preseason, so it's tough to say if he'll have to compete with Troy Weatherhead for the job or if perhaps the Browns will only carry two quarterbacks, and he'll wind up on the practice squad.
Grade: B+
McCoy was solid and turned in an A- performance, but the other two quarterbacks did not impress.
As for the offensive line, there wasn't enough notable material from their performance to merit their own slide, so I've placed them here with the guys they protect.
Overall, I was fairly impressed. They were without guard Eric Steinbach and his absence showed, but for the most part, they did their job.
I saw more pressure on the quarterbacks than I would have liked, but nothing tragic. Perhaps most important in this game: They kept quarterback-eater Ndamukong Suh away from Colt and company.
Grade: B+
2. Running Backs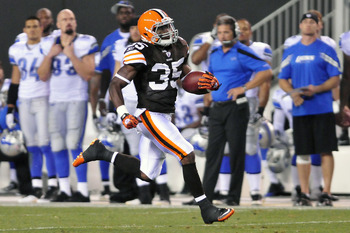 Jason Miller/Getty Images
With top running backs Peyton Hillis and Montario Hardesty banged up, rushing duties on Friday went to Brandon Jackson and rookie Armond Smith.
Smith's performance looks good in a box score—six carries for 90 yards and one touchdown—but loses its luster when you look deeper and discover that 81 of his 90 yards were on one touchdown run. He also lost two fumbles.
Jackson didn't do much, posting eight carries for 19 yards.
Overall the ground game was kind of a non-factor for the Browns. With the exception of Smith's long touchdown run, they didn't move the ball on the ground much at all.
Grade: B-
I'll cut Smith a little slack since he's a rookie with no experience, but overall the ground game was still virtually non-existent. Not great, but with Hillis sitting out, it probably isn't cause to set off any alarms either.
3. Wide Receivers and Tight Ends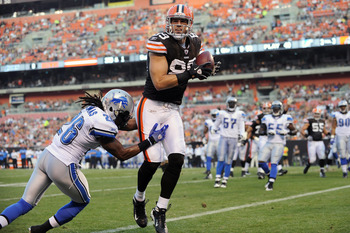 Jason Miller/Getty Images
You just can't say enough good things about tight end Evan Moore, who was fantastic in Friday night's game. Moore had just three receptions before leaving the game with a thankfully minor head injury, but two of those were touchdowns.
Moore essentially proved what we've always suspected: When healthy, he's a force to be reckoned with. If the Browns can keep him off the injured reserved, he'll be a huge threat at tight end and also possibly as a slot receiver.
Rookie Greg Little caught McCoy's other touchdown pass, and thus far looks like a favorite to win a starting wide receiver job at the start of the season. Unfortunately, I also have to mention Little's idiotic and childish move to punt the ball into the stands after his touchdown reception.
Suffice it to say, I hope Coach Pat Shurmur has him running a lot of laps this week.
Other than that, not much stood out aside from the fact that the quarterbacks did a pretty good job of spreading the ball around. Josh Cribbs was pretty quiet, and tight end Ben Watson didn't play. Brian Robiskie came up empty, though only one pass came his way.
Grade: B+
In this game, the WCO worked as it was supposed to—no one receiver stood out (aside from tight end Moore's ability to bring it home in the end zone), and there were some frustrating drops, but the ball was moved pretty effectively overall.
4. Defensive Line and Linebackers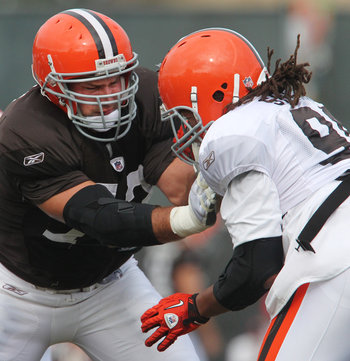 This was one of the tougher areas of the team to give an overall grade to this week, as the first team did an outstanding job of controlling the Lions offense, while the backups looked, well, pretty bad.
The standout was probably rookie Jabaal Sheard, who stripped the ball from Jahvid Best and recovered the fumble. It was almost funny watching Sheard go after the ball after he stripped it—he wanted that fumble recovery so badly he nearly mowed down several of his own teammates to get it.
It was fantastic to see a player show that kind of aggression and enthusiasm on a team that has lacked that in this area of their game in the recent past.
Aside from that, I liked what I saw out of D'Qwell Jackson, Titus Brown and Ahtyba Rubin.
The first team, on the whole, looked solid. Once the starters were out though, the Lions effectively dominated the defense, raising some questions about the Browns depth in this area.
Grade: B
The first team kept the Lions in check and kept their scoring to a minimum, but the fact that the Lions came back and won shows how many holes there were in the second team. Some of the blame for that goes to the backup secondary, of course, but clearly there are some potential depth issues here as well.
5. Secondary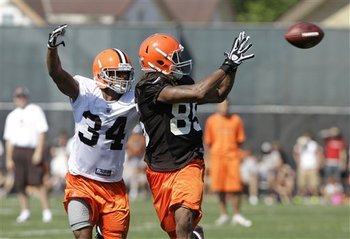 For the second week in a row, the Browns' secondary appeared to seriously struggle at times, routinely getting beat or confused by the Lions' passing game.
Rookie James Dockery did a nice job overall, showing again that he is a favorite to snag a roster spot.
Beyond that, we didn't see much that was overly encouraging here, making those of us who touted this year's secondary players as excellent wonder if we might have spoken too soon.
Still, the Browns were without a few starters in this area, and while the overall performance of the group was unimpressive, I didn't see anything horrifying either.
Grade: B-
Depth issues were apparent here, as the second team struggled, and even the first team looked rough at safety without starters T.J. Ward and Usama Young in the game. We'll have a better idea of how the secondary will fare this year at the end of the preseason when (hopefully) all the starters will be on the field together.
6. Overall Performance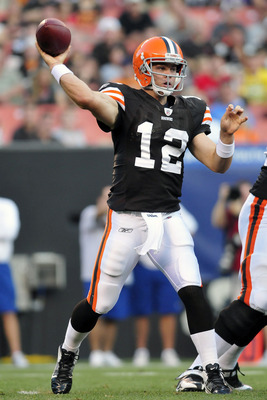 Jason Miller/Getty Images
As I've alluded to many times throughout this report card, the overall performance of the first team was solid, bur the backups struggled mightily.
Game balls go to Colt McCoy, Evan Moore and Jabaal Sheard. Little might have gotten one, but he literally punted his away in a show of poor sportsmanship.
The first team had a good outing on both sides of the ball, though the effort wasn't without its rough patches. The backups showed, in many cases, that they need a lot of work before they can be viewed as dependable assets in a regular season game.
I don't put too much stock in the actual loss, as it's the second game of the preseason. The goal here was more about assessing individual players than logging a win.
Grade: B-
With the first team getting a solid B+ and the backups getting a disappointing C-, I'll say a B- is a suitable overall grade. The Browns showed some flaws, but they also showed some promise.
Keep Reading

Cleveland Browns: Like this team?