5 Sleeping Fantasy Football Studs Who Won't Be Drafted in Your League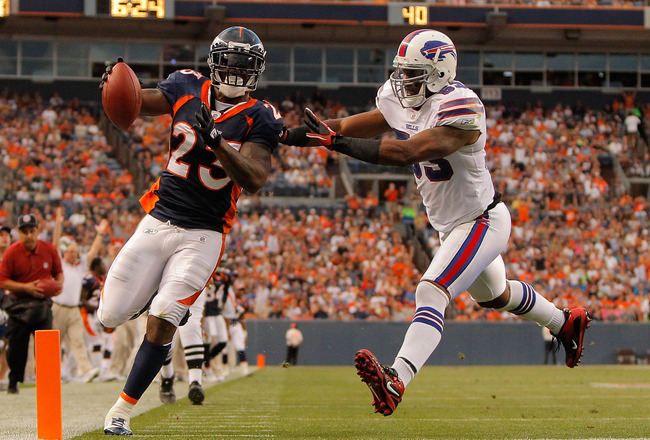 Justin Edmonds/Getty Images
Every season, fantasy football sleepers emerge as studs, and finding them is the key to victory. So who will be this year's Arian Foster and Peyton Hillis?
Fantasy football is an intrinsically (and entrancingly) volatile pursuit. As much research as we do to prepare for our drafts, we always seem to find ourselves in front of a computer at 1 a.m. on an October Wednesday, frantically scanning the waiver wire for a warm body to start at running back.

Draft preparation is important, but everybody is going to whiff on a couple of picks. Pulling studs out of the free agent pool is just as important as finding value in the draft.

Let's take a look at five players who probably won't be drafted in your league, but could help lead your fantasy team to a title.
All players on this list have an Average Draft Position of 160 or later, according to MockDraftCentral.
Rob Gronkowski, New England Patriots TE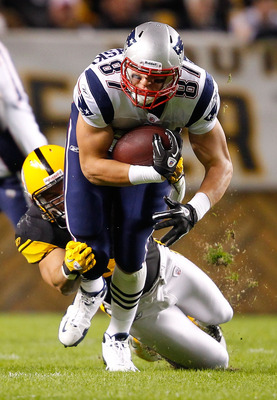 Jared Wickerham/Getty Images
Even while moonlighting as a member of "The Gronkowski Brothers," undoubtedly the fiercest three-man tag team that the WWE has ever seen, Rob Gronkowski put in a commendable rookie season at his day job with the New England Patriots.

Along with fellow TE Aaron Hernandez, Gronkowski gave the Patriots a unique look on offense. In 2010 Gronkowski was often used more like a wide receiver, a compliment to both the innovative nature of the Pats' offense and the young tight end's tremendous athleticism.

Playing the hybrid WR/TE role, Gronkowski cashed in 10 touchdowns on just 42 receptions in 2010. While that rate is completely unsustainable, it does speak to the fact that Tom Brady tends to look to his tight ends—and Gronkowski in particular—when the Patriots enter the red zone.

Coming off such a productive year, there's no way that Gronkowski deserves to be drafted 18th among tight ends.

The Patriots will always spread the ball around, so it's tough to anticipate anything more than 50 catches for Gronkowski this season. But given how often Brady looks for him in scoring territory and knowing how often the Patriots offense will be in scoring territory, he can play almost the same role on a fantasy team as a goal-line running back.
Gronkowski's touchdowns will likely drop a bit from last year's total, but he's still an excellent option as a starting fantasy tight end.
Darren Sproles, New Orleans Saints RB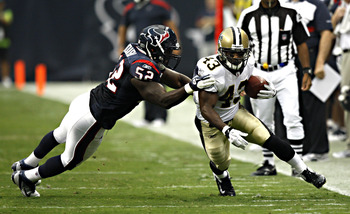 Bob Levey/Getty Images
Darren Sproles is a limited player to be sure, but one who can excel in a very specific role.
Joining the New Orleans Saints is a best-case scenario for Sproles and, by extension, his prospective fantasy owners.

When healthy, Reggie Bush used a Sprolesian skill set to flourish under Sean Payton, so why wouldn't Sproles himself do the same?
Bush's biggest problem in New Orleans was his own discomfort with his place on the team; that's certainly not something I'd expect to see from Sproles. He has always embraced his role as a pace changer and cherished whatever touches he does receive each game.
Though Mark Ingram and/or Pierre Thomas will likely see more of the ball than Sproles, neither really poses any threat to his fantasy value. In fact, Saints QB Drew Brees told ESPN that Sproles' may add "an element that we haven't had."

Admittedly, Sproles' ceiling isn't quite as high as some of the other players on this list.
He's never topped 150 touches in a single season and given all of the other weapons he'll line up alongside in New Orleans, it's highly unlikely he'll see enough of the ball to be more than a flex option in 10-team leagues.
Even so, Sproles will have value every week as a waiver wire savior for teams that whiffed on some of the "high upside" backs in the draft.
Willis McGahee, Denver Broncos RB
Ronald Martinez/Getty Images
Willis McGahee has spent the last few years in Baltimore spelling Ray Rice and occasionally punching it in on the goal line, but when given a chance, he's shown the potential to be effective as a lead back.
Last year, McGahee averaged 4.9 yards per carry in games when he was given the chance to carry the ball 10 times of more. That, combined with the fact that McGahee has never rushed for less that 990 yards in a season when he received at least 250 carries, paints a picture of back who still possesses plenty of talent.
On the surface, it would seem that McGahee's role in Denver won't offer any new opportunities, but working under a new coach changes his outlook.

If the ongoing saga of Jonathan Stewart and DeAngelo Williams has taught us anything, it's that John Fox has no problem going with a two-back system. "Running back by committee" is the most feared phrase in fantasy football, but in this case, it actually represents an opportunity.

If history is any indication, McGahee can expect anywhere from 150-200 carries under Fox, even as the backup behind Knowshon Moreno. That workload, in addition to his specialty carries on the goal line, makes him a valuable fantasy commodity.

Fantasy owners that recall his gruesome knee injury back in college may assume that McGahee is an injury risk, but he's no more of a risk than his new backfield partner.
McGahee has missed one game in the last two seasons. Moreno has missed three.

McGahee is not the lead back to start the season, which makes him a bit of a lottery ticket, but he has a better combination of talent and opportunity than just about any backup running back in the league, let alone one that you can pick up off the waiver wire.
If he's able to snag a large portion of the carries, McGahee can produce like a No. 2 fantasy running back in 2011.
Greg Little, Cleveland Browns WR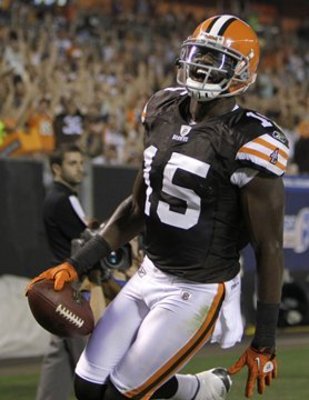 Photo courtesy of ClevelandBrowns.com
Colt McCoy is developing into an excellent young quarterback in Cleveland and is doing so without many pass-catching weapons at his disposal. Peyton Hillis has been a revelation at running back and Josh Cribbs is an explosive player, but neither gives McCoy a reliable target in the passing game.

The Cleveland Browns used the 59th pick in the 2011 NFL Draft to solve that problem.

Greg Little hasn't spent much time as a wide receiver (he began his college career at North Carolina as a running back), but he has all of the physical tools: great size, good speed and a knack for making the big play. His route-running still lacks polish, but it will improve with time.

With only Brian Robiskie and the oft-injured Mohamed Massaquoi standing in the way of Little becoming the No. 1 option in Cleveland's passing game, his upside is huge.
Normally, there would be a concern that a rookie receiver might take extra time to learn the offense, but with new head coach Pat Shurmur's implementation of a new system delayed by the lockout, all of Cleveland's wideouts face the same learning curve going into this season.

If he continues to develop a rapport with McCoy (the two have already hooked up for one touchdown in the preseason), Little will be a solid No. 3 fantasy receiver for 2011.
Jerome Harrison, Detroit Lions RB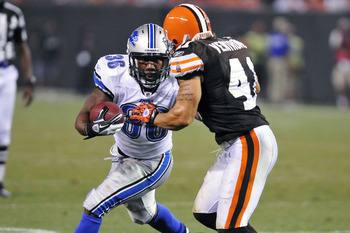 Jason Miller/Getty Images
Jerome Harrison has been underappreciated for his entire career.

He put up gaudy numbers in college, but hidden away at Washington State he didn't receive much hype from the national media, nor much attention from NFL scouts.

Since entering the NFL, Harrison has spent most of his time on the bench, awaiting an opportunity to show off his skills.

It hasn't happened often, but when opportunity has knocked at Jerome Harrison's door, he's been quite hospitable.

Since 2009, Harrison has carried the ball 10 times or more in nine games. In those nine games he's rushed for 1,010 yards and six touchdowns, with a per carry average of 4.8. On a game-to-game basis, those numbers are No. 1 fantasy running back material.

Now Harrison joins an emerging Detroit offense as the primary backup to an injury-prone starter. He won't get the majority of the carries to start, but even when Jahvid Best is fully healthy, Harrison can expect to touch the ball 8-12 times per game.

As a backup, Harrison will have value in most fantasy leagues. But if Best goes down with an injury, Harrison will be worthy of starter status in every league.

In 2010, Jerome Harrison was supplanted by that year's breakout fantasy superstar, Peyton Hillis. In 2011, the shoe just might be on the other foot.
BONUS: Detroit Lions DEF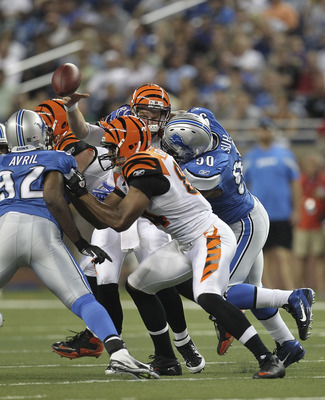 Leon Halip/Getty Images
Not since the glory days of Bennie Blades and Robert Porcher have the Detroit Lions fielded a defense this fearsome. The line is among the best in football, and the back seven is much improved versus last year.
With Louis Delmas and Ndamukong Suh leading the way, the Detroit defense will restore the roar in 2011.

Realistically, it might take some time for the defense to come together. I don't anticipate that the Lions will immediately vault into the top five in total defense, but the pieces are in place for Detroit to field an elite fantasy defense right out of the gate.

The most important element for a fantasy defense is the ability to pressure the quarterback. It directly leads to sacks and indirectly leads to more interceptions and fumbles.

With Suh teaming up alongside Cliff Avril, Kyle Vanden Bosch and (eventually) Nick Fairley, the Lions front four will be a nightmare for opposing passers.

Though the secondary still isn't great, the Lions corners are adept at making plays on the ball. Eric Wright, Chris Houston and Alphonso Smith will all give up their share of completions, but all three are aggressive in attacking the ball in the air.

Currently going 15th among fantasy defenses, the Lions will easily produce enough sacks and turnovers to deliver top 10 value.
Keep Reading