Exploring the St. Louis Rams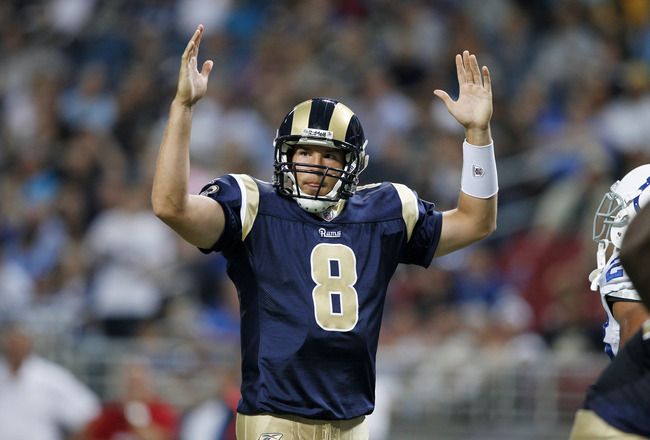 Joe Robbins/Getty Images
Yes, they lost the playoff-clinching, season-deciding game in the last week of the season to their hated rivals, the Seattle Seahawks. What will 2011 bring the St. Louis Rams?
With a top young signal-caller, a workhorse running back who's now in the red zone for the Hall of Fame, a seemingly underrated offensive line and a top five defense in the NFC, the Rams look playoff bound in the recently terrible NFC West.
This is a look at what lies ahead for a franchise that went from the laughing stock of the NFL to a two-way force in a calendar year.
The Franchise: Sam Bradford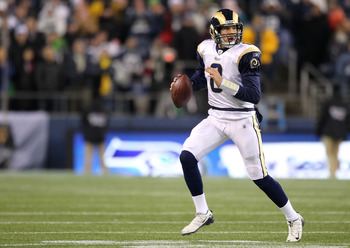 Otto Greule Jr/Getty Images
Seriously though, what's not to like about Samuel Jacob Bradford?
He's an All-American kid (no pun intended) and Heisman trophy winner who came back from a potential career-ending injury at Oklahoma, broke a handful of Peyton Manning's rookie records, and is part Native American.
Bradford handled pressure in stride last year, and almost brought the Rams (who picked in the top two in the NFL draft, three years in a row) back to the playoffs.
I was criticized in my last article for ranking Bradford over Josh Freeman and a few other young QBs, and yes, I am a die-hard Rams fan; I would take Bradford going forward over every quarterback in the league. I believe his ceiling as a player lies between Peyton Manning and Dan Marino.
Obviously I'm biased, but let's be honest: Of all the quarterbacks 25 and under, he's in every conversation of who's the best.
The Workhorse: Steven Jackson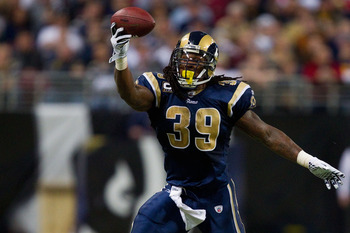 Dilip Vishwanat/Getty Images
There is no tougher player at his position in the NFL. Steven Jackson is the epitome of professionalism (something I believe he learned from Marshall Faulk, Torry Holt and Issac Bruce during his learning years).
While his peers held out, demanded trades and practiced end-zone celebrations, Jackson never complained about being a cellar dweller in the NFC. He worked day in and day out to get better and set the tone for his rebuilding team.
In his seven seasons, the Las Vegas native as averaged 1,135 yards per season, while only missing 12 games! Shocking for a running back, I know.
What also gets lost in the fold is how great he is as a pass catcher, averaging nearly 400 yards per season.
For the first time in Jackson's career, he will have some help with Cadillac Williams and Jerious Norwood behind him in the depth chart—they should help lengthen "Action's" career. He simply was not going to be able to continue the production he was putting up carrying the ball 300-plus times per season.
I truly hope the Rams can achieve some great things as a team, before Jackson's window closes. He truly deserves it.
On a side note, whichever young running back the Rams select in an upcoming draft to be the heir-apparent to Jackson will have a great teacher.
The Pass Catchers: The Spotlight Is Yours for the Taking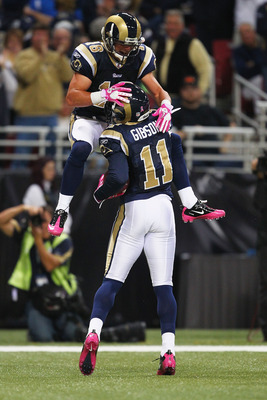 Locks to make the team: little guy Danny Amendola and the crafty Brandon Gibson
Dilip Vishwanat/Getty Images
Too much of a good thing in the NFL is usually a bad thing. It's even worse when you have no idea what you're getting with most of them.
The good thing is that when you have a ton of talented young guys and the guy throwing to them is a stud, a few of them are bound to develop. What would be nice is for two guys to develop into stars and Danny Amendola to continue to shine in the slot.
Here's a look at the Rams pass catchers:
Mike Sims-Walker—Don't get me wrong, I'm a fan of the signing, but his numbers in Jacksonville weren't as great as you'd think, with 869 yards and seven TDs being by far his best season in '09. Sims-Walker will be the No. 1 guy come Week 1. Do I see him as the long-term No. 1? No, I do not. Long-term No. 2, however, is a strong possibility. He is the most proven guy we have though.
Brandon Gibson—I'm a big fan of Gibson's. His 83-yard grab last night against the Titans was a highlight in an otherwise subpar game for the Rams. Gibson appears to have the inside track as the No. 2 guy, but if he continues to produce, he could be the long-term No. 1.
Danny Amendola—Amendola was the Rams' most consistent pass catcher last year. His highlights include a spectacular one-handed grab against the Seahawks early last season. With McDaniels at the helm of the offense, Amendola could be McDaniels' new Wes Welker (the comparison's inevitable). Also, it appears Amendola will not be returning punts this year, which should definitely benefit the offense.
Lance Kendricks—The second-round tight end out of Wisconsin could very well be Bradford's favorite target. An outstanding athlete, Kendrick could be a Pro-Bowler very quickly in the league.
As for the rest of the receivers, the only guaranteed spots appear to be going to Austin Pettis and Mardy Gilyard. Danario Alexander showed flashes of big-play ability, but has been inconsistent at best. Gilyard will make the team as a primary return man and has a chance to get some looks at receiver with McDaniels' pass-heavy offense.
One thing is for sure: One of the current players at the position will be a star in Josh McDaniels' system with Bradford throwing to them.
The Overlooked Line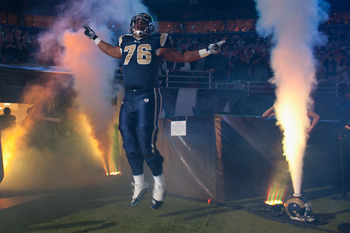 Saffold headlines, in my estimation a top 3 line in the league
Dilip Vishwanat/Getty Images
For much of the decade, many of the Rams' problems were the inability of the line to protect the quarterback and create holes for the runner.
Those days are no longer, with the emergence of bookends Rodger Saffold and Jason Smith.
There is not a better pair of young tackles in the league. You'd rather a former No. 2 overall pick not be a right tackle, but when Saffold emerges as a steal in the second round, it makes it a lot easier.
The interior line is filled out with Jason Brown at center and veteran bad-boy Harvey Dahl and Jacob Bell at guard. There arent many better lines in the league at 1-5. If you consider Jacob Bell to be the weakest of the five, you're in pretty good shape.
Saffold appears to be a future Pro-Bowler, Harvey Dahl brings a much-needed mean streak to the line and Jason Smith should continue to develop into an above-average tackle.
What was once a glaring weakness has turned into a strength in just two seasons.
Spags Speciality: The D-Line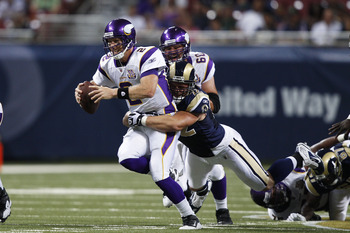 Howie Longs son, is quickly making is Hall of Fame father," Chris Longs dad"
Joe Robbins/Getty Images
Steve Spagnuolo has made a career off rotating explosive defensive ends and run-stuffing, hole-clogging tackles.
Chris Long and James Hall combined for 20 sacks in 2010. I do not expect the 34-year-old Hall to match his 11 sacks from last season; however, if this preseason is any hint, Robert Quinn could be the steal of the 2011 draft.
Quinn fell to the 14th pick, solely on injury and character concerns. Athletically, he was a top three talent. If there were any system/coach that Quinn could thrive under, it's the Rams/Spags. Long and Quinn together for the next half decade should be a treat.
C.J. quietly contributed four sacks in limited action last season and should be in the DE rotation along with college standout George Selvie.
Mr. Consistency, Fred Robbins, is an absolute beast inside. However, another year older, he is reaching the end of a very underrated career.
Justin Bannan is a solid player and should contribute. He is an upgrade over every other defensive tackle we had besides Robbins.
This position will be addressed next offseason for sure.
Upgraded Backers and Secondary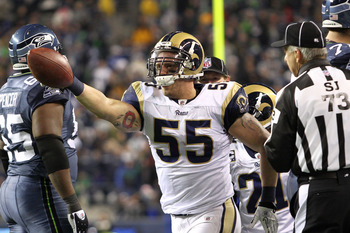 Otto Greule Jr/Getty Images
James Laurinatis highlights a solid core of linebackers. He is a star in the making and a true playmaker in the middle. The additions of Ben Leber and Zac Diles give the Rams an upgrade at the OLB positions, which in 2010 was one of the weaker areas in St. Louis. Leber could thrive in St. Louis.
On the outside, Ron Bartell is an average No. 1 at best, but Bradley Fletcher will take over as the No. 1 sometime this season.
Fletcher had four picks in his second season and could be a breakout defensive player this season. Quinton Mikell has been progressively better each season he's been in the league.
At the other safety, Craig Dahl appears to be the starter. Dahl is a worker and decent player, but ideally he would not be the starter.
The Brain Trust: Steve Spagnuolo and Josh McDaniels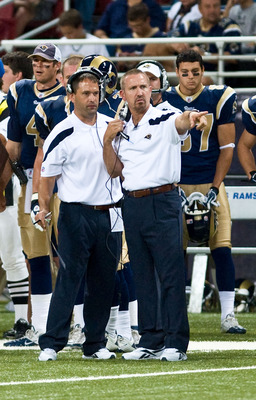 Ed Szczepanski/Getty Images
Arguably the two brightest, young scheme callers in the league have teamed up to make McSpagniels.
A mere four seasons ago, they were game planning against one another in the Super Bowl. Now, the 51-year-old Spagnuolo (a defensive genius) and the 30-year-old offensive savant, who prematurely became a coach in Denver (train wreck!), will make quite a pair together.
McDaniels is very similar to former Rams head coach Mike Martz; he is an absolutely superior offensive mind, who is probably better suited to be an offensive coordinator than a head coach. Together, they could be something truly special.
The Crippling Schedule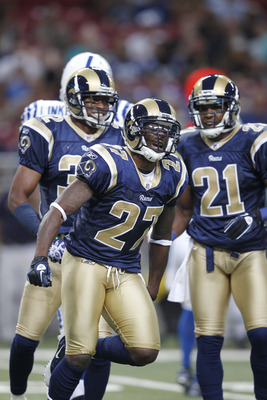 Joe Robbins/Getty Images
The only thing that could hold the Rams back this season is the toughest first-half schedule in the league.
vs. Eagles
@ Giants (Monday Night)
vs. Ravens
vs. Redskins
BYE
@ Packers
@ Cowboys
vs. Saints
The second half gets easier, with the NFC West games taking up six of the nine remaining games and a lowly Bengals team at home, but we also have two tough cold weather late-season games at Pittsburgh (arguably the toughest place to play in the league) and Cleveland (who has a promising young team).
If the Rams can come out of the first half with three-to-four wins, we'll take it—but it will be a litmus test to this young, promising Rams team.
Whatever way you choose to look at it, the future is bright and the Greatest Show on Turf could be making a return to the Edward Jones Dome.
Keep Reading

St. Louis Rams: Like this team?