5 Reasons Pryor Could Be the Best Rookie QB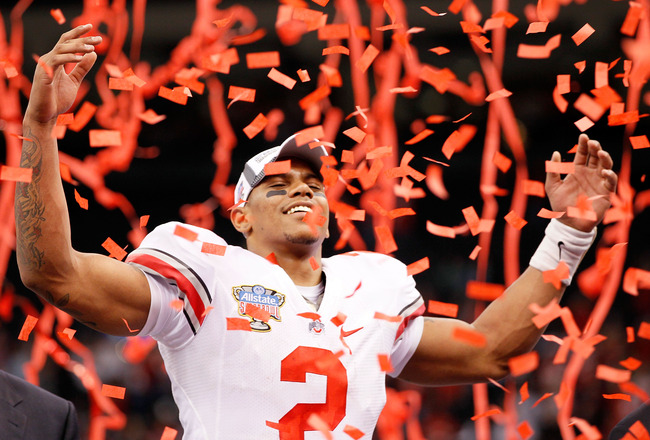 Kevin C. Cox/Getty Images
The scandal surrounding Terrelle Pryor and the Ohio State Buckeyes is a messy one. It's just another link on the chain of seemingly endless NCAA violations being committed by major programs recently.
But despite being banned from the university, Terrelle Pryor's future is in decent shape.
He had 17 teams show up at his Pro Day. The concerns about Pryor are that he is an athlete first and a quarterback second. These concerns are legitimate, but he is as talented as any rookie QB in the league this year, and whatever team selects him in the supplemental draft could be in for a nice surprise.
Some are suggesting a position change for Pryor. While he has the talent to be a very intriguing prospect at WR or TE, I feel his natural position is QB.
Here are five reason why the former consensus No. 1 recruit and Ohio State star will find success in the NFL.
1. His Athleticism Is off the Charts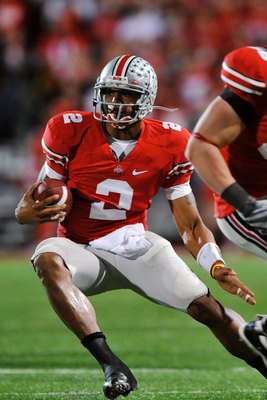 Jamie Sabau/Getty Images
Cam Newton. Tim Tebow and Vince Young—all athletic quarterbacks who can bust off runs and get out of the pocket and make plays.
Terrelle Pryor is by far more athletic than any of those three. He's got 4.35 speed, which is fast for any position and downright ridiculous for a QB. When he runs the ball he can make guys miss.
His athleticism and basketball skills allow him to angle his body to get in position to make throws and run for first downs. Other than Michael Vick, I really can't think of a QB in the NFL who even comes close to Pryor's speed and body control.
He's also 6'6" with good length.
2. He's a Much Better Thrower Than You Think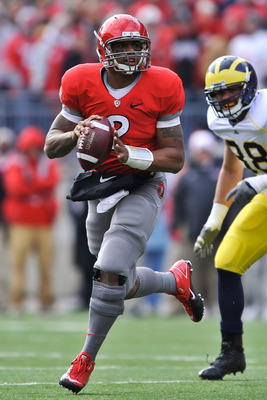 Jamie Sabau/Getty Images
65 percent completion rate. 2,772 yards. 27 TD. 11 INT.
Not bad college numbers considering people cite Pryor's throwing as a major setback to his NFL future.
Due to the way colleges defend and the way they had to always pay attention to his running ability, Pryor never really had to hit windows and holes on his throws like NFL QB's are expected to do. And while Pryor would sometimes make inaccurate throws, he clearly has the ability because he would make throws that would "wow" you.
His natural arm strength is better than any QB in this rookie class other than Ryan Mallet. He throws a very nice deep ball and can zip it in there on medium- and short-range throws.
He doesn't have perfect throwing motion, but the hitch in his release is very small compared to most running QBs and could easily be adjusted with a few weeks of camp. He doesn't have to completely change the way he throws like Tim Tebow.
As a pure thrower, Pryor reminds me of a slightly stronger but slightly less accurate Cam Newton.
3. All His Weaknesses Can Be Adjusted Quickly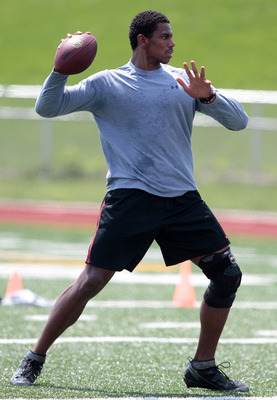 Jared Wickerham/Getty Images
Pryor's three biggest weaknesses:
1. Accuracy on short and medium throws
2. Finding an option if his first read isn't there
3. Throws off his back foot to much
Problem No. 1 will take the most time to correct. But like I said in the previous slide, he really doesn't have to change his motion that much.
Problem No. 2 is mostly because Ohio State runs a very simple offense that doesn't ask for Pryor to make more than one read. This is the main reason why Pryor isn't ready to start right now. But all rookie QBs have a big-time learning curve in terms of jumping from college to the NFL, and Pryor's isn't any bigger than Cam Newton, Jake Locker or Blaine Gabbert's.
No. 3 is simply something the coaches will get out of him. He could throw off his back foot in college and still make the throws. Obviously, that's not the case in the NFL, but this is nothing practice and watching tape won't fix.
4. He's Improved Every Year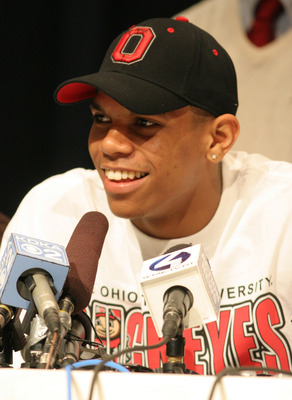 Charles LeClaire/Getty Images
His freshman year, he didn't start until midseason, and while he brought excitement to the offense, he struggled with turnovers.
His sophomore year, he looked better, but turnovers and mishaps still held him back.
His junior year, while he still threw 11 picks, he was much more efficient and smart, and established himself as one of the countries best QBs
If he played his senior year, he likely would have been the best QB in the Big Ten.
Steady improvement like this shows that Pryor hasn't even come close to reaching his ceiling yet. which has to be encouraging to NFL teams.
5. Despite What You've Heard, He Has a Good Head on His Shoulders
Kevin C. Cox/Getty Images
Pryor is not a bad kid. He isn't out breaking laws. Obviously, the whole autograph scandal has given him a bad image, but I'd bet 100s of players in the NFL right now did the same thing.
Pryor just got caught.
Throughout this whole incident, Pryor has made the right decisions and said the right things. I know he has advisors telling him what do to, but he's handling this situation about as well as a 22-year-old kid can.
And then, in terms of football, he's smarter than you think. He has a certain swagger about him, and his body language always oozes confidence. This is what you want from your quarterback.
Pryor was a leader on the team last year, and there's no reason why he can't become a good teammate in the NFL.
For more follow me on Twitter @ZakKondratenko
Keep Reading

Ohio State Football: Like this team?