Can Andy Murray Beat Novak Djokovic in Cincinnati?
August 21, 2011
On Sunday, World No. 4 Andy Murray will take on World No. 1 Novak Djokovic in the final of the Western and Southern Open, more commonly referred to as the Cincinnati Masters.
Novak Djokovic has been having a season no man in the ATP ever has. He sports a record of 57-1 in 2011.
So can Andy Murray beat Novak Djokovic in the Cincinnati Masters?
Not many give Murray a chance.
One Bleacher Report fan has named the Serb as "Novak the Terrible" and another has advised all players to give up without a fight to save themselves the certain ordeal of seeing Djokovic yelling into their faces and lifting the trophy.
We've seen some of the world's best flee without even attempting to fight 'the Terrible." It happened at the French Open when Fabio Fognini gave Djokovic a walk-over.
At Montreal, Jo-Wilfried Tsonga retired mid-match against the Serb after a promising win over Roger Federer the previous round.
At Cincinnati,Tomas Berdych, who had beaten Federer in the quarterfinals, retired after losing the first set to Djokovic.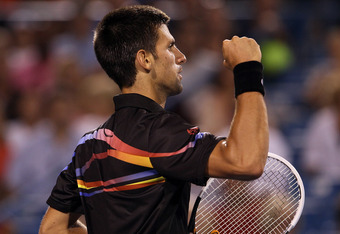 Coincidence? No. It seems certain that even those who vanquished Federer are doomed to have their knees turned to water and their hearts filled with the hopelessness at the proposition of facing Djokovic.
Not even Federer in his heyday enjoyed such a fearsome reputation. Nor did he have such a devastatingly enervating effect on his opponents.
So does Murray stand a chance?
It must be remembered that Murry is the same age as Djokovic and equally talented. They also know each other's games well.
Their head to head is 6-3 in Djokovic's favor. But since 2008, of the four times they have met on hard courts, Murray has won three times, all in Masters.  Djokovic won the fourth at the Australian Open final this year.
Curiously enough, until the Australian Open they had never played against each other at a grand slam.
They were ranked three and four from 2008, so they were put in opposite halves. Thanks to the propensity of Federer or Nadal reaching the grand slam finals, these two young men could not meet. This year when Nadal got felled by Ferrer (and a torn hamstring) and Federer got ousted by Djokovic, they finally met in a grand slam final.
Murray probably wasn't expecting Djokovic 2.0 and went out with a whimper. But his subsequent performance against Djokovic at Rome on clay, on which he had floundered in the past, leads one to hope that the duel in Cincinnati would be more of a fight.
Both men are talented but they've found it hard to emerge from the shadows of Federer and Nadal.
But Djokovic showed it could be done and has not only emerged from the shadow of the duopoly but put both Federer and Nadal in the shade.
Surely, Murray must be feeling inspired. His exit in his first match at Montreal need not dishearten his supporters. He had decided this year not to fritter away his energy on lesser tournaments. Even though he was rusty in Canada, he has proved he means business by reaching the final at Cincinnati.
Murray knows time is running out for him. If he does not win a slam soon, he may acquire the dubious distinction of being the greatest player never to win one.
He can show he is ready to win a slam and establish a psychological edge over Djokovic by beating him before the U.S. Open.
But the question is, can Murray beat this near-invincible Djokovic who is clearly in the zone and whose confidence has grown to monstrous proportions after his extraordinary season?
I don't know whether Murray will win, especially when he seems to be having some left hamstring problem. I sure hope he does win if only to break, at least temporarily, the awesome reign of Novak Djokovic.