St. Louis Rams vs. Tennessee Titans: Report on Titans' Quarterbacks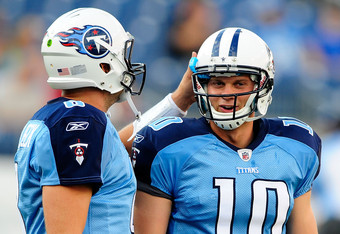 Grant Halverson/Getty Images
The quarterback position has been a troubled one for a long time now, and both Matt Hasselbeck and Jake Locker have been brought in to fix that in 2011.
Both quarterbacks looked solid in the preseason opener against the Vikings, which turned out to be a 14-3 win.
Hasselbeck has the mechanics you would expect from a veteran quarterback, but he's still learning the Titans' system that is still relatively new to him.
Locker, on the other hand, is a rookie, and all rookies have learning curves no matter how talented they are.
It's safe to say that Locker is talented, and he displayed that by throwing a laser for a touchdown last Saturday in the win over the Vikings.
There's also a battle going on for that third-string position between Rusty Smith and Brett Ratliff.
Smith may have the upper hand in that battle as of now, but he has to improve greatly from his performance last week.
The Rams ranked 14th in total defense in 2010, so the first-team offense for the Titans should have plenty of scoring opportunities.
We'll follow each and every Titans quarterback's performance live tonight.
The clock will run out on the Titans quarterbacks.
Hasselbeck finishes with a solid performance that shows why he should be the consensus starter in Week 1.
Locker still has some work to do, but those growing pains have to be expected.
The Titans lose on a game-ending field goal by the Rams, and the offense will need to work on converting field goals into touchdowns this week in training camp.
Final Quarterback Line
M. Hasselbeck- 7/9, 74 yards
J. Locker- 8/18, 82 yards, 1 INT
R. Smith- 0/2
The Rams are driving to make an attempt at the game-winning field goal as the two-minutue warning comes.
Looks like Brett Ratliff will not see the field tonight, which could mean the Titans have already made up their mind on their three quarterbacks for 2011.
Unfortunately Smith is at a disadvantage by playing with backups by the time he gets in the game.
This was a perfect example as Smith made a perfect throw to James Kirkendoll for a touchdown, but Kirkendoll showed why he probably won't make the team by dropping it.
Titans still cling onto the lead, but hopefully Smith will get one more chance. He has a ton of potential.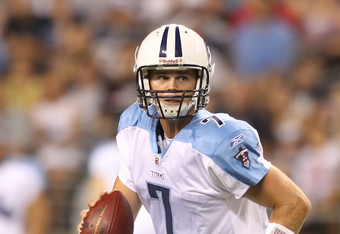 Rusty Smith will see his first action of the night by starting inside his own 20-yard line.
Luckily, Stafon Johnson has rushed the Titans into Rams territory.
Locker overthrows Yamon Figurs by an inch at the most. Coud have been the second great connection between these two guys of the preseason, but the Titans are forced to punt again.
Rusty Smith still needs to see the field, and Brett Ratliff needs at least one series as well.
Locker's night should be over with an average performance.
Titans get the ball back with the lead still entact, and Locker will get another opportunity to extend that lead.
Locker works his magic for a first down with his legs.
The Rams are running a lot of blitzes to put pressure on Locker, and with the exception of that one interception, he's handling it well.
Titans defense steps up big to hold the lead.
Still over two minutes left in the third quarter. Locker should see at least one more series.
Penalties once again plague a Jake Locker drive.
Locker did have Mariani deep for the first down, but the offensive line didn't allow enough time for Locker to get his feet set.
Titans punt again, but still lead.
The Titans seem to be settling for a lot of check-down throws to the running backs tonight. That could mean the offense is struggling to find rhythm.
Titans punt with a 16-14 lead.
Locker continues to stand confident in the pocket, even after an interception.
This completion goes for a first down to Cameron Graham for 13 yards.
You have to take the good with the bad on rookie quarterbacks.
Locker panics under pressure and overthrows his target for an interception. This is what the preseason is for, and he'll get plenty of coaching on the sidelines by offensive coordinator Chris Palmer.
This is why Hasselbeck was brought in.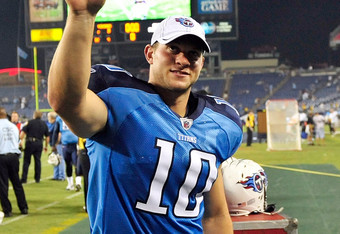 Locker starts the second half as expected, and will do so with a lot of the first-team offense.
Another fumbled snap by Locker leads to an incompletion, but that leads to a great catch and run by Marc Mariani for the first down.
Give Locker a lot of credit on this throw by standing firm in the pocket to make the throw. If Locker doesn't show patience in the pocket, then the Titans would be punting.
A false start penalty hampers Locker's chance to drive the Titans down the field.
Locker should get at least two or three more series in the second half.
The second half has to be treated like a whole new ball game with Locker under center. It will be important for him to lead a couple long drives to close this game out.
Titans lead 16-7 at halftime.
The Titans get the ball back with a little over a minute remaining.
This is a good opporuninty to see how Locker runs the no-huddle offense.
On 3rd and Goal, Locker throws a fade to Damian Williams, but the Rams defend it beautifully.
Titans settle for yet another field goal, lead 16-7.
Field goals are better than nothing, but these field goals need to turn into touchdowns in the regular season.
Let the Jake Locker show begin.
Locker rolls out and makes an outstanding throw to Jared Cook to put the ball inside the five.
Hasselbeck walks off under his own power.
Exactly what you don't want to see.
Hasselbeck is down flat on his back after getting hit low. Replays indicate that it shouldn't be anything serious, but that might be an omen that Munchak should end Hasselbeck's night.
Surprisingly Hasselbeck comes out for another series.
It starts it off with a sharp throw to Jared Cook for 25 yards. Cook has looked to be the top target in traning camp for both Hasselbeck and Locker in traning camp.
Cook is athletic and could be poised for a breakout year with a smart quarterback like Hasselbeck under center.
Titans are have entered St. Louis territory.
Munchak chooses to bring Hasselbeck out for another drive, but it ends after three plays.
Hasselbeck made a deep throw to Lavelle Hawkins, but Hawkins lost his footing before getting to the football.
He finished the night on completing 4 of 5 throws, but none to wide receivers.
That should be the last we see of Hasselbeck for the night, and overall it was what you would expect from a veteran in preseason.
Hopefully that chemistry is being built between Hasselbeck and the wide receivers in training camp, but the real point of preseason is to get Locker all the work he can.
Locker should get a couple opportunities here in the first half with the Titans up 13-7.
Still over 12 minutes remaining in the first half with the Titans going on their fourth offensive possession.
Hasselbeck should get one more drive to work on some pass plays to wide receivers and tight ends, but Munchak could be ready to get Locker in to finish out the half.
The Titans call a draw play on 3rd and 5.
This call really doesn't make sense when you have a quarterback that is learning a new system. You have to give Hasselbeck chances to take shots at the endzone in this new offense he's learning.
Last week against the Vikings, Hasselbeck saw hardly any action.
Tonight Hasselback has had several opportunities to make a few throws, and the Titans have decided to run instead.
When it's preseason, you have to work on your areas of weakness and the Titans don't seem to be doing that right now.
The running game is stealing the show so far, thanks largely to Jamie Harper.
A penalty has pushed the Titans back, so Hasselbeck will most likely get at least one shot at the endzone.
The Titans offense will see the ball for the third time, and it's barely past the halfway point of the first quarter.
If you're Munchak, you have to give Hasselbeck more time to work with this offense. The first two series were a lot of handoffs and checkdown throws.
Hasselbeck should get another series.
It looks that Mike Munchak is going to preach a solid run game much like Jeff Fisher did.
The scoring drive is capped by a Jamie Harper one-yard touchdown run, but Hasselbeck did a great job by selling the run and rolling out to find Ahmard Hall in the flats.
Hasselbeck should see at least one more series to hopefully work in the Titans wide receivers more. They've seen virtually no action so far.
Titans lead 10-7.
This article is
What is the duplicate article?
Why is this article offensive?
Where is this article plagiarized from?
Why is this article poorly edited?

Tennessee Titans: Like this team?