Arsenal vs Liverpool and the Positives That Every Fan Should See
August 20, 2011
Alright, alright, the world isn't ending. We lost to Liverpool, and we've only won two games in our last 10 in the league, but we're still going to wake up tomorrow and read about a new defender from Djibouti that Arsenal is interested in signing.  
The result against Liverpool today was poor, certainly, but there are a couple of positives from the game that we should take, at least before we cry for some be-headings.
I realize that after this result, the critics will be louder than ever in wanting Wenger out, but in all fairness to Liverpool, a win for them away was coming against us.
I mean, Jesus, the last time they won away against us was what, 2000? 2001? Titi Camara with the winner? I think somewhere along the law of averages, they were due an away win over the course of 11 years.
First, it must be noted that we played a good team who has spent over 100 million pounds this summer, and we played Emmanuel Frimpong, Aaron Ramsey, Carl Jenkinson, and Ignasi Miquel against that.
We played alright for 70-plus minutes before we gave away an unlucky goal. Obviously, we need to spend money and improve the squad, and today's game proves that, but we should also realize who was missing from that game.
This includes Jack Wilshere, Rosicky, Gervinho, Johan Djourou, Alex Song, Gibbs, Traore, etc. It is the manager's job to make sure that the team is ready week in and week out, but I think it would be fair to say that recently, we haven't been getting the luck of the draw, so to speak.
The fact that what would have been a Carling Cup squad a few years back played well against an overpaid Liverpool squad is promising.
Promising certainly doesn't change the fact that we left the game today with zero points, but promising it remains.
Another point that some supporters are overlooking is how promising Emmanuel Frimpong looked today. Beginning when Vieira left, and growing louder when Flamini left, we have all voiced a desire for the tough midfielder that we feel our team is missing.
Alex Song has stepped into the role, and he certainly played it well against Joey Barton, but Frimpong looked very good today.
A homegrown talent, one of our own, and I think most people were very excited by his performance, and he looks like someone who will be able to contribute to the squad this season.
The red card was poor judgement on his part, but it was his first premier league start, the boy is nervous to the brim, and I think we can forgive the lad for his two errors in judgement.
This might not come as much comfort to some fans, but today has just reinforced what areas of the squad need strengthening and what do not. Plain and simple, our defense is stretched to the brim. Koscielny is out for at least two games, Squillaci isn't really a favorite amongst the fans, and Djourou, Vermaelen, and Miquel are now being asked to create a solid defense.
The result today has helped reinforce the idea that the squad needs improvement, and Koscielny's injury, while unfortunate, may help motivate the boss in buying a quality defender sooner rather than later.
Our midfield could use another creative player, and while many names have been linked with the club, the fact that Frimpong couldn't be subbed out today because of a worry in who would come on the pitch to replace him is telling that we could use another midfielder in the squad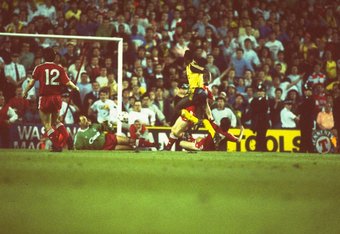 A final point, and some may not care for this at all, but it gives me a bit of comfort. We might go another season without winning the league, or we might surprise many and end up top of the league in May. No matter what, though, one thing is certain. Liverpool will not win the league this season.
Evidence? Well, this is a point based on opinion, but premier league history will help my point. The Scousers might spend all the money in the world, but they're still suffering from Thomas syndrome if you ask me.  
Today might sting a bit. I'm not happy with the result. I don't like seeing The Arsenal lose. It is a facet of the game, however, and investment in the squad is needed. All isn't lost, though, and while results like this might sting, there are always positives to take from any match.
And remember, when you see all the Liverpool supporters bring out the jerseys that they haven't worn in ages, just remember Michael Thomas, or when our 16-year-olds thrashed them in the Carling Cup, or hell, even Arshavin scoring four against them (even though our defense was a bit incompetent there...).
And just remind them, and yourself, that this early in the season—them winning and us losing means very little.